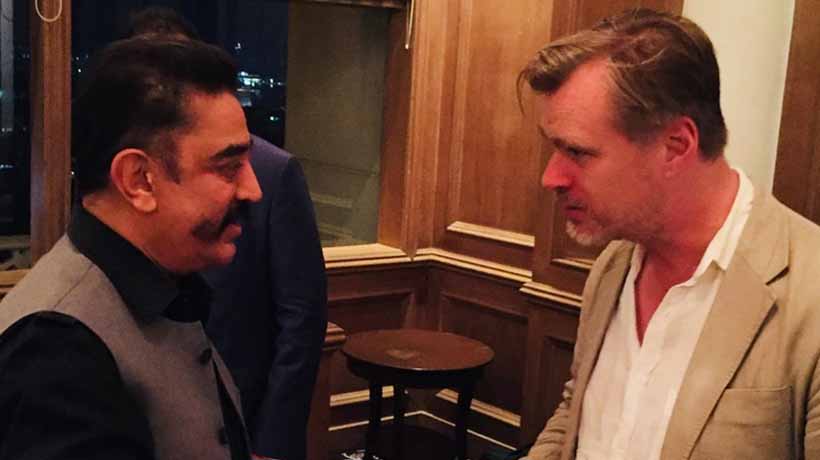 Hollywood filmmaker Christopher Nolan who has directed films like Interstellar, Dunkirk, Inception, The Dark Knight Trilogy among others to his credit met the south Indian superstar Kamal Haasan on the first day of his three-day visit to India. This is Nolan's first time in India and he is accompanied by his wife, Emma Thomas. The celebrated director is also accompanied by visual artist Tacita Dean.
Nolan and Dean are here to draw the attention of people towards the importance of celluloid in the digital age and to support the cause of film preservation and restoration.
The Vishwaroopam actor, Haasan took to his Twitter handle to share a photo from his meeting with Nolan. The caption of the photo read, "Met Mr.Christopher Nolan. Apologized for seeing Dunkirk in the digital format and in return am sending Hey Ram in digital format for him to see. Was surprised to know he had seen Paapanaasam".
On Friday, Nolan attended the lecture by British artist Tacita Dean called 'Process and the Non-deliberate Act: Why the medium of film is important to artists'. The Interstellar director accompanied her lecture with a slideshow and talked at length about the use of 16mm and 35mm film in her work.
Nolan is expected to take center stage at the screenings of his two films, Dunkirk, which will be shown in 70mm IMAX at Carnival Cinemas in Mumbai on Saturday at 6 pm and Interstellar, which will be shown in 35 mm at Mumbai's Liberty Cinema on Sunday at 9 pm. Also, he might join the prominent names from the Indian film industry in a closed-door roundtable discussion.
Subscribe To Our Newsletter