Several senior members of the AIADMK (Amma) called on party Deputy General Secretary T.T.V. Dinakaran at his residence on Tuesday.
Later talking to media persons, senior member V.P. Kalairajan said many legislators too met Dinakaran, "who is our party Deputy General Secretary".
The Tis Hazari court recently granted bail to Dinakaran and his aide. The two were earlier arrested for allegedly trying to bribe Election Commission officials Rs. 50 crore to allot the `two leaves' symbol to the AIADMK (Amma) faction led by V.K. Sasikala.
In the last two days, around 25 party MLAs have met Dinakaran at his residence leading to speculation on the formation of third group in the party.
At the same time, Chief Minister Edappadi K. Palaniswami too held a meeting with several party legislators on Tuesday.
On Monday, the ruling faction reiterated that it was firm on its decision to sideline Sasikala and Dinakaran from the party. After presiding over a meeting of Ministers at the Secretariat here on Monday, Finance Minister D. Jayakumar said that the faction, led by Palaniswami, was firm on keeping away both Sasikala and Dinakaran from party affairs.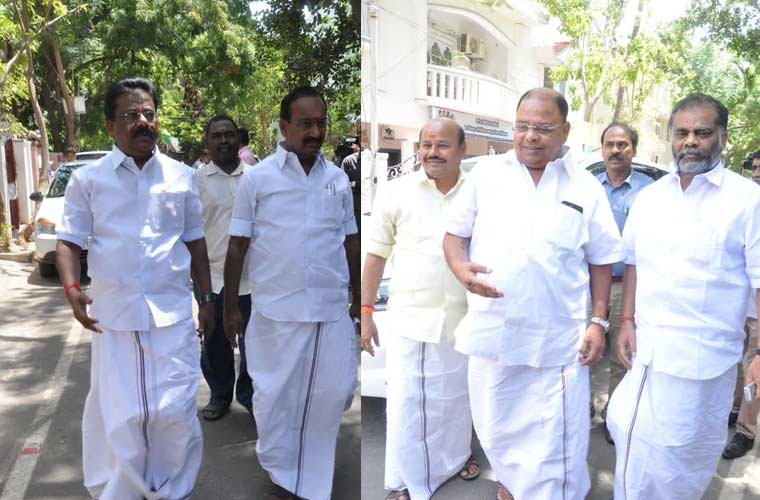 "We are not dependent on them (Sasikala and Dinakaran). We are independently doing our work and there is absolutely no interference from anyone," he added.
Jayakumar's statement came just few hours after Dinakaran asserted that he would involve himself in party work and accused senior leaders for not initiating any talks with the rival faction led by former Chief Minister O. Panneerselvam for merger.
However, Panneerselvam insisted that talks on merger would be possible only if Sasikala and Dinakaran were stripped of primary membership of the party .
Subscribe To Our Newsletter