Four members of the Environment Conservation Group from Coimbatore are going on a 25000 km international journey to create awareness about endangered species.
Mohamed Salim President of ECG, and three other members Sisir Kahita, Abhishek Ravi and Srinivasan Gopalakrishnan have started an journey of 25000 kms spread across five countires today. The team has christened the awareness drive SEEK – Save Endangered, Endemic, and Keystore species and and the journey duration would be 60 days.
Besides 29 states, the team will also travel to the neighbouring Bhutan, Bangladesh, Myanmar, and Nepal as part of the drive. The team will spend two days in each foreign country.
Across the journey the team will meet NGO's, students, grassroot conservationists and tribals creating awarenss about protection of endangered species. Mohamed Salim said, "There are many conservation works done by tribals in protecting endangered species that many of us dont know. We will be documenting those works besides the whole journey." He said that they will be publishing a book based on their documentation.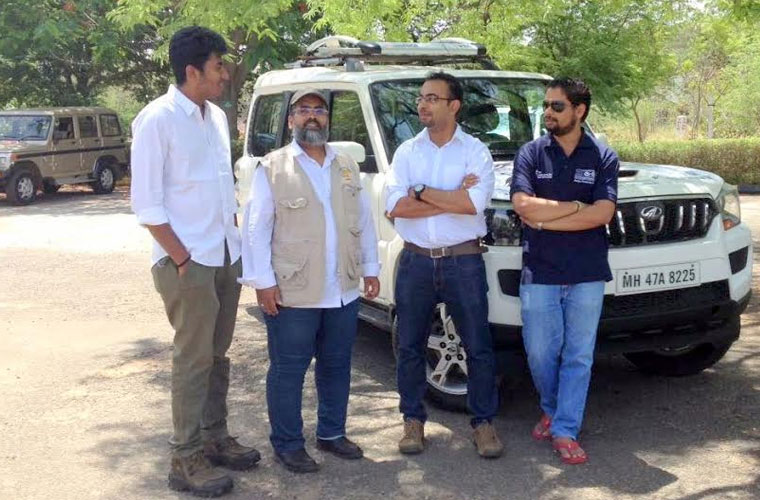 During the journey they would create awareness about one endangered species in each state and also about road kills. " Many animals die in road accidents in our country. There is no proper awarenss about this" Mohamed Salim said.
Flagging off the event, Forest College Principal Ashok Kumar said that the Forest Rangers should always work closely with NGO's to meet challenges they face. He also said,"The team should give importance to generate public opinion about wildlife conservation. Only through public opinion we will be able to get the attention of public representatives."
Speaking at the function, Ramasubramanian, Conservator of Forests, Coimbatore Circle said that there is still a lack of awareness among public about wildlife conservation. He said," Next to poaching, road hits kill the most number of animals so the drivers must be sensitised about this."
Dr. Sankar, Director of Salim Ali Centre for Ornithology and Natural History wished the team on their expedition. The team has already done a drive called PATH, during which they covered 20,000 kms across 20 states in 40 days.
Subscribe To Our Newsletter