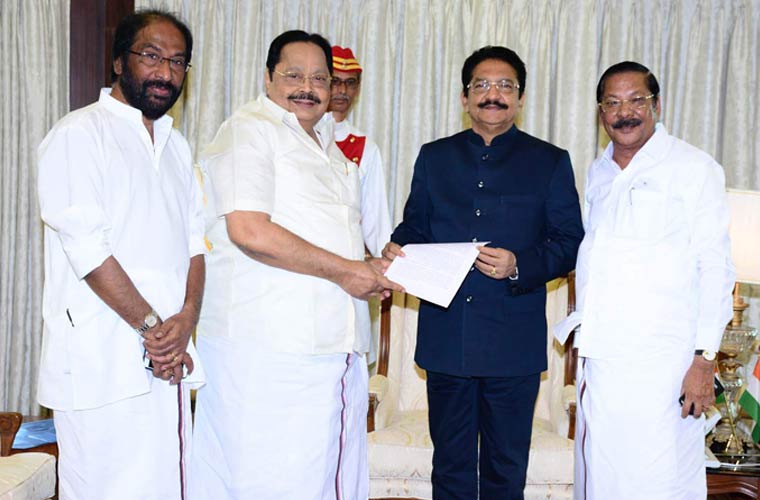 Chennai: The principal opposition party in Tamil Nadu, the Dravida Munnetra Kazhagam on Wednesday stepped up the ante and demanded the dismissal of the Edappadi Palaniswami government headed by convicted VK Sasikala pick for the alleged involvement of a battery of ministers in distribution of cash to voters in RK Nagar constituency.
The elections to this assembly constituency, necessitated by the death of former chief minister J Jayalalithaa, were cancelled by the election commission following detection of large scale money flow in the constituency at usage of this money by the ruling faction of the AIADMK headed by jailed general secretary VK Sasikala. Her nephew TTV Dinakaran was the candidate fielded by her to retain the prestigious seat of Amma.
But following the cancellation of the bye poll and also detection of incriminating documents and huge amounts of cash from state minister C Vijayabhaskar and his associates, the DMK has sought the dismissal of the state government after proof of wrong doing by its ministers came to light during raids by IT and enforcement directorate officials.
A DMK delegation comprising senior leader Duraimurugan, RS Bharathi and Tiruchi N Siva called on governor C Vidyasagar Rao in Mumbai and submitted a memorandum seeking removal of the chief minister for his alleged involvement in cash distribution in RK Nagar constituency.
The EC had on April 8 cancelled the bye election, basing its decision on large scale distribution of cash to the voters by the ruling AIADMK (AMMA)
Late on April 8 night, the Commission cancelled the by-election based on evidence of large scale bribing of voters by the ruling AIADMK (Amma) and other parties too. The EC specifically noted the role of state health minister C Vijayabhaskar, whose premises were searched by IT sleuths on April 7.
According to one of the documents released to the media, ₹89.65 crore was distributed through Chief Minister and senior Cabinet colleagues K.A. Sengottaiyan, Dindigul C. Srinivasan, P. Thangamani, S.P. Velumani and D. Jayakumar, and Rajya Sabha member R. Vaithilingam, covering 85% of the electorate in R.K. Nagar. One of the documents recovered during the raids indicated the alleged involvement of S. Geethalakshmi, Vice Chancellor of the Tamil Nadu Dr. MGR Medical University.
Dinakaran had alleged that the DMK, former Chief Minister O. Panneerselvam, the BJP, the Election Commission and the Income Tax Department had ganged up against his party and got the election cancelled as he was sure of his victory.
Subscribe To Our Newsletter