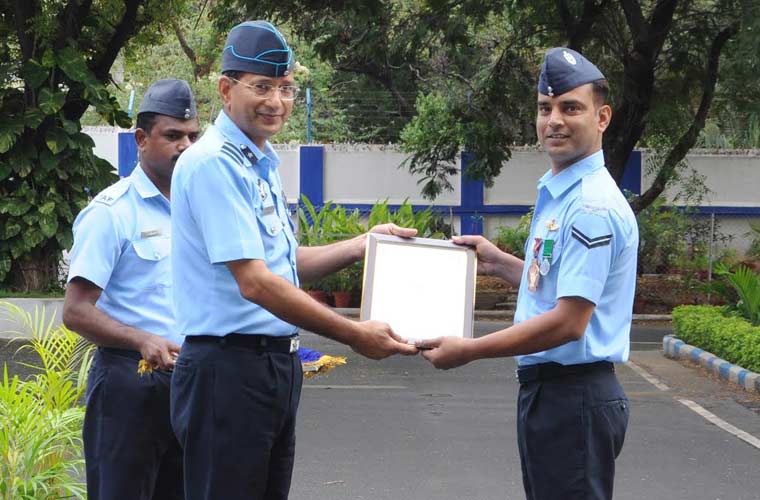 Corporal Pankaj Kumar Pandey, a commando trained air warrior at Air Force Administrative College (AFAC) here, has been awarded Jeevan Raksha Padak for his extraordinary valour displayed by him to save the life of an endangered civilian in January 2015.
The Padak (medal) awarded by the President of India was bestowed to Pandey by Air Commodore V.P.S. Rana Commandant, AFAC in a ceremonial parade of the College on May 2, an official release said today.
On January 9, 2015, Pandey, with his colleague, had been to a temple 15km away from the city. He was on leave then.
While at the temple, he heard a lady's cry for help, as her husband had inadvertently slipped over the edge and fallen off the cliff.
Without worrying for his safety, Pandey jumped over the cliff with an aim to rescue the man who was lying motionless in a pool of blood 50 feet below.
After hoisting the man on his back, he carried him to the closest road from where the man was taken in a car to the nearest hospital without caring for his own life and impending adverse environment. In the process he also suffered spinal injuries and has been on medical treatment ever since, the release said.
For his exceptional courage and timely response to save the life of an injured person without caring for his own safety, Pandey has been conferred with Jeevan Raksha Padak by President Pranab Mukherjee, the release added.
Subscribe To Our Newsletter