School kids and post-graduate students were among the volunteers who were taken around the lakes in the city today to get a feel of the contamination and the need to clean and conserve them. The 20 odd who volunteered for the trip were taken to Selva Sinthamani, Kumaraswamy, Selvampathy, Krishnampathy and Narasampathy lakes.
What the volunteers saw was that most of the water bodies were full of sewage and industrial and plastic waste, calling for immediate restoration.
Selva Sinthamani Lake looked lifeless and open defecation near the shore line should make restoration a difficult task.
Sanjay Prasad of EFI, who guided the crew, said, "Kumaraswamy Lake may look very pleasing, but is full of sewage. Also, people immerse religious idols in the lake filling it with plaster of Paris which settles down below, leaving no outlet for the water.''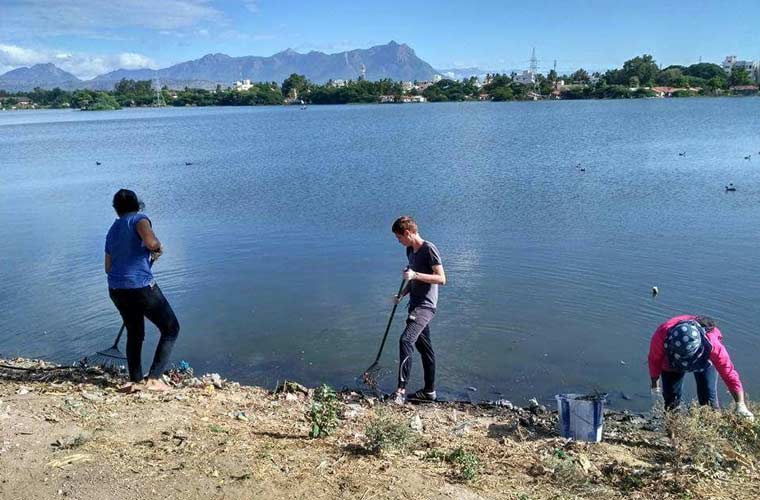 Selvampathy Lake is contaminated by industrial waste from nearby dye factories. "Though the industries have filtering technologies, they prefer not to use them and instead directly let the waste flow into the lake,'' said Anand Prithviraj of EFI. A nearly parched Narasampathy Lake was the last one in the trip.
The tour ended with Anand's pep-talk to motivate the volunteers contribute to the environment through small gestures like using a tiffin box to buy food from a restaurant instead of asking for a plastic cover.
EFI is organizing a lake clean up at Kumaraswamy Lake tomorrow. Interested volunteers can take part in the clean-up drive.
Subscribe To Our Newsletter