Chennai: Sharp reaction to the attack on IIT students for holding Beef festival is snowballing into a political row with the principal opposition party, the DMK entering the fray with a blistering attack against the Modi government for its diversionary tactics.
Ahead of the June 3 opposition party meeting in Chennai, to coincide with the birth anniversary celebrations of DMK patriarch M Karunanidhi, the beef ban protest has given the DMK just the chance to whip up emotions over the issue in a state where a majority of the population is meat eaters.
The Modi government has nothing to show in its three years of governance and this is why it is trying to divert the attention of the people with non-issues like beef ban. "We cannot pinpoint any achievement of the BJP government in the three years. They have only caused misery to the people, they promised to enact Lok Pal and bring black money stashed abroad. But none of these promises have been kept," Stalin said in a hard-hitting statement. The DMK also held protests over the central government directive on cattle trade restrictions.
"How can the central government impose restrictions on our food habit? Do we have to eat only what Modi likes? Our individual rights are being snatched away by the central government," Stalin said.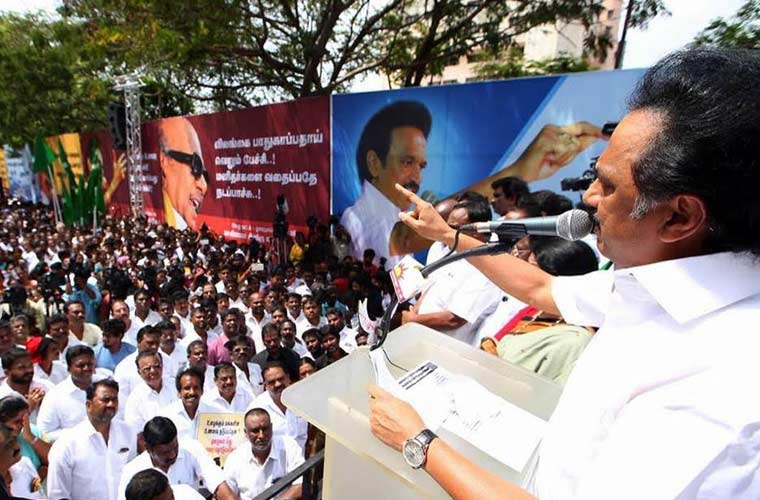 Chennai has been on the boil ever since a section of IIT students held a beef festival to protest against the central government order late on Sunday evening.
One of these students, Sooraj, has been allegedly attacked by right wing students. He is injured in one eye and is getting medical treatment.
The protesting IIT students lodged a formal complaint with the dean of the institution and demanded strict action against those guilty.
The students had demanded the expulsion of the ABVP students, citing their track record in violence.
The dean only formed a committee instead of taking any action, alleged the students announcing that their fight will continue.
"Adminstration has not even gone to meet Sooraj, who was injured in the eye, and financial aid to him was still not given," said one of the protesters.
"We want justice. I am Sooraj, I am Sooraj," were the slogans being raised by the students, who took out a march inside IIT campus.
Outside the main gate of the campus, other student bodies came out in their support.
Subscribe To Our Newsletter