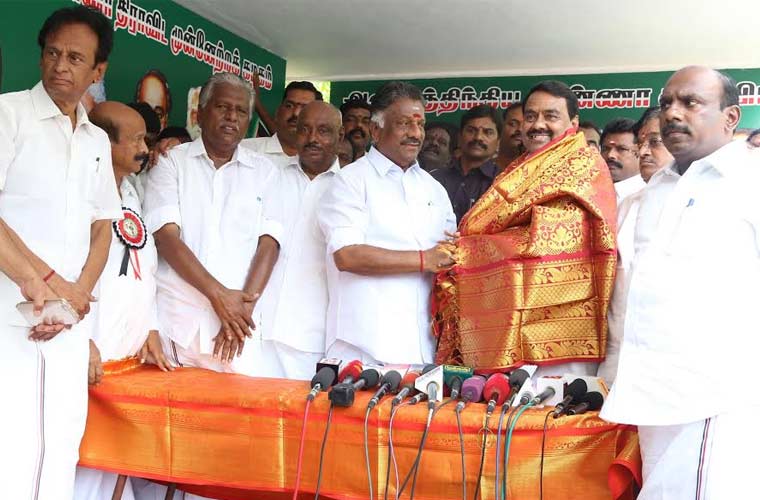 Chennai: Former Minister R.S. Rajakannappan today called on former Chief Minister and AIADMK (Puratchithalaivi AMMA) Treasurer leader O. Panneerselvam and extended his support to the party candidate and Presidium Chairman, E. Madhusudhanan, in the R.K. Nagar by-election.
Kannappan was accompanied by R.S. Mangalam (Sivaganga District) Union Deputy Secretary of the AIADMK and former Union Council member Thirumathi.
Padmini Karuppiah, Former Vice-President of Paramakudi Union Council, Sethu Dinakaran, District Students wing Secretary, M.N. Raja, Tirupathur were also present.
"Our real enemy is the DMK. We are extending support to Panneerselvam in his Dharmayuddham on behalf of 1.5 crore party workers. We are confident that Madhusudhanan would win in the election," Kannappan said.
Welcoming Rajakannappan and others, Panneerselvam said the people had every right to know about the circumstances that led to the death of Jayalalithaa. He urged party workers to work unitedly to strengthen the party.
Later, Tamil poet and lyricist Snehan met Panneerselvam and extended his support.
Former Ministers C. Ponnaiyan and K.P. Munusamy former Speaker P.H. Pandian, Organising Secretaries Dr. V. Maitreyan, MP, and S.S. Semmalai, MLA, former member of Rajya Sabha, P.H. Manoj Pandian, former Minister Ma Foi. K. Pandiarajan, MLA and other office-bearers were present on the occasion.
Subscribe To Our Newsletter