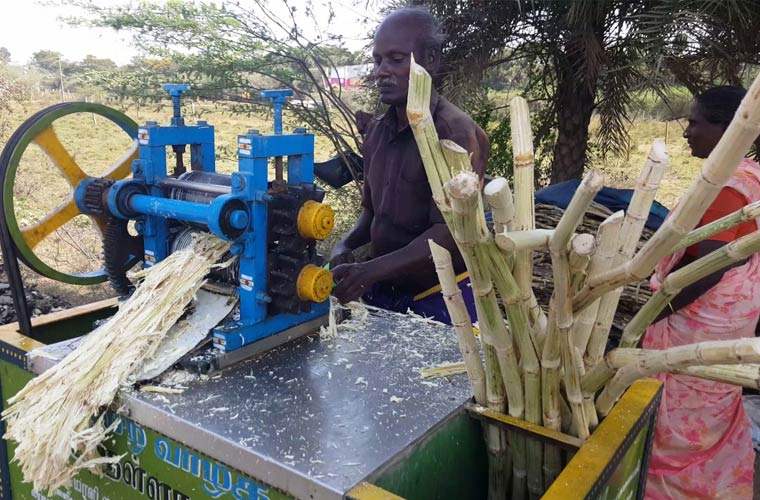 With the mercury touching 40 degrees, the sale of sugarcane juice has gone manifold in the city. Cane juice vendors in the city do brisk business throughout the day and don't seem to look tired at all.
Most of the youngsters, prefer cane juice to bottled drinks now, thanks to the Jallikkattu agitation. Says P. Ganesh, a Marketing Official: "The agitation has really brought about a change in the mindset of the people. Many of us resolved to boycott bottled drinks such as Pepsi and Coke. Not only the juice is sweet in taste, it has enough nutritional value. I see a lot of people in every juice stall. I am glad that our farmers and sugarcane growers are getting benefited because of this."
Juice vendors who were selling between 100 and 150 glasses of juice everyday till last year, say they now sell 350 to 400 glasses a day. "The awareness on consuming natural drink has gone up now. We are happy that the sale is very good this year," said Marimuthu, a roadside juice vendor.
Doctors too recommend sugarcane juice, tender coconuts and watermelon to fight heat related issues. "The extreme heat would result in dehydration. People should carry water bottles whenever they step out. Consuming natural drinks like sugarcane juice will help," said Resident Medical Officer (RMO) of Coimbatore Medical College Hospital Dr. A. Soundarvel.
At the same time, he cautioned diabetic patients not to consume too much of this juice as it could be detrimental to their health.
Subscribe To Our Newsletter