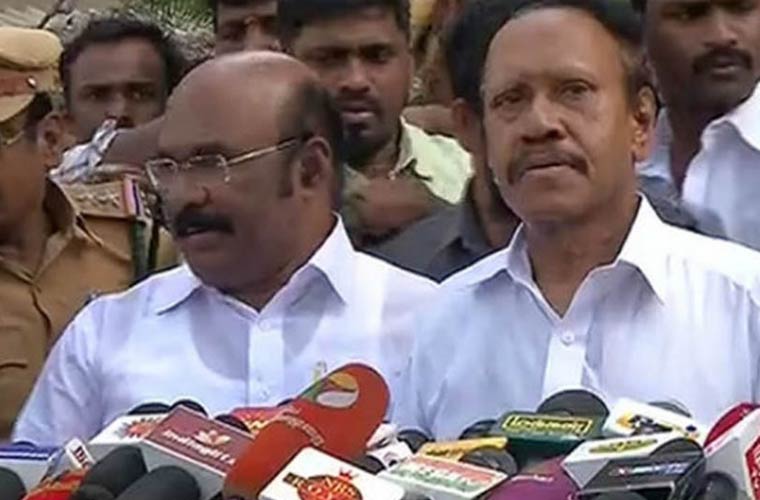 Chennai: Alongside the intense discussions for alignment between the Chief Minister Edappadi K Palaniswami-led camp and the former Chief Minister O Panneerselvam-led one continued, Lok Sabha Deputy Speaker M Thambidurai and Finance Minister D Jayakumar today separately called on Governor Ch Vidyasagar Rao, paving way for political speculations.
But the two claimed that no politics was discussed. Thambidurai told mediapersons that it was a 'friendly courtesy call'. "I have known him right from the time he was an Member of Parliament and we share a good rapport. Since I came to know he was in town, I came to meet him," he said.
Jayakumar said there was no political interest in the meeting and it was linked to the appointment of Vice-Chancellors to the universities that comes under his Fisheries Ministry.
Asked whether a team has been formed by AIADMK Amma group to hold talks with the AIADMK Puratchi Thalaivi Amma group headed by Panneerselvam, he said discussions were happening and 'we will hold talks on the date OPS suggests'.
He denied that the decision to sideline general secretary VK Sasikala and deputy general secretary TTV Dinakaran was because of the pressure from the Panneerselvam faction. OPS had claimed yesterday that the decision to remove Sasikala and Dinakaran from the party was his first victory in the 'dharma yuddham'.
"Even I can claim that American President Donald Trump won because of me, but we all know that is not the truth. In a democratic country like ours anyone can voice their opinion. The decision to sideline (Sasikala family) was made keeping the future of the party in mind," he added.
Meanwhile, Panneerselvam today held discussions with his supporters at his Greenways Road residence reportedly to form a team to hold talks with the other faction. The Chief Minister too had talks with seniors in his team, it is learnt.
Subscribe To Our Newsletter