With climate change becoming a reality, the worst sufferer shall be the crop, animal and fish productivity and one time adaptation response was not enough to mitigate the problem, former Chairman of Agricultural Scientists Recruitment Board Dr. C.D. Mayee said on Saturday.
Continuous efforts such as genetic improvements, agronomic manipulations, integrated farming approach, use of balanced natural resources and timely intervention can be helpful, Mayee said in his address at the 38th convocation of Tamil Nadu Agricultural University (TNAU) here.
"We may have to adopt new breeding technologies such as genetic transformation, gene editing, GMO (Genetically Modified Organisms) for quicker development of new cultivars that could adapt to changing climate. This may need public acceptance as it is not the producer alone but the consumer also is dictating the terms of research in today's social order," he said.
The other issue that needed attention was the suppression of scientific temper by selective onslaught on the certain technology generation, Mayee added.
Agricultural biotechnology has a considerable potential to address many of the future challenges in agriculture including post-harvest issues and value addition, he said.
TNAU Pro-Chancellor and State Agriculture Minister R. Doraikannu announced Dr J Jayalalithaa Award to a girl student who excelled in Ph.D course, along with various endowments.
Mallika Srinivasan, Chairperson and Chief Executive Officer of Tractors and Farm Equipment Ltd (TAFE), Chennai was conferred with Doctor of Science (honoris causa) for her contribution to global agriculture, machinery business and academia.
Mallika becomes the first woman from the Indian tractor industry to be conferred the honour, which was presented by Tamil Nadu Governor, Ch. Vidyasagar Rao.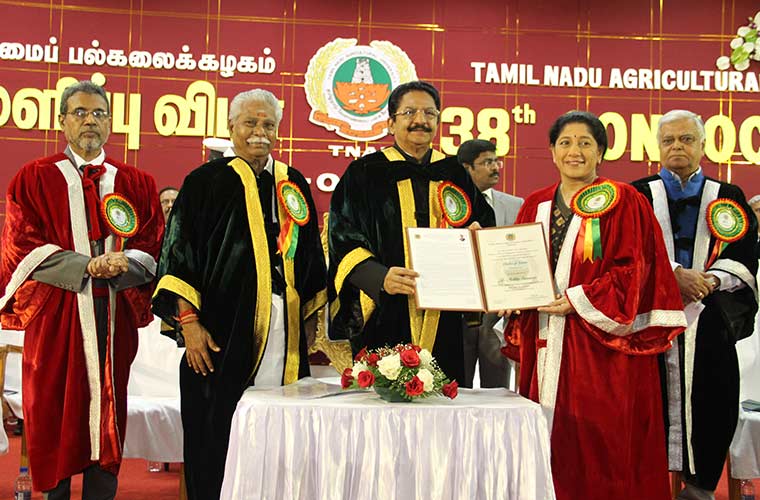 The degrees were presented to 988 candidates in person and 356 in absentia.
Subscribe To Our Newsletter