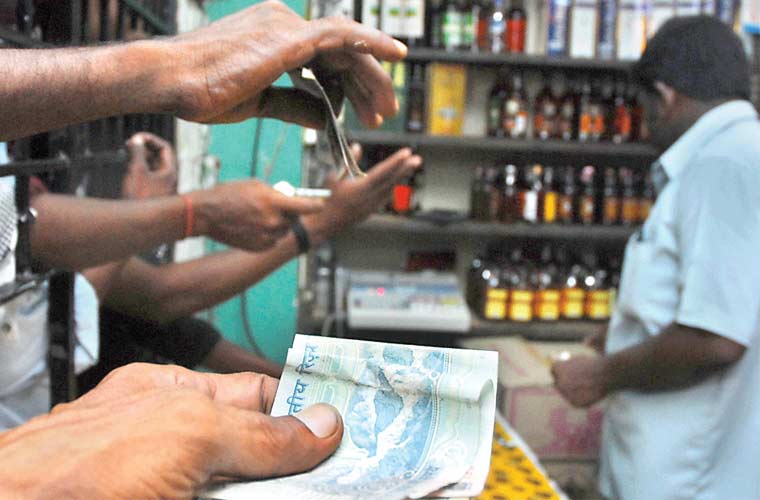 Chennai: Whether it is Chinniampalayam near Coimbatore or Alathur village in Kancheepuram, or for that matter many villages and small towns across Tamil Nadu, women have taken it upon themselves to drive the campaign against liquor. Or more specifically to block government moves to shift TASMAC shops into residential areas, following the Supreme Court order directing removal of all liquor vends located within 500 meters of the highways.
If the Chinniampalayam protests were peaceful, some like the one in Kancheepuram was less so as aggressive women got crowbars in their hands and demolished a structure under construction that was to house a TASMAC shop in their village. This incident of Alathur village in Kancheepuram, had brought all village women together and they pulled down the structure that was to the TASMAC shop in their village. It is here that the TASMAC officials thought they had it all figured out, where to shift the liquor shop to from the highway nearby, only to find a determined group of protesters puling the structure down.
The owner of the structure under construction, Venkadesan, lamented that he had dropped all plans of starting a liquor vend and was to start some other business at the place, but the villagers would have none of it and pulled the structure down. The villagers also did not accept the promises made by the collector and pitched a tent outside the shop to maintain a vigil.
Similar was the situation at another village, in Vellore district, where protests entered the fifth day today, villagers erected a tent opposite the proposed shop. TASMAC officials are still going ahead with their plans to open the outlet.
TASMAC, a TN government body, has sole monopoly over sale and distribution of liquor in the state and has a revenue of close to Rs 30,000 crore, which will suffer a huge blow because of the Supreme Court order of closure of liquor outlets on highways.
Women are against opening TASMAC (government owned and run liquor shops) shops in residential areas in villages and towns after ban on liquor vends close to highways kicked in.
At Chinniampalayam village, a woman protester echoed sentiments of Tamil Nadu women, when she said "once this liquor shop opens here, it will be difficult to move around. Many drunkards in the area will make life hell for all people."
All the nearly 80 houses in the village have hoisted black flags to protest the government decision to shift TASMAC shops in residential areas. Even in Ranganathapuram colony, women find it difficult to fetch water or go for errands as they become easy targets of verbal abuse and rude comments from drunkards in the area.
Similar is the tale at many places, which is why the protests are being driven by women.
Subscribe To Our Newsletter