The very word " Brindavan" immediately rings a bell in our mind about " Vrindavan", Lord Krishna's abode, a serene place. That is exactly what Brindavan is, the most scenic, calm place, surrounded by Western Ghats. Above all, for those who have lived in 'concrete jungle ' , Brindavan is the most ideal abode to settle down in, by waking to peacock's call in the morning !
Let me further explain what each letter in BRINDAVAN mean=
B is for blossom, a renewal of your spirit.
R is for romp, you know how to have fun!
I is for interest, you show in others.
N is for noble, your regal bearing.
D is for dream, your beacon ahead.
A is for animated, let your energetic spirit shine
V is for versatile, your changeable nature.
A is for amenable, for your easy going nature.
N is for natural, the genuine side of you.
After reading the explanation of each letter, you'll realise how apt it is a place to spend our second childhood, making new friends, renewing our spirit to life, fulfilling some of our lost dream too! When we're in the city, all of us were used to busy hustle and bustle of life. We never got time to give vent to our hobbies, our love for learning. Now, here in Brindavan, we just have the time to do all that we want, as our needs are all taken care of the kind management, rather, I'ld prefer to call them as my elder brothers , as they're there when we need them the most.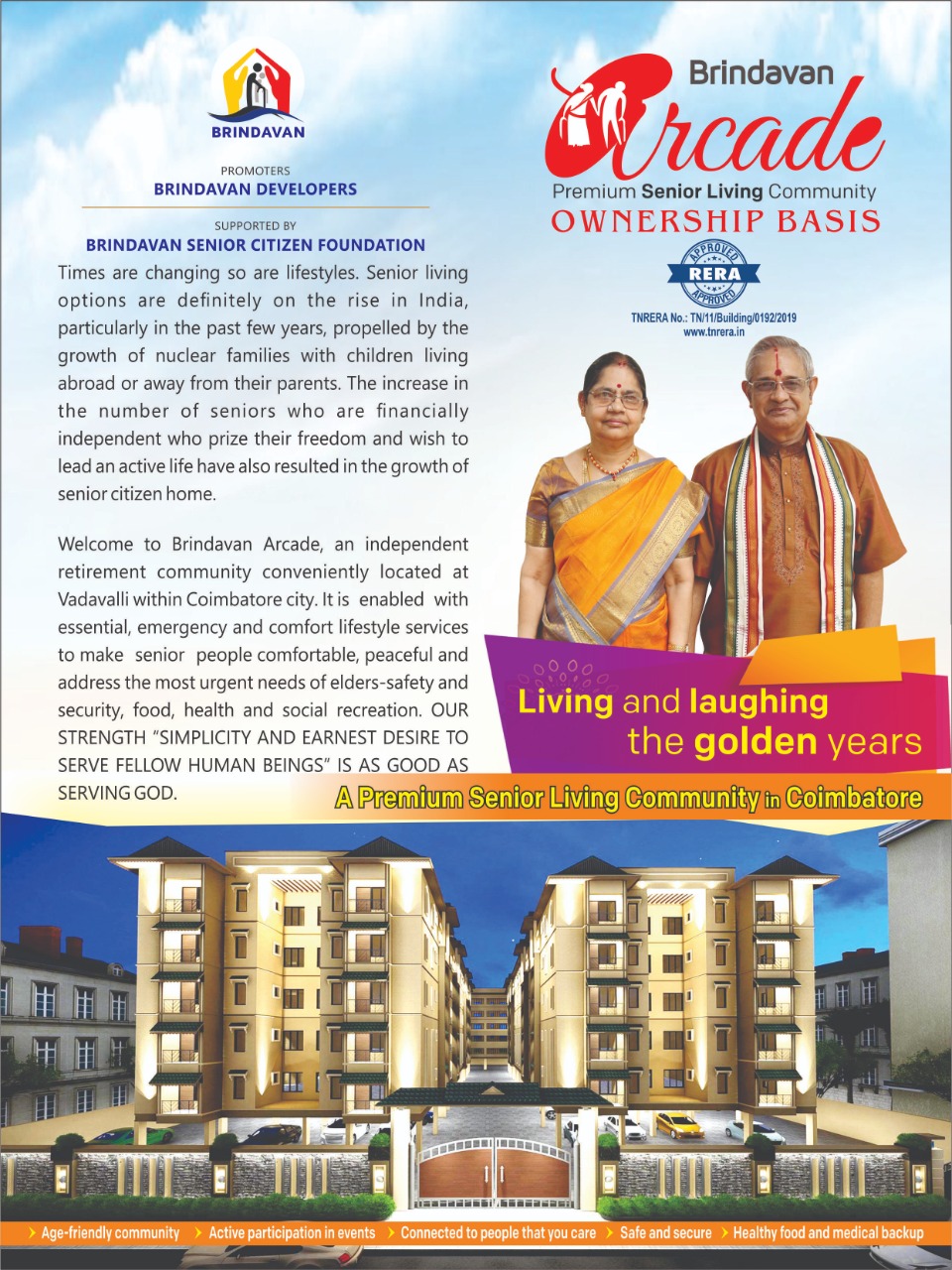 Brindavan is the place, where we as a big family celebrate all the festivals- national, and religious with a lot of enthusiasm, like young students. Our Republic and Independence day is celebrated with as much patriotism, singing in praise of our motherland and our national anthem.
Come Ganesh Chathurthi, it is family time, for ladies to make ' kolakattai' for all our brothers and sisters, singing merrily, the best part is there is perfect distribution of work. While some are busy with making ' kolakattai', others are busy making preparations for the poojai. No one ever complains about the job, everyone willing takes part in it.
Every Shankatahara Chathurthi is celebrated with full abhishekam for our Pillayar, when we all recite the hymns and slokas, with complete division of work.
Navarathri is a delight to watch in all the 3 phases of Brindavan, where ladies display their art and crafts to the full, as each year a theme is chosen, according to which the dolls are arranged, many are made by hand, using the materials that normally one would discard! We're environmentalist, doing our small share to keep the place green and save on natural resources. This is the time also for ' kathceris', then we visiting each other unit to enjoy their kolu and like good old times, giving thamboolam. Yes, we do have daily chundal nevedhiyam for the Gods in the evenings and morning poojai and some sweet for prasadam !
One important thing as we grow old is our health issues, as we age, problems for some do increase. But here in Brindavan, thanks to our management, we've a doctor from the biggest hospital in Coimbatore, GKNM, visiting us every day; there is a nurse in each unit. The doctor not only checks the patients, if need be sample for tests are taken by the nurse and sent to the hospital and the report is handed over to us here! We need not run around for it.
The most wonderful arrangement that the management has done is, we've got tie-up with GKNM and a nearby hospital, where we not only get 10 % discount, also have the facility to hold our payments, all tests, even surgeries if need be are performed, then the hospital sends the bill to the office here, we can hand over our cheque. The biggest worry normally is having money in hand when one is hospitalised, then running around to make payments for various tests, medicines and so on, that hassle we don't face. Isn't that a big, big relief !
The management has made arrangement as people are made in-charge known as helpline, when one is sick and needs to be taken to the hospital. They make arrangement and even at the hospital to get a room, they help out, all we need is a letter from the management that we're resident of their unit. I can assure you all, that when my husband needed a double by-pass surgery, the management was a big help, they visited me to find out if I need any help, as to how my husband was progressing. This affection, that management as towards the residents, I'm sure that you'll not find in any other senior citizens home. They treat everyone as a member of the Brindavan family.
The management has made sure that we do not have to run to the banks at any time, as different banks come here weekly, so we can withdraw cash or deposit cheques, get our passbooks entered.
Our telephone bills and electricity bills are also taken care of by them, we need not go to places to pay.
Do you've a sweet tooth or need ' bhakshanam' to snack on, no worries, we've 4 people coming to sell in a week, so you can take your pick, we place our orders for Diwali, Sree Krishna Jayanti, Karthigai through them. No hassle of shopping for groceries and slogging in the kitchen to make all those delicacies when they're readily available to us.
Then you may wonder where to go to buy some clothes and basic necessities. We've right from Chennai Silks, Ramraj Cottons to n number of people coming throughout the year for you to buy. Then you need cleaning items, people come for that, they want to sell and we don't have to take the trouble of hiring a cab to go and buy. That is the beauty of living in Brindavan, the management has taken care of all our needs, from the basics, bank, health, doctors all at our door step.
There is one thing that I must salute the management, like birth, death is inevitable. For that too, the management takes care of all last rites, including arranging for death certificate. In case your children, have to come, then they make arrangement to keep the body till the children arrive. I never actually expected the management to do this, but it shows their most helpful nature, as they know at the time of death, one needs more help, they've taken care of that too.
After coming here, though we visited our children twice, but our hearts were always here, longing to get back. This is the feeling all the residents have. There is so much comfort, peace, no tension about anything, have good company, people with same wave length, plenty of place to walk inside the complex itself. There is taxi service also available here. Maids, gardeners, plumber, electricians are all there to attend to our needs; we don't have to go in search of anyone. Postman delivers posts here and also takes letters if you want to post!
Brindavan being a gated community, there is absolute security here, so much that many people don't even lock their houses.
We've a big prayer hall where all poojas are performed with full favour and sincerity. There is a newspaper reading room, where all the national dailies both in English, Tamil and Malayalam are there for people to keep themselves up to date about current affairs.
There is a library from where one can borrow books, magazines.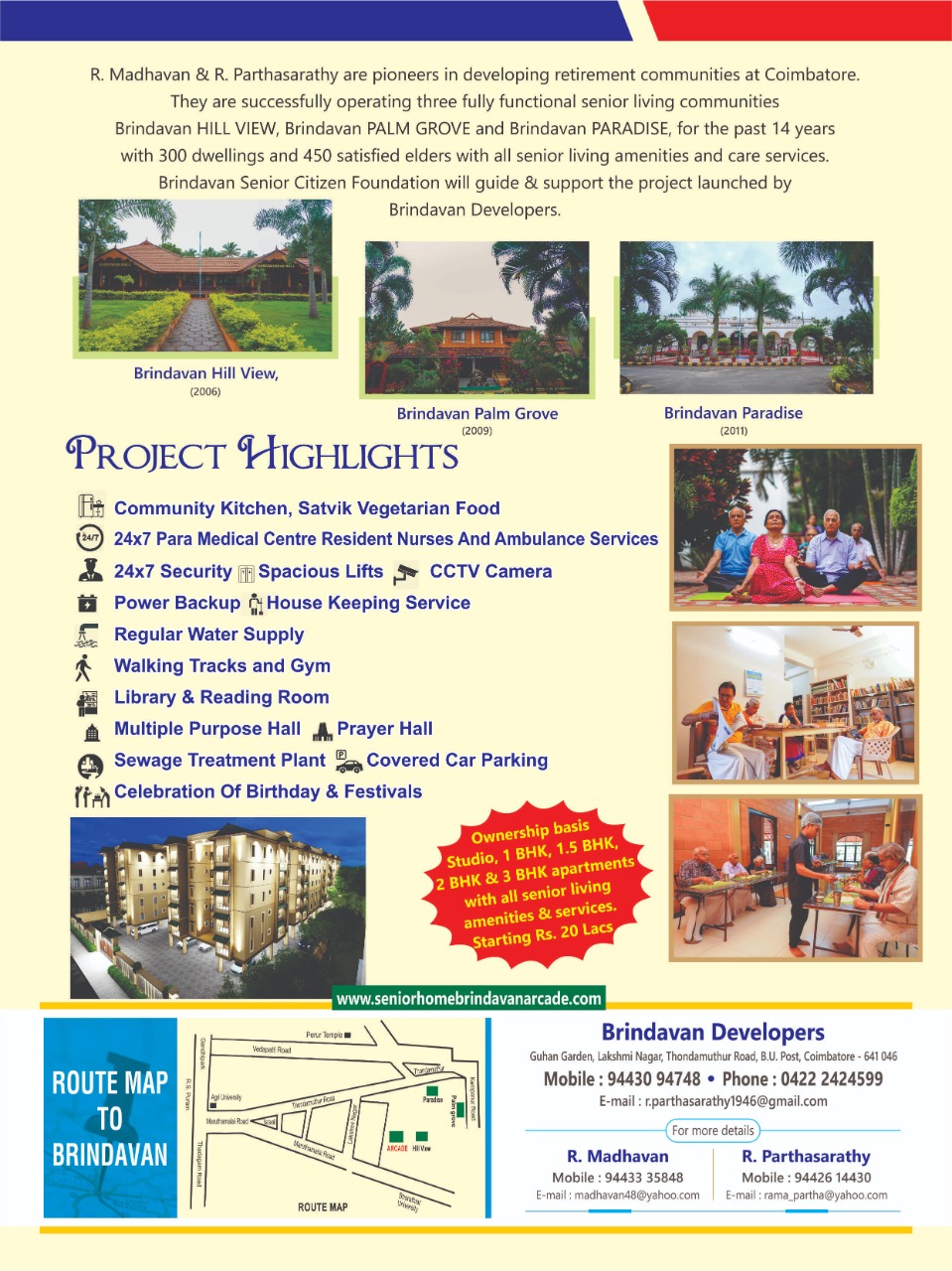 There is a recreation room, where we play carom, cards, chess and even ' palankuli' ! We also conduct our annual sports day, where we've competition in cards, carom and chess for both ladies and gents. Like young kids, many look forward to receive their prizes after the competition! Often some games, quiz program, tambola, antakshari, music programs are held.
Whatever, I've written is followed in all the 3 phases of Brindavan and the same thing will be there in Brindavan Arcade too, with the same benefits, facilities. I'm sure that once you settle here, you'll not like to go out. There is no curb or control in guests coming to stay with us, of course, the manager has to be informed. People have celebrated even the " sathabhishekam' in the complex. Since we're so many residents, often someone or another celebrates their birthday or anniversary or birth of their grandchild, so there are sweets most of the days of the week!
Our children were first worried when we wanted to shift here, but after coming and staying with us, they're very happy, as they don't have to worry about us, as we're well taken care of. We've good friends for company, so children are also living in peace.
I'll not trade any place for this, though our cousin tempted us by saying he has build a huge gated society, so all relatives can be together. Those who left Brindavan thinking other places are better, are repenting and wish to come back. I must say that the kitchen staff serve us with a big smile, never grudging and always feeding us more and ever ready to help when any resident falls down or to take them in a wheel chair.
(The author is a resident of a senior citizens home , Brindavan – Paradise)
Subscribe To Our Newsletter