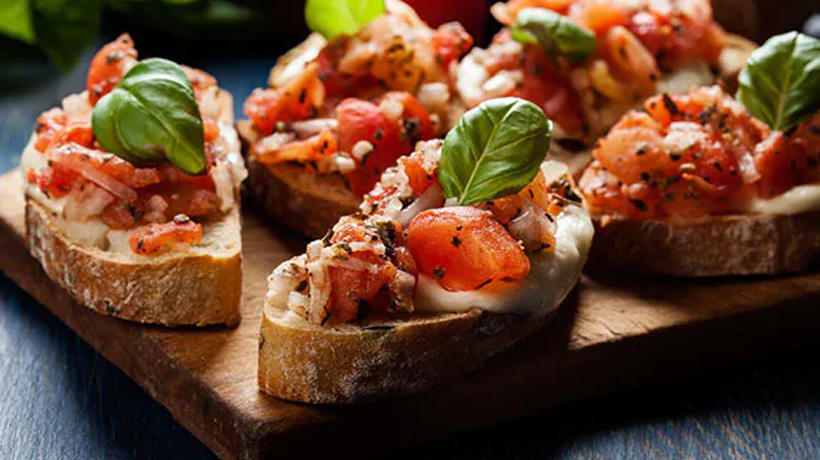 Ingredients Of Vegetable Bruschetta
30 Gram Baguette (grilled slices)
20 Gram Black olive tapenade
35 Gram Artichoke hearts, grilled
5 Gram Lettuce Arugula (trummed)
50 Gram Tomato confit
3 Gram Fresh basil leaves
3 Gram Mint leaves
20 Gram Zucchini
30 Gram Goat cheese
8 Gram Parmesan cheese shavings
20 Gram Mozzarella buffalo cheese
How to Make Vegetable Bruschetta
1.Spread olive paste on all three pieces of breads evenly.
2.On the first slice arrange grilled artichoke hearts garnish with parmesan.
3.On the second slice arrange tomato confit & mozzarella with garlic, onion & basil.
4.On the third slice arrange goat cheese, minted grilled zucchini and garnish with mint leaf.
5.Arrange all slices on platter, make a quenelle of olive paste and arrange on a corner of the plate
Key Ingredients: Baguette (grilled slices), Black olive tapenade, Artichoke hearts, Lettuce Arugula (trummed), Tomato confit, Fresh basil leaves, Mint leaves, Zucchini, Goat cheese, Parmesan cheese shavings, Mozzarella buffalo cheese
Subscribe To Our Newsletter