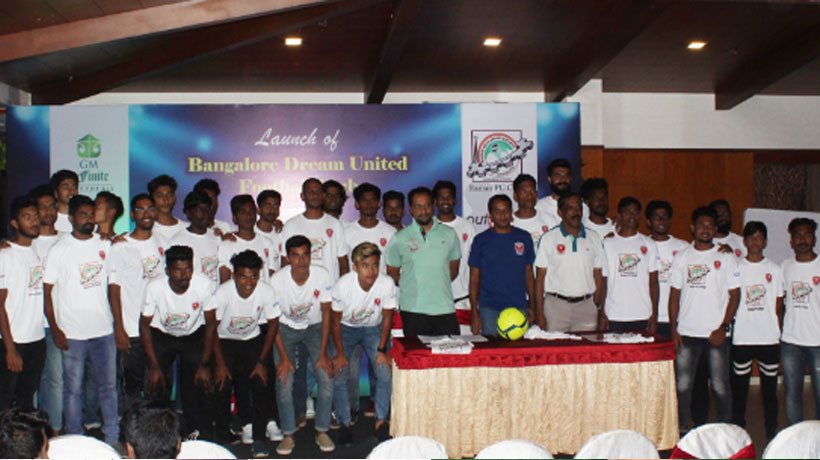 Bengaluru: Bangalore Dream United Football Club (BDUFC) was launched during a simple ceremony on Monday with the motto of galvanising the football culture and providing opportunities for young players.
Founded by Sharath Kamath, a former CIL player and coach, the team with an array of new players is all set to play in this season's Super Division League.
Sharath, a former football player having more than a decade of coaching experience, started Bangalore Dream United, a residential football academy, ten years back. With his relentless efforts and the help of coach Abhishek Jagan, who is a former ISL champion, Badrinath Rao, international bio-mechanics expert who has worked with several Olympians, and well-known football coach S.P. Shaji, has established BDUFC.
"BDUFC's competence lies in non-reliance on foreign players and coaching staff. Bringing the football culture into the Indian sports arena, player development, and sustaining in a professional manner are our main goals.
India has great potential in terms of player resource. The problem is, most bright and young players fail to sustain at the national or international levels due to the huge training gap between Indian players and the elites of the game," said Sharath, who aims to bridge this gap with a programme designed with innovative footballing structure and high-performance training techniques.
BDUFC head coach S.P.Shaji told, "The most important thing for me is discipline. Being with the various army teams, I've emphasised on discipline, both on and off the pitch when it comes to playing professionally. All the supporting staff in BDUFC have the same vision.
I am sure that within a short period, we are going to produce some good quality players and good results." Abhishek Jagan, high performance coach of team, said, "Having worked on high performance athletic training in multiple sports in several countries and at the highest level of ISL in India, I've evaluated what goes into making of world-class players and what the Indian players lack.
We've built a programme to provide a strong foundation for player development to help them sustain for a long time." BDUFC also unveiled the team jersey. Players, office-bearers of the club and dignitaries from the football fraternity were present.
SOURCE : http://www.bfirst.in/category/football/bangalore-dream-united-football-club-launched-513149
Subscribe To Our Newsletter