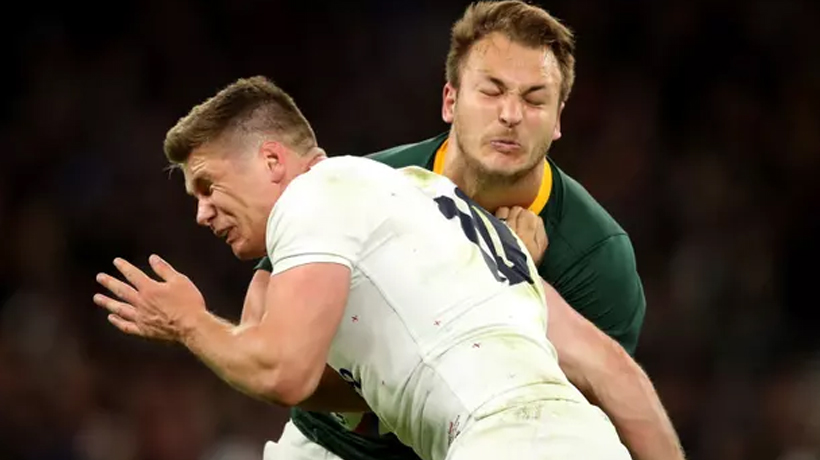 When Kurtley Beale was asked this week about Owen Farrell's challenge on André Esterhuizen, his first thought was to glance in the direction of Australia's media officer. The Wallabies' playmaker clearly had a view, but with Twickenham their final destination this month, it needed to be placed in a diplomatic bag.
Beale, like other players, coaches and fans, was confused. He pointed out that a few years ago Farrell's tackle was unlikely to have been deemed fair as the outside-half led with his shoulder and made a cursory effort at best to wrap his left arm around the Springbok replacement. It would have merited a penalty at least with a card of either colour an option.
Beale's expression said more than his words. His call for consistency applies not just to referees, who at least have the benefit of video replays to determine the height of tackles, but administrators whose directives have the effect of placing a certain type of challenge in the spotlight and relegating others to the shadows.
Beale may have had a match in mind when he betrayed his incredulity, England's World Cup group match with Australia at Twickenham in 2015. Beale was on the pitch when Farrell was sent to the sin-bin 10 minutes from the end for a tackle on Matt Giteau which was similar to his one on Esterhuizen. He led with his right shoulder, but there was no attempt to use his left arm and Australia's centre was not in possession of the ball when he was hit.
The referee Romain Poite was minded to restrict his punishment to a penalty but, after prompting from the television match official Shaun Veldsman, upgraded it to a yellow card. He pointed out that Farrell had led with his shoulder and that Giteau did not have the ball. In applying his sanction, Poite told Farrell he had not watched the ball.
What is most interesting about the incident is what Poite and Veldsman did not discuss. Almost simultaneously as Farrell wiped out Giteau, Sam Burgess moved in on Michael Hooper. The Australia flanker dropped the ball before Burgess caught him around the jaw with a swinging left arm. While Giteau remained on the ground, requiring treatment, Hooper immediately got to his feet and played on.
The television replays focused more on Burgess's challenge than Farrell's, but the match officials seemed oblivious to it and the centre, in what was his final appearance for England before ending his sojourn in union and returning to rugby league, was not even spoken to.
Today the focus would have been on Burgess whose act now warrants a mandatory red card after a directive last December on challenges that made direct contact with the head with force. His tackle was high, above the shoulders, and he hit an opponent's head. Hooper ducked slightly into contact, but that is no excuse now when the emphasis is on getting players to go lower into the tackle. Farrell would probably get no more than a finger wagged at him because his challenge was below Giteau's shoulders.
Consistency is always an issue. In 2014 the Wales full-back Liam Williams prevented Cornal Hendricks from scoring a try with a no-arms challenge on the South Africa wing that knocked him into touch as he dived for the line. A year later in the European Champions Cup semi-final between Clermont Auvergne and Saracens Chris Ashton prevented Napolioni Nalaga from scoring a try with a no-arms challenge as the wing dived for the line.
Williams conceded a penalty try but did not receive a card although his shoulder made contact with the head of the diving Hendricks who needed treatment for a bleeding nose. Ashton hit his opponent's shoulder rather than head: the incident was reviewed and there was no sanction.
The authorities have been firefighting in recent years, singling out various acts as they look to reduce the number of head injuries. It has worked to an extent: tip tackling has become rare after a spate of red cards, and there are few incidents now of a player putting his hand near the eyes of an opponent. Red cards proved a deterrent, but high tackles involve more than the education of players.
A survey of the last World Cup showed that 25% of the injuries sustained during the tournament occurred in the tackle (a high tackle is four times as likely to lead to a head injury assessment as one that is below the shoulders). Between 1985 and 2015, the average weight of a player increased by more than two stone (14.3kg). Forwards became proportionately heavier than backs who in the last World Cup had a 25% higher injury rate than forwards.
In 2012 a report concluded that successful teams in the World Cup tended to have the tallest backs and the heaviest forwards but as the game has speeded up big is not as beneficial at forward. South Africa and France have the heaviest packs among the tier-one nations: 10 of the 13 forwards fielded by the Springboks at Twickenham last weekend topped 18st, but it did not ultimately prove an advantage. They, like France, have been unsuccessful for a while.
A medical conference organised by World Rugby this month heard that while the number of rucks and ball-in-play time had increased over the past five years, the overall incidence of injury had not. "That means the sport's medical standards and injury-prevention programmes in elite adult rugby are having a significantly positive impact," said the governing body's chief medical examiner, Dr Martin Rafferty.
He added that investigations into reducing injury risk were continuing, with changing player behaviour in the tackle a priority, but is the time coming when something more fundamental needs to be looked at? The size of the pitch? The number of players on the field? The use of nutritional supplements?
Whether Farrell's challenge on Esterhuizen merited a penalty, and it would under a Rugby Football Union trial starting this week, it did not belong in any injury-prevention programme. If lowering the tackle height has the same effect as the clampdowns on tip-tackling and eye contact, it should spawn more off-loading, more space for backs to operate in, expose over-bulky players and encourage the likes of Christian Wade, who turned his back on the game because he felt he was not big enough.
Subscribe To Our Newsletter