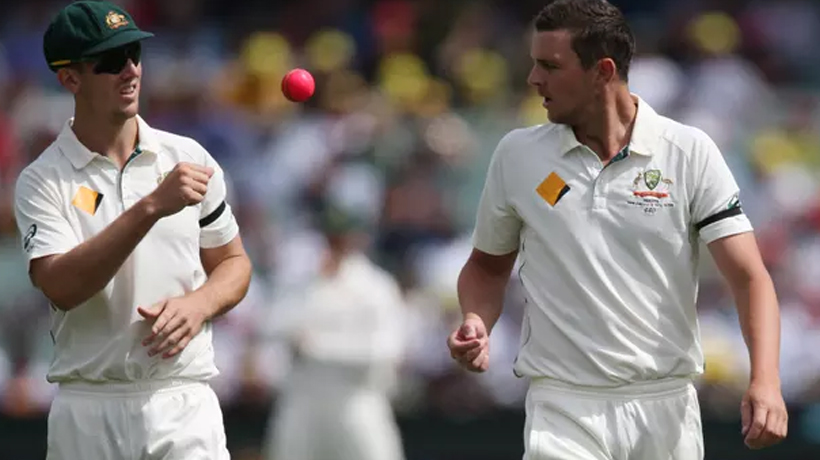 Mitch Marsh and Josh Hazlewood will share Test vice-captaincy duties after Australia rejigged its traditional leadership model in response to the Cape Town cheating scandal.
David Warner was stripped of his title and barred from ever holding a leadership post as part of the sanctions Cricket Australia (CA) handed down six months ago in South Africa.
Marsh, who captains Western Australia and led Australia A earlier this month, was always considered the frontrunner in the leadership race to be skipper Tim Paine's understudy.
But the governing body sprung something of a surprise on Thursday, with the allrounder and paceman Hazlewood both appointed vice-captains.
"We believe the new leadership model will best support the captain. It is a successful model used across various sporting codes around the world," chairman of selectors Trevor Hohns said.
"We see it benefiting the group. Not just from a tactical perspective but also to help drive the team's values and standards on and off the field."
The appointment of Marsh and Hazlewood came after a player vote and formal interview, both of which were unprecedented measures from CA.
Hazlewood and Marsh presented to a panel that consisted of selectors Hohns and Greg Chappell, CA chairman David Peever, CA board member Mark Taylor, coach Justin Langer, team psychologist Michael Lloyd and CA high-performance boss Pat Howard.
The new process reflected CA's desperation to improve team culture in the aftermath of the ball-tampering saga.
The rethink was also caused by the fact the Test vice-captaincy has previously come with the unofficial title of captain-in-waiting, creating unwanted friction between leaders and few seamless successions.
"It was not a process designed to find the next Australian Test captain but to find two vice-captains who will support and help drive the team's goals and objectives," Hohns said.
"Josh and Mitch display great leadership qualities and we were extremely impressed by their passion and energy."
Marsh vowed he and Hazlewood would do everything they can to make Paine's life easier.
"I've certainly grown as a leader in the last 12 months for Western Australia. I've found out a lot about myself, about leadership," Marsh said.
"Hopefully I'll be able to instil that on young guys coming through, what it is to be an Australian cricketer and what we stand for going forward."
Hazlewood will miss the Test series against Pakistan, which starts on October 7 in Dubai, because of a back injury.
Subscribe To Our Newsletter