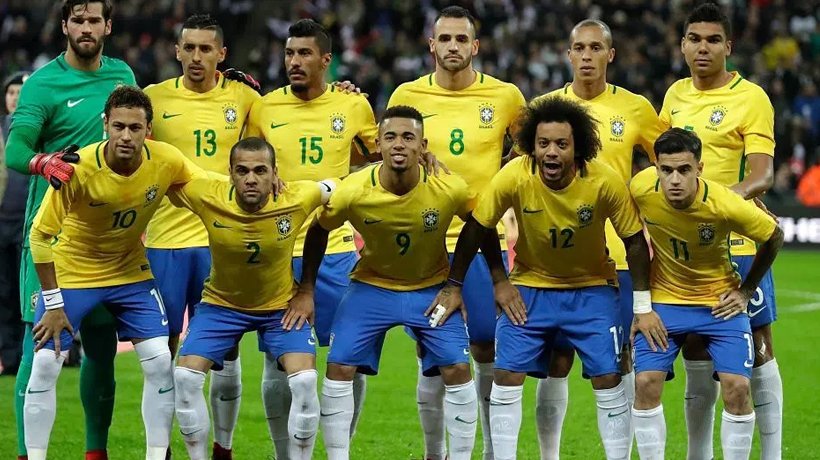 Aldyr Garcia Schlee was the man who splashed yellow on Brazil's shirt; the shining, golden yellow that's a metaphor for all things bright and beautiful in football. A 19-year-old aspiring writer in the Brazil-Uruguay border town of Pelotas, he won a newspaper contest to find a more "patriotic shirt" for Brazilian footballers, who had lost the 1950 World Cup final to Uruguay.
Several decades later, before his memory began to wrinkle, the 85-year-old Brazilian writer, a two-time winner of the Bienale of Brazilian literature, an authority on Argentine poet Jorge Luis Borges, and a lexicologist, he struck a literary parallel to pour out his pain at watching Brazil play prosaic football. "The yellow shirt I used to watch symbolised magical realism, like the works of Borges. Now, it's third-rate pulp. I feel a certain dissatisfaction, an unpleasant taste in the mouth," he wrote, sometime before Brazil's most cursed hour in football—the 7-1 thrashing by Germany.
His loathing of the national team had begun much before, precisely in 1996, when Nike purchased the exclusive rights of "his shirt" for £100million. He lamented: "It's symbolic of everything that's rotten in Brazilian football. The soul of football has been sold off by the Brazilian Football Confederation for a quick buck."
"Dunga has sold the soul of our football," the faithful screamed, whirring their handkerchiefs to the sinuous rhythms of the charangas, the music bands, as the former coach strode onto the pitch before a match. "Jumento, Jumento, Jumento…" they shrieked. Jumento is Portuguese for donkey. The audience and former players were disillusioned by Dunga, the ultra-pragmatic predecessor of Tite — pronounced Chi Chi. Their dear departed Socrates' words —"Dunga's football is an affront to our culture"— rang in their heads.
Tite, though, is their "messias". He won Brazilian hearts in his inaugural press conference, when he categorically affirmed, with a disarming smile, that his favourite Brazilian side was Tele Santana's fantasistas, who wowed the audience but essentially won nothing. "I look at that team and I think what a beautiful thing it is to play football. What fascinates me most is that they played almost without thinking."
Tite has a way with words, as he has with players. He knew that idealism in modern football is an elusive cause, but he also knew how to win hearts first and stamp his footballing philosophy later, unlike the brazen Dunga, who considered the press as another enemy. For in Brazil, he knew, it was not just about winning the Cup, but about winning the Cup the Brazilian way, the beautiful way, emblazoning futebol arte.
Brazil's obsession with beautiful football predates their golden generation, even Pele and Garrincha. It's in the verse of pre-war Brazilian poet Gilberto Freyre, who contrasted the angularity of European football with the rounded sweetness of Brazil's: "It is not the right angle that attracts me, nor the straight line, hard and inflexible, created by man. What attracts me is the free and sensual curve; the curve that I find in the mountains of my country." A football tradition based on the ellipse, a style of play defined by non-linear ways of occupying space and breaching defences.
The fundamental of Tite's football is hybrid triangulation, a brand of progressive play with neat triangle passing, wherein every player is part of at least one positional triangle in relation to his teammates. Originally, triangulation symbolised the ultra-defensive catennacio, but over time, as football became more possession-based, triangulation got a more offensive makeover. "My idea is to have a football of more triangulation, game-backed. I'm not saying it's the right thing, but it's what I believe. Whether it will work or not will not matter. But knowing how to produce it is important," he said.
However, like Dunga, and Parreira, Tite went about rebuilding the squad, still reeling under the emotional carnage of Belo Horizonte, from the back, only that the pragmatic soul was wrapped in a silken skin of attacking swagger. After 24 months of patient recalibration and reassessment, Tite has not only revived Brazilian football but also helped it shake off the lugubrious pessimism of Dunga. He values structure and system, but not as much as it would chain the soul of Brazilian football — that is freedom — in a canary yellow cage.
How do you play Neymar? It's a question that has preoccupied Brazil and the world more than Tite himself. A slightly bemused coach once borrowed English commentator Barry Davies' famous line: "Using him by not using him." He details further: "If the ball arrives to Neymar, they mark [him], but the other side is more exposed. (Phillippe) Coutinho creates chances. Enter Fagner, enter Paulinho. We take Neymar to one side, let him be isolated and make room for another."
Neymar, no doubt, is Tite's titular player, a throwback, a majestic painter with an easel. But Tite has not built his side around Neymar. He built Neymar around his side. The fulcrum of his team is the midfield triangle, comprising a holding midfielder, a drifting, often deep-lying play-maker and a tigerish box-to-box carrier. Casemiro is the holder or Volante, Renato Augusto the improvised regista and Paulinho the link-up man. The defensive assurance empowers his men to switch seamlessly from a stabilised 4-1-4-1 to a full-on attacking 4-3-3, in the flip of a micro-second.
Both Renato and Paulinho were in wilderness during Dunga's years, plying in the Chinese League, which despite an influx of money is considered a destination for Europe's outcasts. But Tite recalled them, because he knew they would meet his peculiar demands. In a year, their careers were resurrected, Paulinho so good that he was gobbled up by Barcelona last season. Of late, Tite keeps interchanging the more versatile Fernandinho with Renato.
When the fullbacks overlap — and he has the most explosive left-back in Europe, Marcelo — Casemiro falls back. Against sides with good counter-attacking verve, even Paulinhio back-files, filling the space. Two searing fullbacks gave him the liberty to dispense with the wingers, tilting his frontmen to manoeuvre more centrally. He would obviously miss the penetration of the injured Dani Alves, but Fagner and Danilo are equally capable of blazing a trail through the flanks.
Upfront, Tite has players capable of producing magical realism like Schlee fantasises. Neymar's accomplices, Coutinho, Gabriel Jesus and Roberto Firmino might not have the frictionless aesthetics of Socrates or the trickery of Ronaldinho, but are highly intelligent and technical players with tremendous positional sense, a key aspect of Tite's structure, and can wreak as much havoc as Neymar. The most notable feature of Tite's tenure has been the departure from Neymardependencia. Tite explains: "No doubt, a player of such disposition is our most influential player. But we should not play with the impression that we are too dependent on him." Tite, by de-centralising him, has liberated him. Unburdened, Neymar, these days, is less prone to petulance, his luminescence brighter than ever before.
Back in Brazil, hopes of the sexto have soared. Even the Argentines are casting enviously appreciative glances at Tite's renaissance men.
"He has brought the defensive line 20 metres higher and brought the team together," gushed former Argentina coach Cesar Luis Menotti highly pleased. "It's like the Brazil of 1970."
Lofty praise, but Tite is more grounded in accepting compliments. "It is a daily process of construction," he said. "The building has been conceived, foundations have been laid and the structure erected. But work has yet to be completed," he reminded.
If Schlee's memory isn't blanked out yet, even his heart would pound with pride at the sight of fluttering men in the canary yellow shirts he designed. "It's more Borges now," he would say.
Subscribe To Our Newsletter