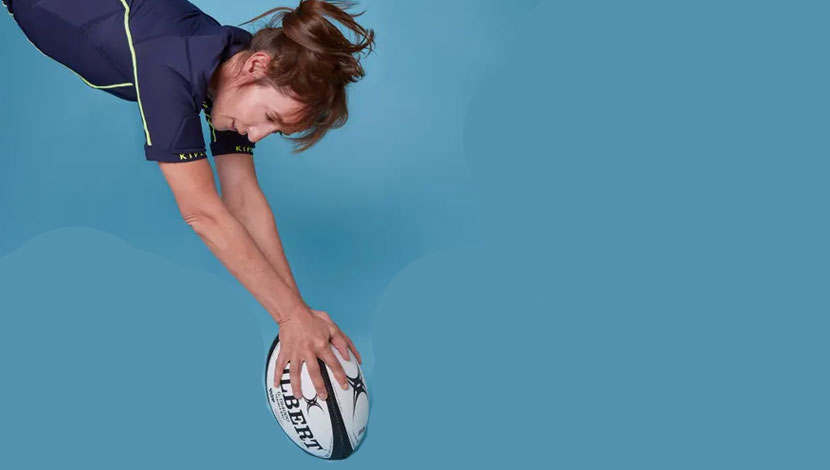 here is an elbow of the Thames that is so full of sporty types – towpath riddled with joggers, hockey clubs to the left of you, rowers to the right – that by the time I reached the rugby club, I was sort of done with fitness. It's 8pm on a Wednesday, I thought; when I was the age of these rugby players, I'd have been out drinking for at least three hours by now.
But the O2 touch rugby club is disarming: small – there were six of us, but usually there are twice that – zesty and welcoming to newcomers. Touch rugby, a scaled-down version of the sport with no tackling or scrumming, is great fun. But one person who can't throw, catch or touch someone without crashing into them like a concussed bull can derail the whole thing. I was that person. It sounds quite easy, but if I mangle it here, that is partly to indicate that it is not easy, and partly to show I never fully understood it.
The instructors, Gareth and Tracey, are amazing, by the way: the whole taster set-up is free. If you like it, you can join a league, and there are loads. Ideally, it's six-a-side, but since there were only six of us, we were three, so that's what I'll explain. Confusingly, the people with the ball, trying to get to the line, are the attackers, even though the defenders are much more attack-ey. Attackers, if touched, have to put the ball down and step over it. A teammate then picks it up and passes to another. You have to stay behind your team member with a ball.
This sounds a very easily mastered principle. Unfortunately, with the physical IQ of the average dog, once there was a ball involved and people were running, I instinctively ran towards the end of the pitch. I was almost never in the right place to be passed to. Defenders, meanwhile, have to touch the person with the ball. That sounds really simple, you're thinking – that's just like playing "it". It, it turns out, was a lot more skills-based than you remember. Touching someone gently, if you're chasing them, requires slowing down first. I rammed into Gareth so hard, he said, "Have you played a lot of contact rugby?" Once you've touched someone, you have to run, backwards, for five metres.
It was only once I hurt my knee (pre-existing old-person ailment, not the game's fault) and stood out for a bit that I could see how it works: people who understand the rules do a lot of feinting and dodging, so there's an element of panto that splices the competition with playfulness. It is sweet to watch, like grownups in a playground, but also functions as sport; it makes sense physically whoever's playing it (unlike, say, netball, which you have to see professionals play before you can decipher it). This is a total, all-incomes, all-fitness-levels recommend.
Subscribe To Our Newsletter