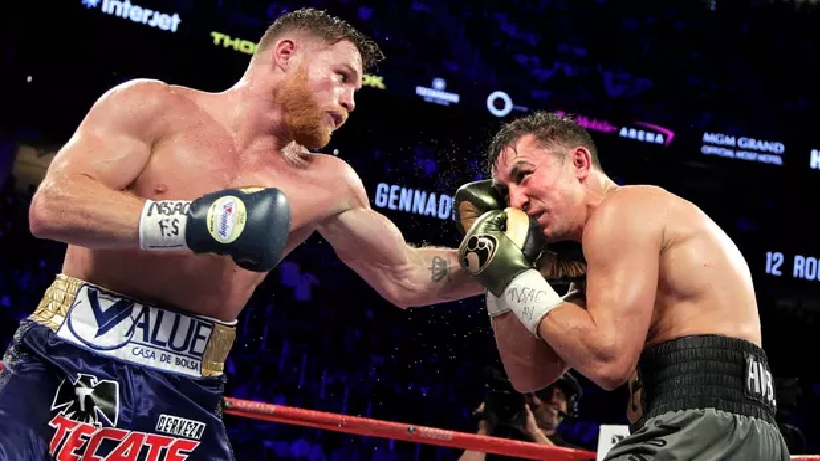 Boxing could have scarcely dreamed of a better advertisement than last year's summit meeting between Gennady Golovkin and Canelo Álvarez, that rare long-awaited showdown between two of the most accomplished fighters of their generation that managed to exceed the years of breathless anticipation and hype that preceded it.
Yet everything that's happened in the year since the final bell sounded after 12 electrifying rounds at the T-Mobile Arena on the Las Vegas strip – the highly disputed split draw handed down by the judges on the night, Álvarez's failed tests for a performance-enhancing drug ahead of their rematch, the Mexican's subsequent suspension by the Nevada Athletic Commission which scuppered the fight and left Golovkin to take an overmatched replacement opponent for a fraction of the purse – has seemed to flaunt all the unseemly ills of a sport that can never seem to get it right when it asks the public to lean forward and pay attention.
They will meet for a second time on Saturday, in the same ring, with the unified world middleweight championship on the line once more. Golovkin will put up the WBC and WBA belts, as well as the lesser IBO title, while Álvarez will climb in as the Ring magazine and lineal middleweight champion by virtue of a 2015 win over Miguel Cotto (albeit at a catchweight of 155lb). They are still the two finest operators in their division and, some might argue, any other. But the cordiality and mutual respect that marked the build-up to their first encounter has been replaced by bitter discord.
This time, as they say, it is personal. The Kazakh puncher known as Triple G, who had spent the better part of a decade ripping through the 160lb division with an uncommon blend of patience, technique and powerin both hands, had been disillusioned enough by the scorecards that wrought the first blemish on his sterling professional record, most grievous among them Adalaide Byrd's risible score of 118-110 in favor of Álvarez.
Yet the discontent of Golovkin (38-0-1, 34 KOs) only redoubled in February after Álvarez failed a pair of Vada-administered urine screenings for the banned substance clenbuterol, which the Mexican claimed was a result of contaminated meat consumed while training in Guadalajara. The NAC slapped him with a backdated six-month suspension, prompting the cancellation of a big-money rematch that had come together in the immediate aftermath of their first fight – and the ire of the opponent he had left at the altar.
"Come on, I told you, it's not meat," an annoyed Golovkin told a gaggle of reporters in March at his training camp in the California mountain hamlet of Big Bear Lake. "Canelo's team are using these drugs and everybody's trying to pretend it's not happening.
"This guy, he knows. This is not his first day in boxing. He proves he gets benefits from everyone and he can get away with it. The commentators, commission, doping commission. This is a very bad business, [it's] not sport. Check him on a lie detector and then we can find out everything."
The ill will led to far more contentious negotiations for Saturday's rematch, with Golovkin standing pat on his demand for a straight 50-50 divide of the purse and Álvarez, owing to a more established pay-per-view pedigree, calling for 65-35 in his favour. Deadlines came and went but once Golovkin accepted a 55-45 split, the fight was on – bad blood and all.
Álvarez (49-1-2, 34 KOs) has not officially lost a fight since a 2013 points loss to Floyd Mayweather when he was 23, even if many believe Golovkin was the true winner of last year's first instalment – a sentiment that could be plainly heard from the boos that cascaded down from the arena's upper reaches after the decision was announced last year. Yet just because the red-haired counter-puncher from Guadalajara has been somewhat muted during the run-up to Saturday's fight, eschewing a media tour and the standard HBO promotional trappings, doesn't mean the anger doesn't flow both ways.
"The little respect I had for [Golovkin] was lost, he crossed the line with so much of what they said, so much crying that they brought into this," Álvarez has said. "This will help me get everything out in the fight."
Subscribe To Our Newsletter