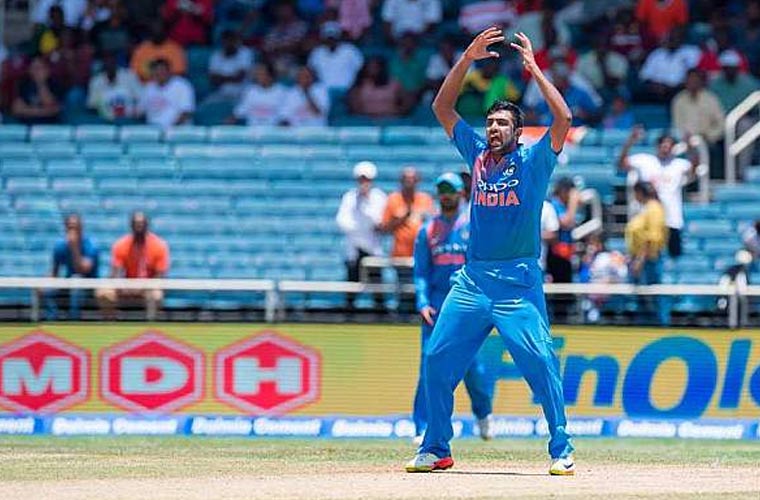 "I'm a man of the system. Any system put in place I strive to the best of my abilities to try and match up to it," Ashwin said. © AFP
India's premier Test spinner Ravichandran Ashwin began his Ranji Trophy 2017 campaign, with uncertainty hanging over his white-ball future. As per the official word from the BCCI, Ashwin and Ravindra Jadeja – India's spin twins in whites – were rested for the ODI and T20I series against Australia, but the instant success of Yuzvendra Chahal and Kuldeep Yadav has cast a shadow of doubt over the former duo's standing in limited-overs.
Ashwin, however, isn't losing sleep over the situation he finds himself in. The 31-year-old has played 150 wickets in 111 ODIs so far since debuting in 2010, and reckons he will get another opportunity.
"I know one day the opportunity will come knocking on my door because I haven't done too much wrong. When I get that opportunity, I'll probably rise to the occasion," Ashwin said on Sunday (October 8).
Indian team head coach Ravi Shastri has also maintained that Ashwin and Jadeja have ample opportunities to play and make the India squad for the next showpiece event – the 2019 World Cup in England. But Chahal and Kuldeep have done well to fit into India's ODI scheme of things and have vindicated Virat Kohli's shift in attention towards wrist spin. Ashwin was quizzed if his absence from the ODI side was because Kohli now prefers wrist spinners over finger, which the former side-stepped.
"The day I become a decision maker, I'll probably be in a better position to answer that question. I'm not a decision maker, as of now. I have never played for the crowds. I enjoy my game and even if I am playing a fifth-division match, I'll enjoy it a lot. The atmosphere doesn't matter. Obviously, I'll raise my game to the occasion but I definitely love playing the game so I am not missing anything at all," Ashwin opined.
A key feature of the Kohli era has been the value attributed to fitness of the players. Even when Anil Kumble was coach, strict rules were in place. There is a growing belief that Kohli sees a group of multidimensional players who adhere to high fitness standards as part of India's immediate future. Ashwin reckoned that any system in place needs to be respected and that he has 'trained pretty madly' since missing IPL 2017 due to injury.
"I'm a man of the system. Any system put in place I strive to the best of my abilities to try and match up to it," said Ashwin. "Every leader has his own vision of how to bring the team about, and this is the vision of the current leadership group. It's very important to respect it. If I was a leader, I would expect everyone else to respect it.
"I have been doing some great conditioning ever since I missed the IPL (Indian Premier League). I have trained pretty madly. I am completely in compliance with whatever they do," he said.
There is also a question of Ashwin's utility in the current ODI setup. Ashwin has over 2000 runs, four 100s and eleven 50s in the Test format, but the numbers are below-par in ODIs (average of 16.09) for him to qualify as an all-rounder.
"I would have loved to bat higher in a one-day game and try to do justice to my potential… but you never know. I have a fair number of years left in me as a cricketer. I never rule anything out and I never take anything for granted."
Even as India announced a period of 'rest' for Ashwin, he signed up to play for Worcestershire in the English County.
"It's my attitude that landed me there [England]. For me, it's all about playing cricket. I have missed the IPL and I missed a fair amount of cricket this year due to injuries and due to unfortunate happenings in the combination of the team or whatever you may want to call it. I had been in touch with a few guys in England and they had been asking me (to play county cricket).
"One such message landed in my inbox one day and I didn't even know that I wasn't playing the ODI series (Australia). I just said I would be interested to be there. Eventually, it all worked out, and the club I went to was one of the best clubs there," Ashwin said.
Subscribe To Our Newsletter