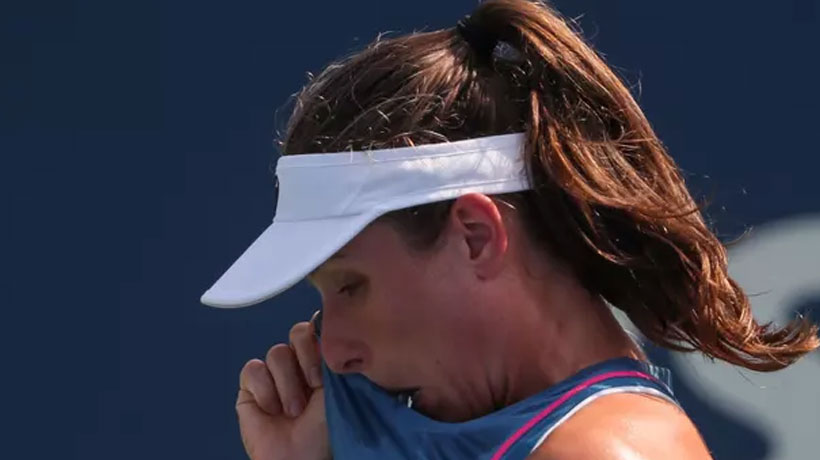 As the mercury climbed, the players fell – literally in some cases – on a day better for tanning than tennis at the US Open. Britain's No 1 woman, Johanna Konta, brought up on the northern beaches of Sydney but vulnerable to extreme heat in the past, was one of the non-medical casualties, while four others quit through exhaustion, cramping or injury.
Konta lost to the sixth seed, Carolina Garcia, 6-2, 6-2 in an hour and a quarter as the afternoon sun battered the exposed Grandstand Court, where Marius Copil had earlier retired against Marin Cilic. He said a "left-arm strain" caused his withdrawal, although he was limping heavily and appeared spent and distressed.
Novak Djokovic, meanwhile, remains the chief threat to the defending champion, Rafael Nadal, after looking out on his feet playing Marton Fucsovics. Against expectations the Serb recovered to see off the determined challenge of the unseeded Hungarian 6-3, 3-6, 6-4, 6-0 in just under three hours on the main court, winning the last 10 games on the spin. He plainly benefited from the 10-minute break the tournament organisers introduced here on Tuesday for the first time, after the third set.
"We both struggled," Djokovic said immediately afterwards. "Towards the end of three sets I started hitting the ball. Before that it was survival mode." To the amusement of the crowd and perhaps the bemusement of his wife, he added, "We both needed that break at the end of the third set. We had two ice baths. We were naked next to each other. It was quite a magnificent feeling, I must say."
Looking ahead to his second-round match against his compatriot Viktor Troicki on Thursday – expected to be another sweltering day – he said: "I'm praying to feel better. But you have these kind of days. A lot of players struggled today."
Having reached the semi-finals at Wimbledon last year and climbed to No 4 in the world, Konta has failed to get past the second round of any of this season's four majors, tumbling 42 places in the world rankings. She did not blame the conditions, acknowledging her downfall was due solely to her opponent. "It was bloody hot," she said. "My eyes are still burning – and I wasn't even out there for very long."
Konta batted aside doubts about her American coach, Michael Joyce. "I feel happy with the relationship that we have. Coming into this year I was in a very unhappy place. The number one job was to get me into a happy place. I feel definitely that we've achieved that. We'll work together as long as we feel it's mutually beneficial." The rest of her season reads: Tokyo, Wuhan, Beijing and Moscow.
Garcia said courtside: "Today I served very well and I was able to read her serve better than usual but there were a lot of tough games."
Konta, unseeded in a major for the first time since Melbourne in 2016, when she made the semi-finals, hung on as best she could but Garcia was too savvy and sharp. She struck seven aces in a superb serving display that Konta could not match.
Konta had reason to be concerned about the conditions, having collapsed here twice, most recently in the second round two years ago when she experienced a spike in her heart rate before recovering to beat the Bulgarian Tsvetana Pironkova in three sets.
Earlier Caroline Wozniacki, one of the fittest players in tennis, found unique inspiration to beat the heat and Sam Stosur: alcohol.
"I had the ice towels and used the shade a little bit," the 28-year-old second seed said standing in the frying pan that is the Arthur Ashe stadium after a 6-3, 6-2 win sent her into the shelter of the locker room and on to round two. "It helped. But, to be honest with you, I imagine I'm on the beach with a margarita in hand. It was just about trying to think cool thoughts."
Pointing to her fiancé in the stands – the NBA star David Lee, hatless and dressed in a black T-shirt – Wozniacki observed, "He should buy a hat."
Stosur said later: "Everyone always talks about how hot Melbourne is, and, 'Oh my god, it's so bad and everything,' but the US Open's way worse than Melbourne.
"There are more retirements here but, for some reason, we get the bad rap in Australia."
Kiki Bertens, who beat Kristyna Pliskova 6-0, 7-5, said: "It's really warm and it's tough to play, but I guess that's the same for everyone."
Latvia's Jelena Ostapenko, who beat Andrea Petkovic in three sets, agreed. "It was very humid and also very hot but it was the same for both of us," she said.
"We had to deal with it. The 10-minute break [after two sets for women] helped a lot. I went back on court and I broke her serve straight away."
Naomi Osaka, the Japanese 20th seed who grew up in Florida and beat Germany's Laura Siegemund, 6-3, 6-2 in an hour and 18 minutes, saw it differently. "Everyone was complaining about it. I thought it was pretty decent. Florida summers are way worse," Osaka said.
Petra Kvitova, who beat Yanina Wickmayer in two quick sets, observed: "I tried really hard not to play the third one in this kind of heat. I was pretty lucky to play first. I couldn't imagine how horrible the heat was [later]."
Subscribe To Our Newsletter