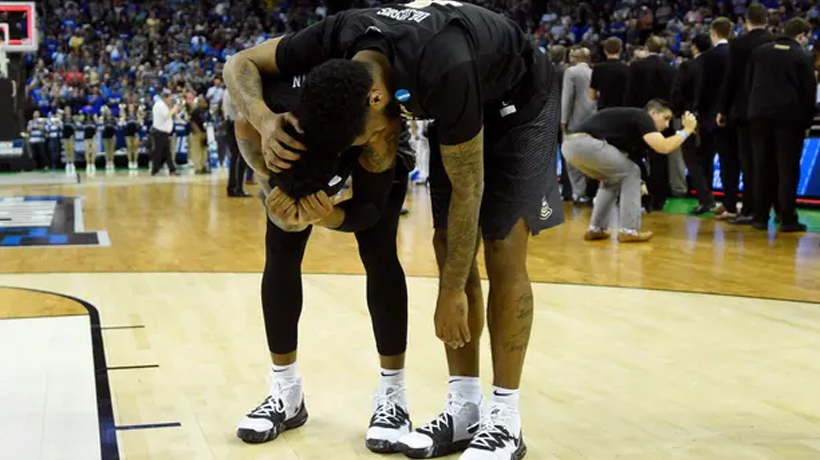 Zion Williamson took on 7ft 6in Tacko Fall at the end and won, and top-seeded Duke survived when two last-ditch shots by UCF rolled off the rim.
Aubrey Dawkins finished with 32 points, but his tip-in try just missed on Sunday, and Duke advanced with a 77-76 victory to reach the Sweet 16.
Williamson had 32 points, including a layup over Fall with 14.4 seconds left and his team trailing 76-73. Williamson was fouled and missed the free throw, but RJ Barrett scored on a putback to put Blue Devils (31-5) ahead.
Ninth-seeded UCF (24-9) had a final chance, but BJ Taylor missed a short jumper and Dawkins failed on his tip attempt with less than two seconds left. Duke got the rebound, ran out the clock and moved on to the Sweet 16 for the 27th time and fourth time in the past five years.
No2 Tennessee 83-77 No10 Iowa
Admiral Schofield ran around the court in sheer joy, waving a March Madness towel after Tennessee made it back to the Sweet 16 for the first time since 2016.
The rest of the Volunteers? Just trying to breathe normally again.
Tennessee avoided one of the biggest meltdowns in NCAA Tournament history Sunday, letting a 25-point lead slip away before SEC player of the year Grant Williams asserted himself in overtime for an 83-77 victory over Iowa.
None of the Volunteers (31-5) saw that coming, not after they'd raced ahead 44-19 in a sizzling first half they dominated every which way.
The biggest NCAA tournament comeback? BYU's 25-point rally past Iona in the First Four in 2012.
"The way we started the game, that's the team we win (with)," said Schofield, who had 17 of his 19 points in the opening half. "The way we finished the game, we can't have that."
Tenth-seeded Iowa (23-12) nearly pulled off another historic comeback, sending it overtime tied at 71 – the first overtime game in this year's tournament. The last time the teams played also was in the NCAA tournament, with Tennessee rallying from a 12-point deficit to a 78-65 overtime victory in the First Four at Dayton in 2014.
The Vols' best player made sure they wouldn't be on the wrong end of the big comeback this time.
"Grant Williams hit some big shots," Iowa forward Luka Garza said. "He's a big-time player. And we defended him well."
Williams had a pair of free throws, two jumpers, and a strip in overtime that helped the Vols pull it out and match their school record for wins in a season. He finished with 19 points and seven rebounds.
"I feel like a fifth grader who just ate Skittles," Williams said, summing up the finish.
No 1 North Carolina 81-59 No 9 Washington
Luke Maye and Nassir Little each scored 20 points and top-seeded North Carolina breezed into the Sweet 16, beating Washington 81-59 Sunday.
The Tar Heels (29-6) never trailed and moved on to face fifth-seeded Auburn on Friday in a Midwest Regional semifinal.
Last year, one season removed from its national championship, North Carolina was eliminated in the second round in a rout by Texas A&M. The Tar Heels were not going to let it happen again.
Maye added 14 rebounds for North Carolina, a No 1 seed for a record 17th time.
The Tar Heels committed 10 turnovers in the first half, and led by eight points at the break. But they bolted out in the second half, put together a 13-0 run over five minutes and pulled away.
Pac-12 player of the year Jaylen Nowell paced Washington (28-8) with 12 points.
North Carolina forward Garrison Brooks took an elbow to the mouth in the first half that knocked out one tooth, chipped another and required stitches to close his cut lip. He returned to start the second half.
North Carolina guard Kenny Williams exited early in the second half grasping his left hamstring, but he also returned later in the half and seemed to be OK.
Subscribe To Our Newsletter