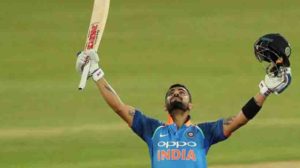 Virat Kohli was a man possessed on Friday, decimating records as he went about his business against South Africa in the sixth and final ODI at Centurion. The Indian skipper's unbeaten 129 helped India beat the hosts by eight wickets and clinch the series 5-1.
In his 96-ball stay at the crease, Kohli became the fastest to cross 17,000-run mark in international cricket, in just 208 matches, to surpass Hashim Amla. The 29-year-old also became the first cricketer in history of the game to score 558 runs in a bilateral ODI series.
In the six-match series, Kohli smashed three hundreds to take his tally of centuries to 35. He's only behind Sachin Tendulkar (49) in the list of highest century-makers in ODI cricket. 30 of Kohli's 35 centuries have come in winning causes.
Kohli now has 56 (21 in Tests and 35 in ODIs) hundreds in international cricket, which is the fifth most. His tally of hundreds overall is behind only to the likes of Tendulkar (100), Rickey Ponting (71), Kumar Sangakkara (63) and Jacques Kallis (62).
He also has the lowest hundred conversion rate, that is the best innings per hundred record. He averages 6.48 innings per hundred, ahead of the likes Amla (7.35), Steve Smith (7.42) and Tendulkar (7.82).
He has surpassed Tendulkar for most number of hundreds scored before his 30th birthday. Tendulkar has 34 and Kohli scored his 35th ODI hundred. Chris Gayle is a distant third with 19, followed by Sourav Ganguly (18) and AB de Villiers (16).
Kohli is again miles ahead of the rest of the pack, leaving behind the Master Blaster himself, in terms of innings taken to reach 35 ODI hundreds. Tendulkar had taken 309, with Kohli managing the feat in just 200 innings.
Kohli even has more hundreds as captain (13 in 49 matches) than all of Pakistan captains combined (12 in 889 matches).
With 9588 runs in 208 matches, Kohli is also India's fifth-highest scorer in the 50-over format. He's behind Tendulkar (18426), Sourav Ganguly(11221), Rahul Dravid (10768) and MS Dhoni (9793).
Kohli also tied with English batsman Kevin Pietersen, for most hundreds against South Africa in the rainbow nation, with three hundreds. Pietersen had done it in February 2005, taking just 12 days to score the hundreds, while Kohli achieved the same in this series in just 16 days.
Kohli has had an astounding tour of South Africa so far, managing to score 800 runs from the three Tests and six ODIs, and that too in just the first 43 days of 2018. The next best has been Shikhar Dhawan with 355 runs, followed by Rohit Sharma with 248 runs and Ajinkya Rahane 182 runs.
In the course of his 35th ton, he reached the mark of 9500 runs in ODIs, managing that feat in fastest time ever. He over took AB de Villiers, who did it in 215 innings.
The right-handed batsman enjoyed a sensational run in 2016 across formats. He did even better in 2017 and finished as the highest run-scorer in ODIs, amassing 1460 runs including six hundreds and seven fifties from 26 matches.
Kohli is the only batsman in the world to average more than 50 in all three formats, which has been the case for a while now. He is currently averaging 53.40 in Tests, 58.10 in ODIs and 52.86 in T20Is.
Apart from his batting prowess, Kohli also became the sixth Indian to take 100 catches.
Subscribe To Our Newsletter