On October 10, 2023, Seshadripuram Public School's ICSE wing in Bengaluru played host to an inspiring and creative event – Avvannavar's Creative Workshop, "The Power of Dots," drawing inspiration from Peter H. Reynolds' book, "The Dot." This captivating workshop was designed to kindle creativity and imagination, utilizing storytelling and engaging activities to do so. It proved to be an unforgettable experience for the Grade 6 students in attendance.
The workshop centered around the concept that even seemingly simple dots possess immense creative potential. Santosh Avvannavar's guidance took participants on a journey into the intriguing realm of dot artistry, offering them the opportunity to unlock their artistic abilities and delve into novel forms of self-expression. Drawing inspiration from Reynolds' work and other dot-based art forms, attendees were guided through the intricacies of using dots to craft their own unique artwork.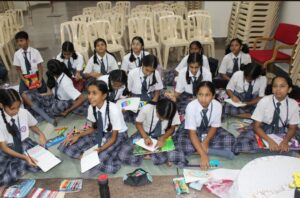 "The Power of Dots" went beyond the realms of drawing and art; it sought to enhance creativity in all aspects of observation. Participants were encouraged to think outside the box, create, and share with others. The hands-on interactive sessions allowed them to create their own dot art pieces under Santosh Avvannavar's expert guidance, instilling a profound sense of accomplishment and joy in their newfound abilities and self-belief.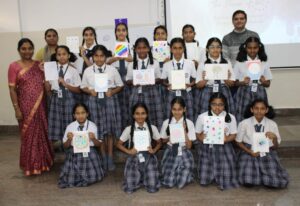 This workshop promised to be a transformative and enriching experience, catering to anyone eager to explore their creative potential. Its primary goal was to ignite a passion for art and encourage participants to perceive the world through the lens of dots.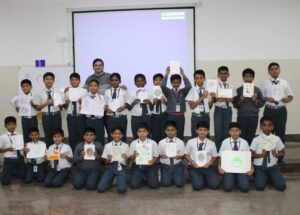 The culmination of this creative journey will take place on November 3rd and 4th, when participants will proudly display their dot creations for other grades to admire and appreciate. The workshop was made possible under the guidance of the school's leader, Principal Mrs. Parimala L.K., and the dedicated coordination of Mrs. Anuradha.
"The Power of Dots" has left an indelible mark on the young artists of Grade 6, empowering them to see the world's limitless possibilities through the magic of dots.
Subscribe To Our Newsletter