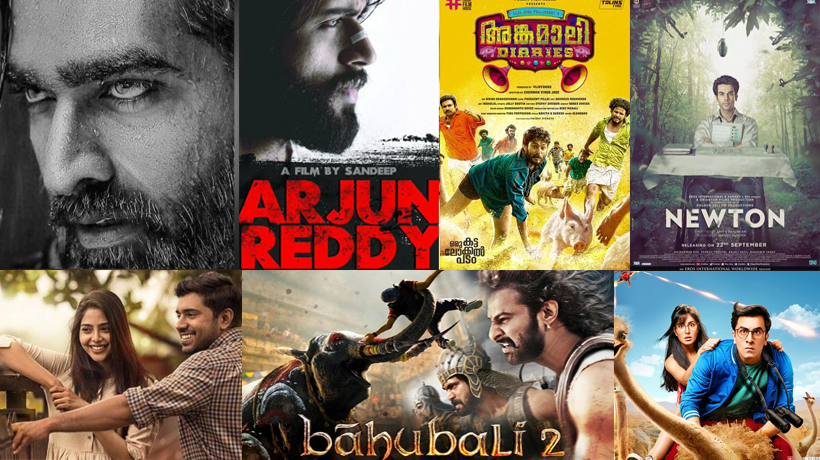 2017 has been a strange year for Indian cinema, many big ticket movies with big budgets failed to take off while small movies with a big vision seemed to succeed, this maybe laying the roadmap for the success of content driven cinema even in B and C centers in the country. Tamil cinema for instance saw the success of small budget films like Aramm and Aruvi succeed, while big budget star vehicles like Bhairava, Veeram & Singam 3 did not meet the expectation, similarly hindi cinema witnessed movies starring the Khans failing this year while films like Newton and Bareilly ki Barfi exceeded the expectations. Here is a list of 10 Indian films across languages that impressed the country.
10. Vikram Vedha (Tamil) :
This crime thriller saw Vijay Sethupathi and Madhavan compete both as actors and as characters in the .Madhavan as an objective cop and Sethupathi as a mysterious gangster took the film beyond mere entertainment and turned it into an existential drama of sorts, this supported ably by the grim cinematography gave a film that will go down as a classic in generations to come. The film also saw Pushkar-Gayatri justifying their 7 year break from filmmaking with top notch direction and slick writing.
9. Jagga Jasoos (Hindi) :
It takes courage to make a musical mystery comedy adventure but it takes guts to produce and feature in a film like this while you are already a big star. Jagga Jasoos with its exotic cinematography and beautiful songs was nothing short of Christmas movie saving for maybe a few portions that were stretched. The film additionally had Ranbir Kapoor play a teenager effortlessly the only downside of this movie though was Katrina Kaif who looked out of place and lost. It is a pity that the movie tanked in the box office.
8. Take off (Malayalam):
Parvathy is a star, perhaps one of the best actresses in today's age and take off helped her cement it. Based on a true story of Indian nurses being held captive by ISIS in Iraq, this thriller keeps you at the edge of the seat till the very last moment and when the movie ends you genuinely end up feeling for the nurses who suffered in Iraq as ISIS was gaining ground. Established male actors like Kunchaku Boban and Fahaad Faasil played supporting roles and let Parvathy carry the entire film on her shoulders. It is a pity that Bollywood has reduced these nurses to mere showpieces needing the help of a macho man like Salman Khan to escape.
7. Njandukalude nattil oridavela (Malayalam):
Cancer comedy is an oxymoron but it is not impossible, starring Nivin Pauly (not in the lead role) this film is a beautiful take on life after cancer and life during cancer. The humor is dark, the emotions are real and most importantly, one could relate to the characters of the film. The film belongs to Shanti Krishna who returned to acting in films after almost 20 years to play a middle aged professor who brings her family together during crisis a lot of retired/semi-retired actors need to take lessons from her on comebacks. The film also saw Nivin Pauly playing a supporting role amid being the producer of the film, Malayalam film industry is definitely the torch bearer of progressive cinema.
6.Kaatru Veliyidai (Tamil) :
Misunderstood or misinterpreted? It may not come as a surprise if this film is hailed as a classic 10 years from now. What was not absorbed by the audience is the duality of the characters of this Mani Ratnam film. The beauty outside and the dirt inside, the conflict outside with the peace inside, Karthi's Varun goes through all this in the span of the movie, but Aditi Rao Hydari's performance trumps everything , her subtle expression brings a breath of fresh air added to AR Rahman's background score. Mani Rarnam salvages all the beauty that remains in human beings and packages it into Kaatru Veliyidai.
5. Baahubali- The conclusion (multilingual) :
If it was Chandraleka that caught the imagination of the cinema going audience of Tamil Nadu 70 years ago, it is Baahubali now. S.S.Rajamouli is the man with a vision on a mission just to disprove that grandeur is merely to compensate for the lack of elements. Bahubali the conclusion was a confluence of good music, good acting and great cinematography. This would go down as the film that got the entire country excited and most of the country watched.
4. Newton (Hindi):
This year also saw Rajkumar Rao and Pankaj Tripathi evolve from being good performers to bankable stars. Newton was their second outing together this year after Bareilly Ki Barfi, the film starts slowly introducing Newton to the audience and eventually progresses into an intense political commentary/satire that rather ends on an ironic note. There are no elements of surprise, no loud action scenes and absolutely no judgmental dialogue but ends up leaving a lasting impact on its viewer .
3. Bareilly Ki Barfi (Hindi) :
Simple comedies are sometimes the need of the hour, at a time when Bollywood is churning trash in the name of humour comes a simple film that purely banks on its writing. With incredible performances by its ensemble cast, this is easily the best comedy film of the year. Coming from Ashwini Iyer Tiwari whose previous outing was the memorable Neel Batti Sannata adapts a French novel called the Ingredients of Love and sets it in semi urban UP. The best part of this film is that the female protagonist smokes,drinks and has an opinion on men but none of the characters including her parents ridicule her for being so, one gets to see a truly free spirited female character in Bollywood after a long time. This is clearly a must watch.
2. Arjun Reddy (Telugu):
In 2009 , Anurag Kashyap had 11 crores to make Dev D (or so Wikipedia says) in 2017 Sandeep Reddy Vanga had less than half the budget to make a film on a similar subject and by how he made it! He takes us from the playground of a medical college in Mangalore to the streets of Hyderabad and directly into the psyche of the protagonist, this is by all possibilities the pinnacle for movies that are made on the largely popular "Devdas Syndrome". Any adaptation of Devdas has to better Arjun Reddy to be able to even call itself an adaptation.
1.Angamaly Diaries (Malayalam):
Angamaly Diaries is not a film, it is a high. Never has the country ever seen such an experiment and such bizarreness on screen (no, Om Dar Ba Dar is a different genre altogether) . The violence, the acting , the music and the entire feel around the film is something new to world of cinema let alone Indian cinema. The 11 minute long take for the climax with over 1000 extras is exactly what cinematic fantasies are made of. Angamaly Diaries is clearly the best film to have come out of the country this year.
The ones that almost made it:
1.Tumhari Sulu (Hindi)
2. Aruvi (Tamil)
3.Aramm (Tamil)
4.Theeran Adigaram Ondru (Tamil)
Subscribe To Our Newsletter