The Tamil Nadu government's decision to allow theatres to function with 100 per cent opening ahead of two big-ticketed Pongal releases – Vijay's Master and STR's Eeswaran – had raised safety concerns.
Now, the Ministry of Home Affairs has asked the Tamil Nadu government to revoke the order and cited, "Government of Tamil Nadu order of permitting increase the seating capacity of Cinema/theaters/ multiplexes from existing 50% to 100% is dilution of MHA order. States and UT shall not dilute guidelines issued under DM act in any manner."
It further added: In view of the above, Govt of Tamil Nadu is requested to immediately issue necessary order to bring their Guidelines in line with the MHA guidelines dated 28 December 2020 and inform compliance to this Ministry.
The DO is addressed to K Shanmugam, Chief Secretary, the Government of Tamil Nadu. It remains to be seen if the order of 100 per cent seating in theatres would be revoked anytime soon.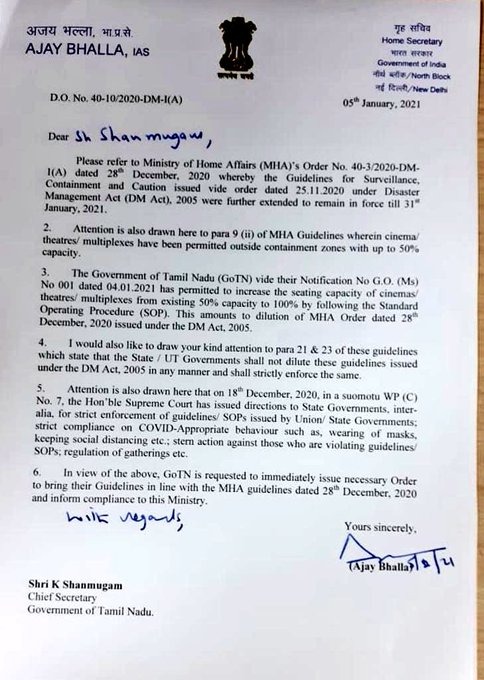 Subscribe To Our Newsletter