It was a win for mothers all over the world when Kerala High Court came out with a verdict that overthrew age old notions of obscenity regarding a magazine cover that had a woman breastfeeding with her blouse down.
Photographer Jinson Abraham is not unused to controversial photography. Hailing from Kochi in Kerala, he has made a name for himself with his uniquely conceptualised shoots that have sometimes involved bold photography.
When the photo he took for a magazine cover went viral worldwide and initiated the discussion he and his team intended, he could not have been more ecstatic. "Even UNESCO appreciated what we did. For a magazine like 'Grihalakshmi' from Kerala to initiate a worldwide discussion, that's a big deal," said Jinson to The Covai Post in an exclusive interview.
The cover photo of Grihalakshmi featured Gilu Joseph, an author, lyricist, content creator and solo tripper as she describes herself on Instagram. "We wanted to do the shoot with a real mother and child. Even as someone agreed to it, she backed off in the end. Finally, we decided to do it with a model. But we didn't want the typical model. We wanted someone more grounded," says Jinson.
"I've been friends with Gilu for more than a year. We've had several discussions about body-shamming and other topics. I asked her if she knew someone who could model for us. She surprised me by saying that she'd do it. A friend let us shoot with their baby," he added.
Jinson says the overall aim of the shoot was to initiate discussion. "We made it slightly provocative for that very reason."
The team at Grihalakshmi had come across a Facebook post of a new mother feeding her baby, posted by her husband, that had gone viral in Kerala in January. The reaction to the post was highly misogynistic which led to it being taken down. Grihalakshmi decided to post a strong message against all gazes against a breast-feeding woman.
"The shoot was for the March women's special issue of Grihalakshmi" said Jinson, "They approached me with the concept as I had already done a few bold shoots and was used to the controversial nature of it."
"The whole Mathrubhumi (Grihalakshmi comes under the umbrella of Mathrubhumi) as a brand has been trying to move away from the traditional notions that restrict society. This was part of that."
Jinson says the picture was just a representation of a mother and her child. There was a concept behind every little detail in the picture. "The ornate saree shows that she's at a public function, her sindoor shows that she's married, her slightly scared but sensuous look is directed at her husband, the blouse was kept like that to show that you can be comfortable however you are dressed when you breast-feed," he adds.
Right when the magazine came out, a plethora of response swallowed the team just as they expected. "We were fully prepared to face the consequences of the discussion. If you see our responses, you'd understand. The picture was part of the series, there were multiple pictures with different variations where she was fully covered, or looking down etc," he said to The Covai Post.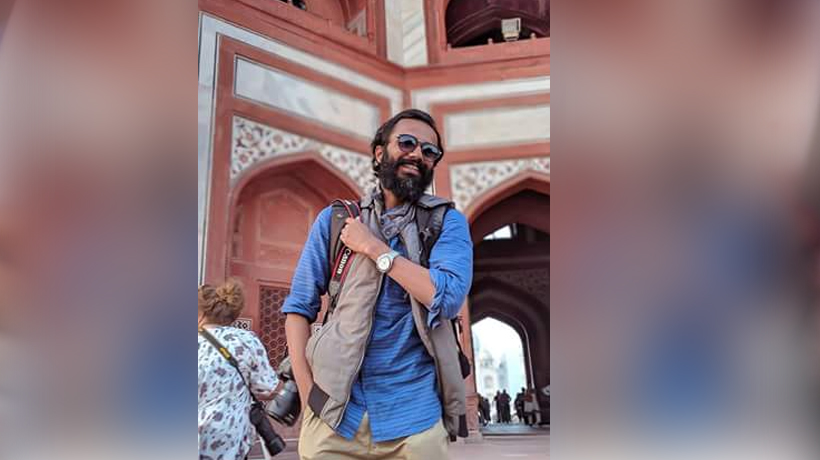 During the first two weeks they received an overwhelming response from men claiming that they never looked at a women as she was breastfeeding. "Many thought that the caption "Thurich nokaruth" ('Don't stare') was addressed to men alone," explained Jinson, "It wasn't meant for any one section of society. From what I have seen, most men that I know, if they came across a woman breastfeeding, they'd leave the place and leave the woman alone. They would never stare or think about it in a vulgar way. Whereas, the elderly, especially the elderly women in families are the ones who usher breast-feeding mothers to cover."
Yet another response had been that the model had been looking at the camera instead of the baby, "It was because its a magazine cover. It has to connect with the audience," says Jinson.
Many compared it to a marketing concept, some even going as far as saying it was pornographic content. "In this day and age, I don't think anyone would be looking at a photo like this and treating it as pornographic content, especially with the easy availability of internet.
"To those saying that it was a marketing concept, I do agree. But its objective was not to increase the sale of the magazine. If you take Grihalakshmi as a magazine, it's audience is more women, and that too homemakers. With this picture in the front, people would not even keep the magazine at home, since they would think 'What will the guests say,'" he said, adding that Grihalakshmi had no extra revenue from the publicity.
Other than answering calls, he did not even look or respond to the negative comments on Instagram and Facebook. "I did once and I realised that they were extremely provocative. We can't convince them. But what was surprising was that other people were replying to the hate comments. The idea was defended by the masses."
The model, Gilu Joseph, had received the worst of the abuse. "People passed very nasty comments at her and about her. If you take her Instagram, you would see that she hasn't posted one picture from the photoshoot. She didn't want to promote herself, she wanted to promote the idea," says Jinson.
Cases were filed against the picture, people called it obscene and vulgar.
But Kerala High Court ruled, "One man's vulgarity is another man's lyric," while refusing to tag the picture as 'obscene'. "We do not see, despite our best efforts, obscenity in the picture, nor do we find anything objectionable in the caption, for men. We looked at the picture with the same eyes we look at the paintings of artists like Raja Ravi Varma. As the beauty lies in the beholder's eye, so does obscenity, perhaps," said the bench that comprised the then Chief Justice Antony Dominic and Justice Dama Seshadri Naidu.
Petitioner Felix M A had filed the suit stating that it violated provisions of the Protection of Children from Sexual Offences Act and Rules, Section 45 of the Juvenile Justice Act, and provisions of the Indecent Representation of Women (Prohibition) Act, 1986, and Article 39(e) and (f).
Subscribe To Our Newsletter