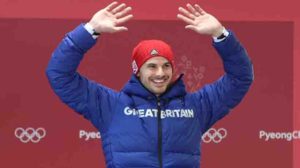 Skeleton racer benefits from mistake by Martins Dukurs
Briton's game-changing skinsuit makes difference
Dom Parsons produced the performance of his career to claim Britain's first medal at these Winter Olympics with bronze in the men's skeleton. The 30-year-old PhD student, a 100-1 outsider before the Guardian revealed Team GB had come to these Games with game-changing skinsuits, just about held his nerve to take a shock third.
Moments earlier Parsons had looked distraught thinking he had blown his medal on the final run. But a mistake from Martins Dukurs, who had been ahead of him, allowed him to sneak a bronze by 0.11 sec.
Not even Team GB insiders had expected this. Parsons is only ranked 12th in the world and had not made the podium in any skeleton World Cup event since 2013. Yet on a morning of high drama he finished behind South Korea's Sungbin Yun who took gold, with Olympic Athlete from Russia's Nikita Tregubov winning silver, 0.02 ahead of Parsons.
Going into the final of four runs, Parsons was in third place – but he knew the gap between the podium and purgatory was as thin as one of his sled's runners. Dukurs, was in silver, just 0.04 sec ahead of him while Tregubov was breathing down his back in fourth, 0.03 back.
If things weren't tense enough, Team GB officials could see it was getting warmer in Pyeongchang. And that was potential bad news, because Parson's runners are designed to work best when the ice temperature is -8C or below, and they struggle when it is -4C or warmer.
But Parsons knows a thing or two about going fast on and off the track. After all, he is currently studying thermo combustion in turbo-diesel engines for his PhD at the University of Bath.
But his skeleton career got off to an inauspacious start. Parsons was doing his undergraduate degree when he was persuaded to go for skeleton talent testing at Bath in 2007. But having gone to a barbeque the night before arrived with a massive hangover and sat out all the sprint tests.
Yet when Adam Pengilly, a former skeleton athlete who is now Britain's representative on the International Olympic Committee, let Parsons and a few others have a go down the push track at Bath University he fell in love. "Suddenly my hangover was forgotten," he says. "None of us wanted to go home and I was probably one of the most annoyingly enthusiastic out of all of us."
Yet his Olympic journey was hardly the smoothest. In 2014 he injured his ankle while jogging on the way to a dentist appointment and in June 2015 he needed ligament reconstruction surgery. It took him a year to be able to sprint fully upright on his ankle and even now he has one of the slowest starts in the competition.
But he makes up for it with his excellent judging of lines while driving – and high-tech equipment which included an aerodynamic skinsuit.
While the project has long-been shrouded in secrecy, the Guardian understands that the main reason it works is due to a subtle manipulation of the seams on the suit. In simple terms, by using rough material in certain places on the suit, the flow of air around the rider is disrupted – reducing the amount of wind resistance acting on the body and making the athlete go faster.
With the difference between third and fourth just 0.11 sec those that called it a game-changer were proved right.
Subscribe To Our Newsletter