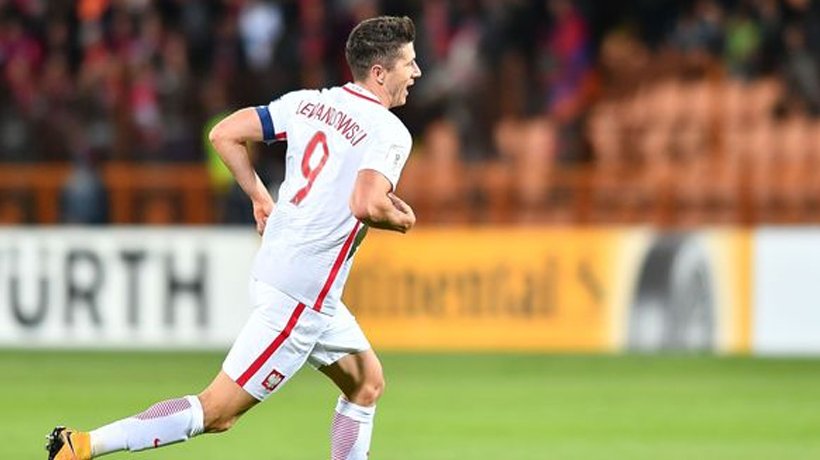 They call him 'The Body' in Deutschland, but Robert Lewandowski's is an ugly duckling story. The sporting DNA was never under question. Father Krzysztof was a judo champion and a second-division footballer, while mother Iwona played professional volleyball and coached daughter Milena to Poland's Under-21 team. Young Lewandowski excelled in cross-country running, practised judo, volleyball, handball and gymnastics, but was written off in football.
At the age of nine, Lewandowski joined hometown club Varsovia Warsaw, where he played for seven years. Recalling the bony youngster, Krzysztof Sikorski, coach of the club's junior side, told the UEFA website in 2013: "His legs were like sticks, and I was always scared that others would break them. I kept urging him to put some weight on and eat more bacon sandwiches. It didn't stop him from being a prolific scorer, though. I remember one season we scored 158 goals, and he got half of them."
Lewandowski eventually made it to Legia Warsaw, his father's favourite club. Krzysztof died in 2005, months before his son scored five goals in 32 minutes (a feat he would better years later when he scored five in nine minutes against Wolfsburg) and win a tournament with Legia's reserves. A few weeks later, he was deemed too short and skinny and sold to third division team Znicz Pruszków. Sporting a chip on his shoulder, Lewandowski took the team to the second division, and nearly to the top tier, scoring 38 goals in two seasons.
Franciszek Smuda, coach at Lech Poznan, signed Lewandowski, who in turn topped the scoring charts. Then-Premier League club Blackburn Rovers came with an attractive offer, but Sam Allardyce's charge was thwarted by Borussia Dortmund, with a little help from mother nature.
In April 2010, Icelandic volcano Eyjafjallajökull (or ay-yah-FYAH'-plah-yer-kuh-duhl, if that makes it easier) erupted, spewing ash kilometres into the air and disrupting the north-west Europe airspace for a week. Lewandowski couldn't make it to England, and eventually signed for Dortmund for less than €5 million. The rest is recent history. Lewandowski won the Bundesliga with Dortmund in his first two years, joined Bayern Munich in a free transfer in 2014 and has lifted the trophy four times since, scoring 180 goals in the process.
Under the guidance of wife Anna Stachurska, bronze medallist at the 2009 Karate World Cup and a prominent sports nutritionist, the scrawny Pole became a strapping 6′ presence on the field. Life in the national colours, though, has been a lot more testing.
Lewandowski made his senior debut for Poland in 2008, and played under Leo Beenhakker, the aforementioned Smuda and Waldemar Fornalik in the next five years. The game of musical chairs meant he could never really find his identity or place in the team.
Beenhakker led the team to its first Euro campaign in 2008, but didn't think Lewandowski was ready for the travails. He used the striker four times during qualification for the 2010 World Cup, and was sacked when the team failed badly. Under his former club coach Smuda and playing on home soil at Euro 2012, Lewandowski scored against Greece but couldn't help the team out of the group. Smuda resigned.
Poland didn't qualify for the 2014 World Cup either, and Fornalik got the sack. Polish journalist Maciej Luczak recalls the national team's struggles.
"There was a lot of speculation that Lewandowski wasn't happy with the national trainer and felt too frustrated to continue," Luczak told The Indian Express. "On one hand he was becoming a top star in European football, but the many misses for Poland disappointed him to the point of quitting. To make it worse, the style of play wasn't really suited for his game."
At Dortmund, everything went through Lewandowski, a poacher with the prerequisites for a classic number nine. He capitalised on the aggressive, counter-attacking style of Jurgen Klopp, with Marco Reus and Pierre-Emerick Aubameyang on the wings, and Henrikh Mkhitaryan behind him. Later, at Pep Guardiola's Bayern, he also learnt to have his back to goal a lot of the time, using his strength in the air, technical skills and physique. The supply would come through Arjen Robben and Franck Ribery (and even more so from Kingsley Coman and Douglas Costa) and he would have Thomas Mueller as partner.
But Fornalik's Poland played with a static 4-3-2-1 formation, where Lewandowski would have to fend off multiple opponents to receive a pass. A scoring drought ensued, resulting in a visibly fractured relationship between the coach and his star. By the time Fornalik left, Lewandowski had become a disillusioned, unsure striker who would be heavily jeered by Polish fans. Enter Adam Nawalka
Polish football's golden age came behind the Iron Curtain. They won the 1972 Olympic gold, finished third at their first World Cup in 1974 and repeated the feat in 1982. In 1978, they topped the group but lost to Brazil. Among the class of 1978 was Nawalka, a 20-year-old midfielder who stood out due to his dynamism and personality — a hipster who would don branded clothes bought overseas. Recurrent injuries forced him to retire in 1985, and he left for USA, where he trimmed trees for $12 an hour and played for semi-professional club Polish-American Eagles on Sundays.
After the fall of communism, Nawalka returned in 1990 to run a car dealership and a jeans shop, before earning his coaching licence in 1995. His coaching career included three stints at hometown club Wisla Krakow before leading Gornik Zabrze to promotion six months after taking over in 2010. Gornik was at the top of the league standings when he took over the national team in October 2013.
Tactically, his first notable course of action was to take the armband from Jakub Blaszczykowski and hand it to Lewandowski, opting to build the team around the superstar. He also employed the more conventional 4-2-3-1 and 4-4-2 formations, which allowed Lewandowski to strike up a tremendous partnership with Arkadiusz Milik and receive more balls from Blaszczykowski and Kamil Grosicki.
Lewandowski hasn't looked back since. His first 18 goals for Poland came in 57 games; after Nawalka's arrival, he has scored 34 (almost two-thirds of the total 52) in 36 matches. He equalled David Healy's record of 13 goals in qualifying for UEFA Euro 2016, where he scored two minutes into the quarter-final as Poland were beaten by eventual champions Portugal on penalties. World Cup qualifying was more prolific, as he scored a European record of 16 goals.
Ryan Hubbard, a journalist working on a book on the history of Polish football, claims Nawalka has miraculously steered the Polish ship in the right direction.
"He has also been lucky to have at his disposal several young prospects who have actually progressed beyond their potential – something which has been rare in the past. Of course, the glue which holds the entire squad together is the captain, Lewandowski. Without both his influence and goal-scoring abilities, it would have been hard to imagine Poland's rise being quite so meteoric," Hubbard said.
However, going into the World Cup, there are questions on the defensive constitution, with injured star Kamil Glik adding to the concerns. Goalkeeper Wojciech Szczesny spent most of last season as an understudy to Gianluigi Buffon, while Lukasz Fabianski has been toiling away with Swansea.
It's fair to say that Poland is more a one-man team than either Argentina or Portugal. Lewandowski admitted as much last week, when he said, "I know that sometimes I'll have to do the donkey work for the good of the team." It's more than that. In Russia, he would have to be both the body and the soul for Poland.
Subscribe To Our Newsletter