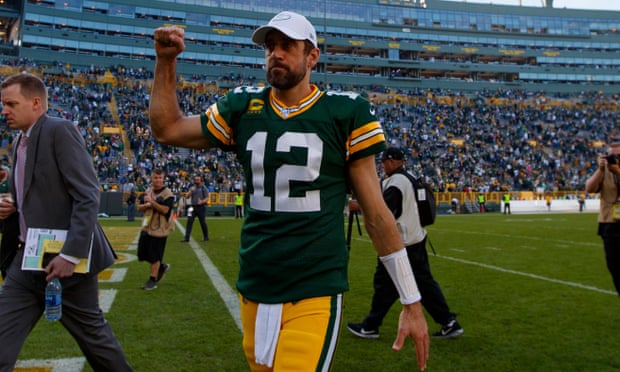 There had been an idea bubbling on the internet that Aaron Rodgers isn't quite Aaron Rodgers anymore. It has come from all angles: the former scout; the talking head; the ex-teammate; the analytics nerd. All have offered varying reasons but all reached the same conclusion: the Green Bay Packers quarterback's best years were behind him.
Utter nonsense. Rodgers squashed any notion that he is irrevocably broken on Sunday. He was at his devastating best as he posted the first perfect passer rating (158.3) of his career. He finished with six total touchdowns to six incompletions and threw for 429 yards in the Packers' victory over the Oakland Raiders. Find a spot in the Guggenheim for this Next-Gen passing chart:
There have only been six performances in league history where a quarterback has finished with a perfect passer rating and more than 400 yards. And Rodgers did so without Davante Adams, Green Bay's most gifted receiver.
Things aren't as different stylistically under first-year coach Matt LaFleur than they were under his much-derided predecessor, Mike McCarthy. Both run similar plays and have similar concepts. But there have been two crucial differences through seven weeks: play sequencing and the use of running backs in the passing game.
Play sequencing is a fancy term for how one play call informs another. After the opening script, some coaches have a knack for knowing what play should be called at what time, or setting up designs earlier in the game that they can play off later with some pay-off shot plays. Whatever it is, LaFleur has it.
The bigger impact has come with the use of running backs in the passing game, though. Under McCarthy, backs were used to chip – block a pass-rusher or disrupt a pass rush – or to drift through the line and act as a quick outlet. Under LaFleur, backs have been a huge part of the overall system. Creative designs have been installed to make use of a coach and quarterback's favorite match-up: a speedy running back on a slower linebacker in space.
The change has turbo-charged a once dull and plodding Packers offense. Rodgers didn't throw a completion to a receiver until there were eight minutes left in the second quarter. By then, he had completed 80 passing yards to running backs. Aaron Jones, Jamaal Williams and Danny Vitale finished with 102 receiving yards and two touchdowns combined.
Green Bay's offense is finally matching the defense. The Packers defense has been one of the stories of the season so far. It wilted slightly on Sunday under the weight of injuries, but remains a top-eight unit overall. Green Bay lead the league in pressures per dropback. And in Jaire Alexander they have the league's top cover-corner, giving the team the option for "island" coverage the likes of which we haven't seen since peak Darrelle Revis.
When Rodgers and the Packers offense flatlined at the start of the season, the defense carried the team to wins. Now, with the defense banged up, the Rodgers we know has finally arrived. Green Bay have proved they are among the most well-rounded teams in the NFC, along with the Saints and 49ers. All three can win in a variety of different ways. But it's Green Bay who lurk most dangerously. Rodgers in MVP form pushes the Packers from contenders to favorites.
Subscribe To Our Newsletter