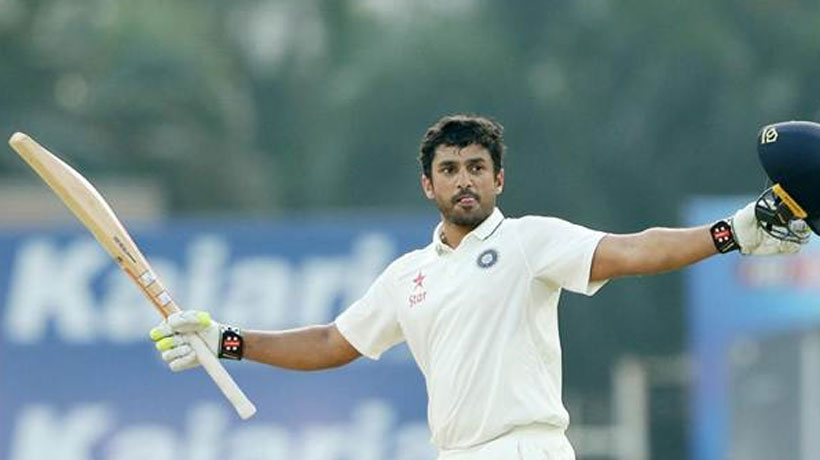 Only two Indians have scored triple centuries in Test cricket –Virender Sehwag, who achieved the feat twice, and Karun Nair, in what was only his third Test, in December 2016.
Karnataka's Nair scored an unbeaten 303 in the final Test of a five-match series against England that Virat Kohli's side won 4-0.
That stunning effort in Chennai also saw Nair become only the third man in the game's history to convert a maiden Test ton into a triple.
Ironically, though, the middle-order batsman, who replaced an injured Ajinkya Rahane at No 5 in Chennai, sat out in the very next Test – a one-off against Bangladesh – and since then played in only three more, all during the home series against Australia in that same 2016-17 season.
On Friday, the 26-year-old, who has been in and out of the Test squad, was snubbed once again by the team management, who handed a Test debut to Andhra batsman Hanuma Vihari (replacement for Kuldeep Yadav for the final two Tests) in the final Test that began at The Oval instead of giving an opportunity to Nair, who was a part of the original 18-man squad for the five-Test tour of England.
At least this time his snub provoked the ire of some former India cricketers, most notably batting great Sunil Gavaskar.
"There is no argument that is going to ever satisfy me," cricketer-turned-commentator Gavaskar told the broadcasters.
"What has Karun Nair done not to get in? I know he has not been your favourite player. You don't want to pick him. He scores a triple hundred. You leave him out. He fails in a couple of games. You leave him out. You have brought him back in the team. It could be the selectors who have brought him back. The team management probably doesn't want him. And that's why they haven't given him the opportunity to play in this game."
The decision clearly was taken by captain Kohli and coach Ravi Shastri, as was also pointed out by Gavaskar.
Although Vihari, also a part-time off-spinner, did well during the recent India A tour of England, that alone could not have won him a place ahead of Nair, who has also been a consistent run-getter both at domestic and India A levels.
"How many Indians have got triple hundreds? Virender Sehwag twice and Karun Nair once. You don't give that man an opportunity. So what are you trying to tell him? 'Look we don't think you are a good player?'," Gavaskar continued.
"All the best to Hanuma Vihari. I really wish him well. Karun Nair has every right to ask the team management what he has done wrong. He deserves an answer. 'Why am I not picked?' If you are going to pick an extra batsman, which they should have done from the first Test itself, and if you haven't given him the opportunity, he deserves an answer," Gavaskar concluded.
The point is, nobody really bothered to ask this question when Nair was dropped immediately after his triple century to make way for experienced Rahane, who was returning from a finger injury.
Or for that matter after his last three Tests (four innings), where he got twenties twice but failed to convert. A Test triple centurion certainly deserved more opportunities.
Back then Kohli's side was in the middle of a red-hot run in a packed home Test season en route to climbing to the top of the ICC Test rankings and none deemed it important to ask if the treatment meted out to Nair was fair, not even Anil Kumble, the then National coach who hails from Karnataka.
Some of Kohli-Shastri selection decisions during the ongoing Test series that the hosts lead 3-1 and on the Test tour of South Africa in January have been debatable, and this one joins that growing list.
"Yay! Welcome to the 300 club @karun126. It was very lonely here for the last 12 years 8 months. Wish you the very best Karun. Maza aa gaya!" tweeted Sehwag after Nair's triple.
Nair certainly deserves better.
Subscribe To Our Newsletter