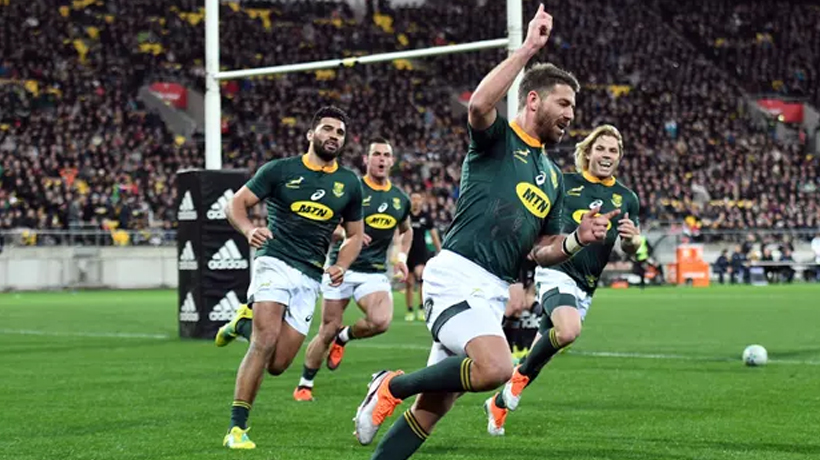 Rugby's autumn internationals will be ready to rumble this time next month. England have a huge game against South Africa at Twickenham, Wales meet Scotland in Cardiff and Ireland face Italy in Chicago. These are big occasions with significant revenues. It is strange, then, that no one in charge of selling tickets, hospitality packages or television subscriptions has added a vital asterisk: two thirds of the competing countries will be fielding weakened teams.
Many people will have shelled out for a Twickenham seat – costing up to £132 – keen to see if the visitors can repeat their June series success over England. Can the Boks' key catalysts, the Wasps full-back Willie le Roux and Sale's scrum-half Faf de Klerk, unpick the English defence again? We will never know, because neither man is permitted to play. The date of the game is outside World Rugby's official window which means no Premiership-based player will be released, despite there being no league games scheduled that day.
There will also be no shortage of other influential absentees. Gloucester's Franco Mostert, Wasps' Nizaam Carr and Bath's Francois Louw will be similarly unavailable to South Africa while Italy cannot field Jake Polledri, their impressive young Gloucester-based back-row, or Exeter's Michele Campagnaro. Wales must do without their English contingent of Liam Williams, Dan Biggar, Tomas Francis Taulupe Faletau, Jamie Roberts, Luke Charteris and Josh Adams. Scotland's Sean Maitland and Byron McGuigan, of Saracens and Sale respectively, further extend the list.
Does this really matter? There will, after all, still be plenty of other grateful players keen to take their places and win a cap. The Tests will still happen, the same badge-clutching anthems will be played. Premiership Rugby is obliged to release its players for only a certain number of weeks per year and all involved – hey presto! – will be available for international duty again the following week.
A shrug of the shoulders, however, misses the broader point. The vexed relationship between club and country remains rugby's running sore, at the heart of the endless power struggle between the various factions involved. If South Africa cannot put out their strongest side for one of the biggest games of the year, then surely that cheapens the whole sport? If England win well, does that mean Eddie Jones's side are back on track or simply that they took advantage of weakened opposition? If it is obviously the latter, everyone loses out.
It is made worse, in this instance, by the fact that the Wales v Scotland fixture will be played for the Doddie Weir Cup, in honour of the former Scotland and Lions forward who has motor neurone disease. Part of the reason why the fixture exists is to raise funds and awareness for Weir's My Name'5 Doddie Foundation. When it was announced, the Welsh Rugby Union's chief executive, Martyn Phillips, described it as "a rare chance for a much broader base of supporters to experience a match of this magnitude" and spoke of the "years of tradition and rivalry which should appeal to rugby supporters across both countries". How desperately sad if the monies raised for such a wonderful cause were to be even slightly reduced by petty politicking.
Of course there is the weighty counter argument that Test matches should not be scheduled outside the window anyway. The accusation, not without foundation, is that these games exist only for financial rather than sporting reasons, that the unions involved care little for the clubs' interests and are happy to ride roughshod over the domestic schedule. Twenty-three years after the game went professional the whole self-harming debate rages on. World Rugby confirmed at the end of last week it is looking to jazz up the July and November windows by making the matches collectively more meaningful; the Rugby Football Union and the English clubs are set to confirm towards the end of next week what their vision for the newly structured calendar from 2020 looks like.
What both sides are overlooking in all this are the players: where is the schedule that allows Le Roux, say, to display his brilliance for both club and country and enjoy sufficient rest to ensure the magic keeps happening for years to come? Last week's abrupt departure of Joe Marler from the Test scene may or may not have been a symptom of burnout – the Harlequins prop is a devoted family man – but it is obvious that, physically and mentally, the game is accelerating towards a place where it will no longer soon be practicable or healthy for one individual to play upwards of 30 games – soon enough that might be 20 – in a calendar year.
It is in everyone's interests to sit down together and reassess. Tests absolutely have to matter, clubs need their own uninterrupted space and the players should be consulted more. Is it, in the end, really that complicated? And here, just to concentrate everyone's minds, is a stark warning from the international players association.
"From a player perspective we're obviously concerned," says Omar Hassanein, chief executive of the International Rugby Players' Association. "If you look at the number of minutes English players are already playing relative to some other countries, we'd argue they're being overplayed. We need to try and curb that before the situation gets considerably worse for these guys." For all their sakes the club versus country arm-wrestling has to stop.
Wobbly shield
Barely a month into the new season and not all is well with the new-look Premiership Shield in England, the expanded reserve team competition that has replaced the old A league. Three fixtures have already had to be postponed because of teams being unable to raise a side, while others have gone ahead only after the mass recruitment of 'guests' from local clubs. One Premiership chief executive is already describing the concept as "untenable", given some clubs are struggling to field competitive sides even before injuries and the winter weather start to bite. A Premiership Rugby meeting next week will decide what sanctions, if any, to issue to those clubs responsible for postponements amid growing disquiet among club figures who view the competition as essential in terms of promoting and developing young talent. "It's going to take time," a Premiership spokesman said.
And finally …
Rugby is not short of deserving causes but anyone who can possibly get to Twickenham this Saturday should try to attend the relocated east midlands "derby" between Northampton and Leicester. The occasion is part of a concerted fund-raising effort for Rob Horne, the Australian international, who suffered a career-ending and life‑changing injury in last season's corresponding fixture. All charitable donations made when booking tickets will go directly to the Wallaby centre.
Subscribe To Our Newsletter