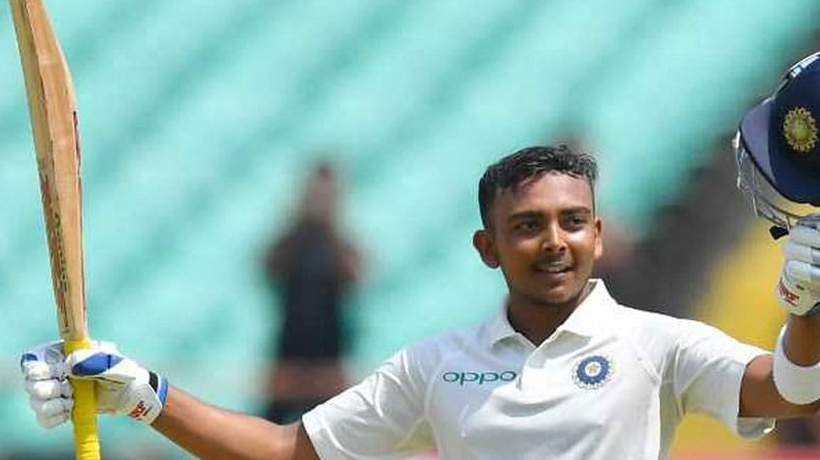 Mike Atherton, the former England captain, famously noted that cricket's soul was not at Lord's – regarded as the home of cricket – in London but in the maidans of Mumbai, India's financial capital.
"South Mumbai is about as close as you get to the heart and soul of the game," Atherton wrote in The Times during England's Test tour of India in 2016.
"An area that teems with cricketing history, has produced some of the greatest players, and remains home to the ordinary cricketer, no matter how wealthy or privileged, how poor or unconnected," he reasoned.
This past week, another product of the famed Mumbai maidans marked his arrival on the global stage with a century on Test debut – 18-year-old opener Prithvi Shaw struck 134 on the first day of the opening Test against the West Indies in the western Indian city of Rajkot.
Cherubic-looking Shaw, who reached his hundred off 99 balls, became the youngest Indian to score a century on Test debut and the second youngest Indian to make a Test century after batting great Sachin Tendulkar.
Mumbai, for long considered the cradle of Indian batting, has produced several exceptional talents, most notably Sunil Gavaskar, the first man to score 10,000 Test runs, and Tendulkar, who holds almost all the major international batting records.
Shaw has been touted as the next Tendulkar in cricket-mad India ever since he smashed 546 – then the third highest individual score to be recorded in the game's history – in an inter-school match at the Azad Maidan in November 2013.
Tendulkar's 326 not out and his 664-run stand with Vinod Kambli in the very inter-school tournament at the same maidan in 1988 is a part of cricketing folklore.
Shaw emulated his idol Tendulkar by scoring a century on debut in Ranji Trophy and Duleep Trophy – India's premier domestic competitions – and went on to score seven centuries and five 50s in 14 First-Class matches before his Test debut.
"He is someone who came across as mentally strong and fearless in his approach," former India batsman VVS Laxman said. "It was great to see an 18-year-old go out and play his natural game," the stylist from Hyderabad added.
Shaw was drafted into the squad for the final two Tests on India's recent tour of England but didn't get to make his debut; the teen, however, impressed with his stroke play when his big break came shortly after as he cracked 19 boundaries in his 154-ball innings before falling to leg-spinner Devendra Bishoo.
"I wanted to dominate them as much as I could – I like dominating the bowlers and I was trying that by waiting for the loose balls and they bowled many boundary balls," Shaw told a news conference after the opening day's play.
"It was the captain and coach's decision (of when to give me a game). I was ready in England but finally got the opportunity here," added Shaw, who led India to U-19 World Cup success in February this year.
India's head coach Ravi Shastri, who also hails from Mumbai, described Shaw's innings as a 'free and fearless performance on debut.' "A bit of Viru and the Master there," Shastri tweeted, referring to former swashbuckling opener Virender Sehwag and Tendulkar.
A clearly impressed Tendulkar said like all good players adaptability is Shaw's strength.
"When somebody has to perform and sustain at this level… adaptability becomes the critical factor. I feel he has the knack to adapt to different situations and conditions. To me that is Prithvi's biggest strength," Tendulkar told the Times of India newspaper.
"Just go with the flow. Don't calculate or think too much. Just enjoy your cricket. Every outing is a special outing. Every outing, you go out with a lot of pride. That's what it was for me. I took a lot of pride in walking out on the field – be it for India or Mumbai or any club for that matter. Just give all the possible respect you can to the game," was Tendulkar's advise to the youngster.
Shaw was raised by his father Pankaj, a small-time garments trader, after his mother passed away when the boy was four years old.
"India have got a terrific opening batsman now. But there will be some very stern tests ahead. The opposition does not know about you to begin with but they start preparing for you as you play more and more," former opener Gavaskar told India Today website.
India won the Rajkot Test by an innings and 272 runs in three days on Saturday. The second and final Test will be played in the southern Indian city of Hyderabad between October 12 and 16.
Subscribe To Our Newsletter