High drama played out in RK Nagar, where by-elections are slated for December 21, on Tuesday, courtesy actor Vishal.
Vishal literally sweated it out on the streets and got the Election Commission see the reason and accept his nomination papers.
Initially, the Returning Officer rejected his papers on the grounds that signatures of two out of his 10 proposers were forged. But he produced an audio proof of a proposer confessing that he was allegedly threatened by ruling AIADMK's candidate E.Madhusudhanan's men after which his papers were accepted.
This unexpected development has silenced Vishal haters in the film industry. Radikaa Sarathkumar, who joined producer-director Cheran in his sit-in protest at the Tamil Film Producers' Council office earlier in the day, tweeted after Vishal's papers were accepted: "And it's action time again….Good…God bless."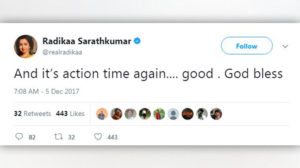 After Vishal's papers were rejected, she was all happy obviously because the actor, who defeated her husband Sarath Kumar and company in the Nadigar Sangam elections, could not stand in the RK Nagar by-poll. She expressed her joy in a series of tweets calling him all names – "bunch of jokers" and "true chameleon."
Cheran, who had hours ago tweeted that he would not withdraw his sit-in till a decision is known and later walked away happily on hearing that Vishal's nominations were rejected, is perhaps flabbergasted. There is no tweet from him till now.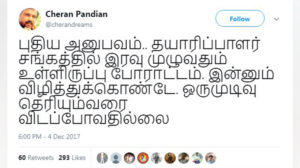 Cheran had demanded Vishal's resignation from the post of president of Tamil Film Producers' Council, saying that his political entry would affect the functioning of the council which needs the support of the state government for the welfare of small producers.
Subscribe To Our Newsletter