Maduravoyal inspector S.Periyapandian has laid down his life in his determined pursuit to nab the accused in Kolathur jewellery burglary case in the distant land of Rajasthan.
As the news of Periyapandian having been shot dead reached the Tamil Nadu police, the entire force cried its heart out grieving his death.
Right from the Chennai police, almost all district police put out their condolence message on their official Facebook pages. Senior officers immediately updated their status in honour of Periyapandian.
But the obit that stood out and reached thousands of people was the Tamil poem dedicated to Periyapandian by IS Deputy Commissioner R.Thirunavukkarasu.
Titled 'A brave salute with teary eyes', the 1999 batch IPS officer has penned four stanzas in praise of the Maduravoyal inspector. Describing him as 'Theeran' (a man of valour) and Periya Pandian (King of all Pandya kings), the officer calls him as a standing example of Tamil Nadu police that would not let even Yaman (God of Death) free if He had committed crime. Bringing out the pathos, he wonders whether the jewel thief was hiding in the city of Yaman only to snatch his life.
Mr.Thirunavukkarasu, who is known for his motivating speeches and forthright writings in exemplary Tamil, put out the poem on Facebook on Wednesday evening and since then it is being widely shared in all social media platforms. His verse has been shared by over 1,600 persons on Facebook alone.
Similarly, another officer Arjun Saravanan, also a deputy commissioner, posted,
"A true officer fights
not because he Hates
what's in front of him
but because he Loves
who stands behind him."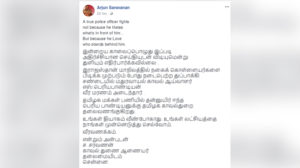 On behalf of TN police, Saravanan asserted Periyapandian's sacrifice would not go meaningless and swore to carry forward his goal. Senior IPS officer Davidson Devasirvatham described him as a hero who faced extraordinary circumstances and acted with courage, honour and self-sacrifice.
Subscribe To Our Newsletter