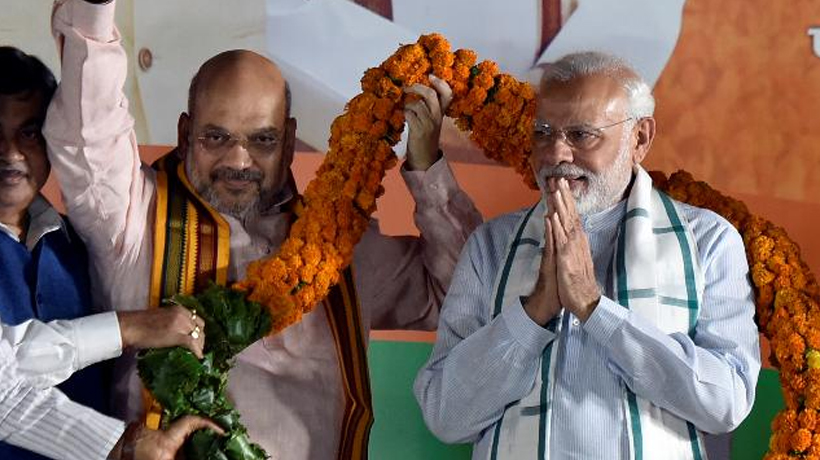 This day in Karnataka has sealed the fact that there is no stopping the Modi-Shah juggernaut from rolling onwards into south India. They have conquered the north, the west, the north-east and the east of the country, aside from West Bengal and Odisha. The south continued to elude the saffron party.
Today the BJP has come within striking distance of forming the government for the second time in its only southern bastion — Karnataka.
While Karnataka has truly set up a mouth-watering contest for 2019, it has more importantly brought a sigh of relief for those within the BJP that were worried about its prospects in the upcoming elections in Madhya Pradesh and Rajasthan.
An encouraging poll verdict in Karnataka has injected new-found confidence in the party that is going to go head-on against the Congress in these two states, ahead of the mother of all battles in 2019.
The BJP can now truly call itself a pan-India party, but its not over until its really over. Having fallen short of the halfway mark, the BJP now faces a stiff challenge from a Congress-JDS combine hell-bent on keeping them out of power in Karnataka.
While the next few days will make it clear who has the upper hand in this desi Game of Thrones redux, the Congresss desperate bid to snatch victory from the jaws of defeat is a lesson for the BJP.
The saffron party, which started early celebrations on Tuesday morning, as the trends started trickling in, went into hushed silence by mid-day when news of Congresss overtures to the JDS came in.
The new-found allies were quick to crunch numbers and extend support to each other, keeping aside all political ambitions. Congress offered HD Kumaraswamy the chief ministers seat in exchange for support to form the government and the latter readily accepted.
The BJP is being beaten at its own game. Modi and Shah are masters at turning defeats into victories overnight. It appears now the tables have finally been turned. The lesson for the formidable duo here is clear — the Opposition has wisened up and is willing to go to any length to stop their almost unbeaten run at the hustings. 2019 will be far from a cakewalk.
Subscribe To Our Newsletter