Bengaluru : Discussions and debates that encourages critical thinking
The tenth edition of Bengaluru International Film Festival (BIFFes) which began with much fanfare ( Read : Inauguration by Kareena Kapoor Khan and Karnataka Chief Minister Siddaramaiah) is a seven day long affair that is showcasing 200 films from 50 different countries, across Bengaluru and Mysore. A treat for movie enthusiasts, students, teachers and actors: this also marks a celebration of the eight decade old Kannada film industry. "This is a great platform to learn about film, its nuances. You learn about different cultures,different languages and different techniques. I am very thrilled to be a part of this," says Kannada actress Radhika Chetan, who was lauded for her role in RangiTaranga, The best films around the world, handpicked and curated by a jury, is competing in various categories – a treat for every film buff, no doubt! The masterclasses and panel discussions were great insights into a world of filmmaking that many of us enjoyed. A quick recap of the filmy week that just went by will be interesting for the readers. So here it is… Read on
A panel discussion conducted over the issue "Censorship in India", a burning issue of our times on the Day 2 of the film festival was particulary interesting, Panelists MS Sathyu, Srinivasappa – RO, CBFC, Rajendra Babu –Chairman KCA and Vidyashankar- Artistic director, BIFFES 2018 spoke about it. Putting across his thoughts, MS Sathyu said he does not care about censor board but is worried and concerned about what he called 'super censorship' where anyone can violently oppose a movie even before it's released, without even watching it. He raised the question
regarding the relationship b/w Shivsena and Films and Karni Sena and Padmavat? He added that self-discipline (self-Censorship) was important and film people need to fight to get their films released. He also said that censorship was obsolete in a free democratic secular country like India. He also spoke about the procedural problems and narrated his own experiences regarding censorship. Adding to the industry problems Rajendra Babu also shared his experience where he mentioned as tackling the censorship board is the biggest task that every filmmaker fears.
Having experienced censorship woes himself in his Film Antha, Babu pointed out the flaws with the entire process of censorship in India. The censor board in India is politically motivated. He said that the government and Industry should work together to protect the filmmaking fraternity. Also the 68 day procedure which takes place when the film is presented to the board turned out to be another issue which Babu said was too long a period to pass a film.
However bringing in an Official viewpoint to the discussion, Srinivasappa stated that the procedure has been laid down by the constitution, however he is open to problems in Karnataka. Vidyashankar provided the insight of a building a healthy society. He said thatcensorship in society is not healthy, our society itself is not devoid of inbuilt censorship even regarding our own women. He also extended the same to the film industry saying that censorship is similarly a problem curbing the creativity. However he also suggested the need for self-Censorship in the industry as one of the solutions.

'Cinema has to be Magical'
In a press conference, Directors Dimitri De Clercq – "You Go To My Head" and Mahesh Naryanan- "Take-off " spoke about the movies and their driving passions which kept them going and helped them make these movies. Dimitri said that "Cinema has to be magical and inspiring."
Marc Baschet, an Oscar winning French director also shared his experience and said how much he enjoyed working in India and with the Indian People.
The directors also agreed to Co-production being the future of world cinema, an opportunity that would help cultural sharing to take place across the globe.
Movies contributing to the society
Day 3 of the film festival saw a press conference with panelists P. Sheshadri, Director- Beti, Puttaswamiah, Producer- Neeru Tandavaru, Mohsen Gharaie, Director – Blockage, Qiao Liang, Director- Crested Ibis and Vidyashankar, Artistic Director- BIFFES.
The press conference was conducted where the esteemed guests from across the globe shared the dias and expressed their views on Artistic cinema and spoke about their movies and ways in which their movies contributed to the society. Qiao spoke about his film "Crested Ibis". A movie based on the North Western parts of China, speaks about the dilemma that every society faces today,in choosing between Development in society and the hazards of Pollution it brings along. Based on a contemporary social issue, Qaio brought in the elements of experimental cinema as he utilizes monochromic pattern and absence of sound. Speaking about Artistic Cinema in China, Qiao shared his views where he agreed with the guests that artistic cinema needs to be encouraged, and also gave inputs on how the governments in China encourages award winningfilms. Further expressing his concern regarding Artistic cinema, P Sheshadri spoke about cinema as a powerful medium, which has now turned into Business. Commenting on the kind of cinema Sheshadri said that we may be No.1 in producing highest number of films but we still lack on quality. We need to differentiate between good cinema and bad. The need to cultivate good audience is a major task which we need to follow. As suggestion he requested the need for Providing Reservations for such cinema to be screened in mainstream commercial multiplexes.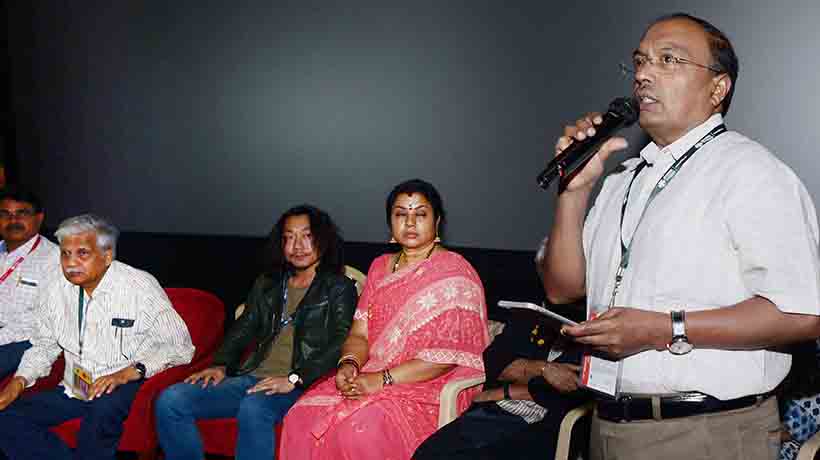 He also spoke about the gap between artistic films and audiences accessibility.
Though Film Festivals provide such a platform yet the reach of films based on social issues like his film Beti, has been limited. Speaking about conditions in Iran regarding films and his movie, Mohsen Gharaie said that Blockage is his first Independent Feature Film, which deals with the prevailing social conditions in society where a man does everything, all functions of his family depend on man and how his wife struggles to protest against his selfish motives. He recognized the need for more such films that deal with the social conditions. Puttaswamiah, Producer of the film Neeru Tandavaru, spoke about issues regarding drinking water in remote area. His film particularly deals with the struggles of people in a remote village near Koppal, Karnataka.
Speaking on his role in community development, He spoke about how his films are not streamlined for commercial reasons, they rather focus on highlighting the problems of society through his films. Vidyashankar also seized the opportunity to express his views on the need to recover the essence of cinema, and which can be done through film festivals that provide a platform for cinematic essence to prevail.
Both Beti and Neeru Tandavaru has been selected in The Kannada Movie category. Crested Ibis and Blockage has been selected for the best Asian film Competition. The5th day of the festival saw Lee addressing the press where he spoke about his film "Excavator" a movie based from an perspective of an army personnel. It also talks about Post Traumatic Stress Disorder among the soldiers post a war situation.
Set during the pro-democracy revolt that took place in Korea, this movie has a metaphorical theme of the officer not just discovering his land but also trying to excavate, find out about the spearheads of the entire official system that he is revolting against.
Subscribe To Our Newsletter