COVAI POST EXCLUSIVE
Cambridge or Castlebridge are closely associated with England where India's liquor baron Vijay Mallya is in self-exile and the Indian Government is fighting for his extradition.
But these are also the names of his race horses that are galloping in the race courses of India winning him big money as stakes. But the big question remains as to where this money goes. And none of the officials, be it at the race courses of Bengaluru or Pune or Kolkata or Mallya's Kunigal Stud Farms, wants to say anything officially.
Neither do government officials wish to be quoted about the flight of power without wings of these horses even after the wings of his Kingfisher Airlines got clipped.
Whinnying is everything for these horses. Price money or stakes earned is based on what class they run in, a trainer told The Covai Post on strict condition of anonymity.
Generally every race horse will run once in a month average and the price money for a wining horse starts from as low as 1 lakh and goes up to Rs 1.5 crore.
Cambridge is still owned by Dr and Mrs Vijay Mallya representing United Racing and Bloodstock Breeders Ltd. The stakes in race it ran in Pune on October 29 with Neeraj Rawal as jockey was Rs 1.82 lakh, lesser than the Rs 2.28 lakh in the April 16 race where P Trevor was the jockey.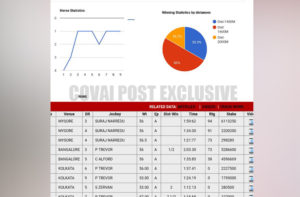 The other winning horse Castlebridge which ran in the Mysore, Bengaluru and Kolkata races with CS Naredu, P Trevor, C Alford and S Zervan had stakes between Rs 6.12 lakh and Rs 1.27 lakh.
According to a trainer in Bengaluru, each centre has two trainers on the average for a horse.
Vijay Mallya at one time had around 100 horses at the Kunigal Stud Farm which he took over some time in 1992. Now it has just 35. He had taken to horse racing way in the mid-70s with his Danish Lad. It took him nearly a decade to get into this sport in a big way. From then it was a gallop of winning streaks and later these prize-winning fillies were sent as brood mares to his stud farm.
An official associated with the farm says a part of the stakes goes into maintaining the horses in the farm and as allowance to the trainers and race managers.
But his absence from the race courses has also left the future of the farm as also his United Racing and Bloodstock Breeders Ltd bleak. While there is talk that the farm taken on lease would be returned to the Karnataka Government, the derby may not see Mallya-owned horses.
The liquor baron's extradition hearing is to begin on December 4 in the United Kingdom and reports say the Arthur Jail in Mumbai will be made ready to accommodate Vijay Mallya once the case goes in India Government's favour.
(With inputs from Indrani Thakurata )
Subscribe To Our Newsletter