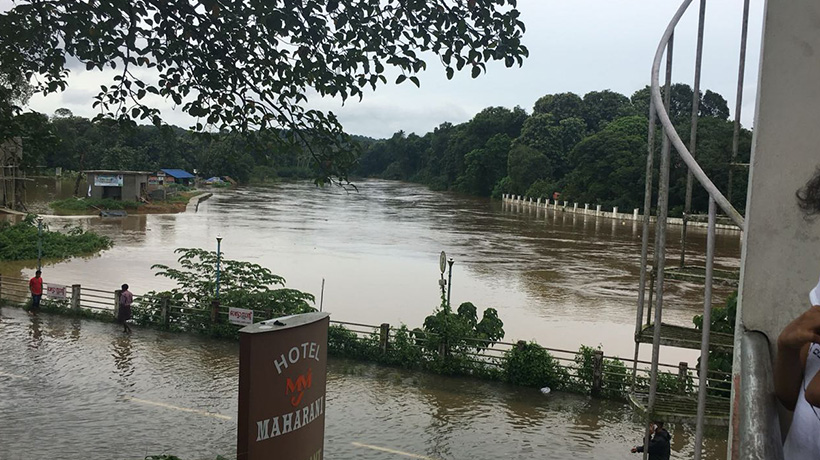 Kochi: Kerala has been virtually marooned due to heavy rain that alarmingly raised water levels of all rivers, disrupting train services.
Long distance trains to New Delhi, Mumbai, Assam and other places have been detained for long hours as it ha not been possible to cross the bridges where water level is on par with it, a top official of the Thiruvananthapuram division told The Covai Post.
Even as rain has abated in most of the places, the inflow of water into rivers has increased menacingly.
Mangaluru-Nagercoil Parasuram Express and Hyderabad-Thiruvananthapuram Sabari Express were detained at different stations for long hours as water level in Meenachil river touched the underside of the bridge.
The New Delhi-Thiruvananthapuram Kerala Express and Thiruvananthapuram-Chennai Express were among the important trains detained.
The death toll in the rains went up to 15. Four persons died in different places today.
There were numerous incidents of landslides and uprooting of trees, mainly in Kottayam and Idukki, while many places were inundated in Kannur, Malappuram, Kochi and Waynad.
Sixteen houses were full destroyed and 558 partially. A total of 111 relief camps have been opened across the State, housing over 2,200 people.
Meanwhile, Idukki dam received heavy inflow of water which has crossed the mark of 2,375.52 ft for the second time this day after it was commissioned in 1977.
It was over three decades back in 1985 that the dam had recorded this level against its full reservoir level (FRL) of 2,403 ft.
The dam has 66 per cent water of its full capacity, enough to produce 1324.3 million units of power. The same day last year, the level was 57 ft lower than the existing one. The dam safety authority and KSEB are making arrangements to open the shutter of the dam in the case it reached the FRL.
Only twice the shutters were raised, in 1981 and 1992. The catchment area received 153.4 mm of rain the other day. It was only 17 years back that it received such rain.Water level in Mullaperiyar dam was at 130.2 ft against its permissible level of 146 ft.
Subscribe To Our Newsletter