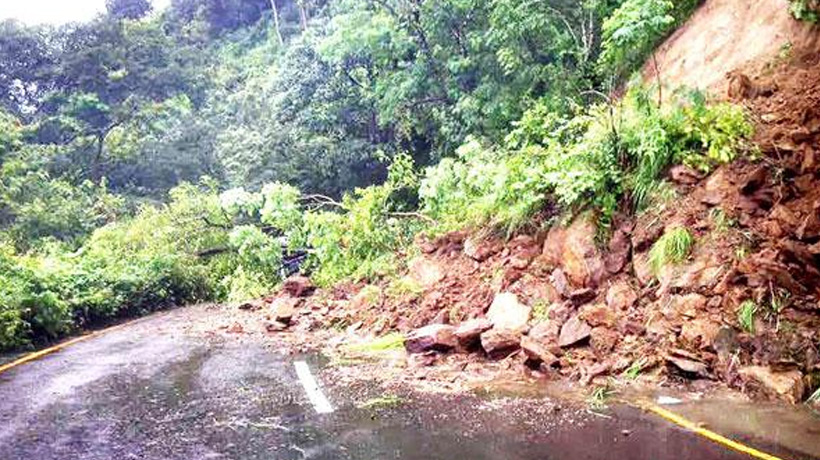 Kochi: Heavy rain triggered landslips and inundation across Idukki district, affecting tourism in Munnar and Thekkady.
Traffic through Kochi-Madurai National Highway has remained disrupted since yesterday due to landslip near Deviyar river close to Valara.
Initially, police and local people regulated movement of vehicles making it one way traffic through the affected area. Later, traffic was diverted via Plambra as more landslips further narrowed the road.
Many rivers are flowing above danger mark in the high range area due to which all educational institutions have been given holiday in Idukki, Udumbanchola and Devikulam taluks.
Water level in Idukki dam is inching towards the Full Reservoir Level (FRL) of 2,403 ft.
The present level is 2,386 feet which is 80 percent of its capacity. If the rain continued at this pace, the dam would reach its FRL in 15 days, sources said.
With monsoon remaining active, it is expected to reach the FRL soon. The dam may even reach the red mark sooner if water is released from Mullaperiyar dam in the event of it crossing the 142ft-level.
Water was released from Malankara dam after four shutters were opened in the low range area of Thodupuzha.
Owing to this, low lying areas in Arakulam, Muttom, Kudayathoor and Velliyamattom panchayats were filled with water. These areas are vulnerable to inundation as more water will be released through canals of Muvattupuzha Valley Irrigation Project, reports said.
The authorities have cautioned people living on the coast of Thodupuzha river to remain alert.
The shutters of Lower Periyar and Kallarkutty dams have been lifted.
The Ayyappa temple at Ayyapankoil is surrounded with water and the priests and the faithfuls use junkar to reach it
Subscribe To Our Newsletter