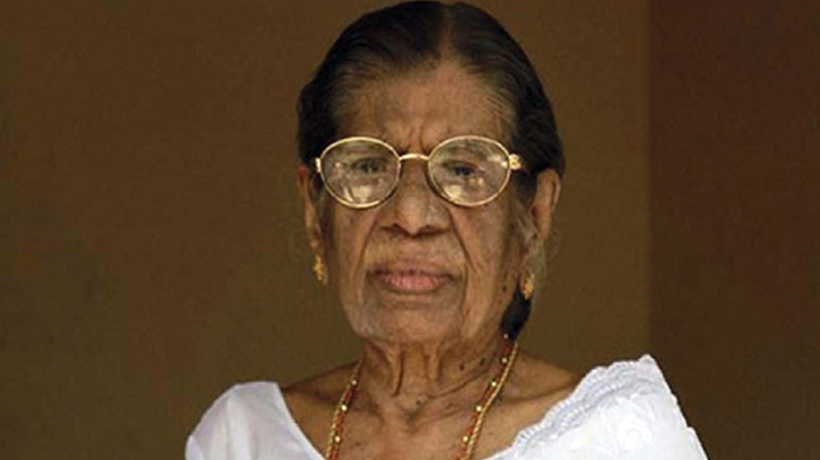 Kochi: The lone survivor of Kerala 's first communist government of 1957, K R Gouri, better known as Gouri Amma, will celebrate her 100th birthday at Alappuzha tomorrow.
She was born to a wealthy couple of Kalathilparampil Raman and Parvathi in the month of Mithunam.
Gouriamma grew up meeting social reformers like Sree Narayana Guru, Periyar E V Ramasamy, C V Kunjiraman, T K Madhavan who were regular visitors to her house to meet her father who was a leftist.
She became a member of the party under the influence of communist leader P Krishna Pillai soon after independence in 1948.
Talking to reporters at her house, she reminsced her childhood days and birthdays celebrated then.
"Mother had to take care of 12 children. We used to relish birthday feasts with farm workers who were employed in farming."
She would respond sportively to some questions but would get angry when asked controversial issues.
"I never knew that there were so many jouranalists in Alappuzha."
When asked about her becoming a centenarian, she said does anyone like getting old. That too entering three figure?"
"I am not organising the birthday programme. There are lot of people who are doing it for me. You can blame them for any problems in the delicacies."
A scribe reminded her about her response that she was sweet sixteen when the scribe met her about ten years back. She said do not ask such questions or else he would sulk, she said pointing at her late husband and communist leader T V Thomas.
When someone asked why she had fought with Thomas, she shot back saying "do not ask such silly questions. Will anyone disclose the reason for differences between husband and wife?"
When asked about the performance of the LDF government, she said people have started getting their own shelter, though in small land.
On the recent issues in Malayalam film industry, she asked is Dileep was such a great actor.
To another question she said actor Prithviraj's mother actor Mallika Sukumaran had visited her recently. She said Late Sukumaran was a communist.
The celebrations are organised ar Rayban auditorium at Alappuzha at 11 am.
There will be sweet porridge (kheer) from Ambalapuzha Sree Krishna temple and 'Karmeen' fish from Kumarakam. She ended the interaction flashing a red salute to the scribes.
The iron lady had come up the hard way as a trade union leader and was jailed many times before independence.
After completing her LLB from Ernakulam Law College, Gourimma plunged into active politics and was elected to the Travancore-Cochin Legislative Assembly in 1952 and 1954.
She was elected to the Kerala Legislative Assembly in 1957 after reorganisation of states.
She won elections in 1960, 67, 70, 82, 87, 91, and 2001. She became Revenue a minister in the first communist government in 1957 headed by E M S Namboodiripad.
She married her cabinet colleague T V Thomas the same year. They split as she joined CPM while Thomas remained with CPI after the communist party's split in 1964.
She was projected Chief Minister candidate in 1987 election but when the government won the election, she was sidelined and expelled in 1994 for alleged anti party activities.
She formed Janathipathiya Samrakshana Samithi and joined Congress led front and became a minister.
Subscribe To Our Newsletter