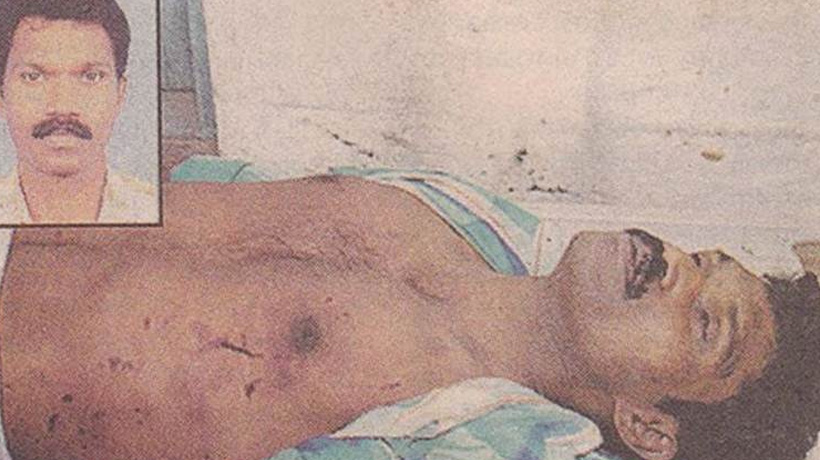 KOCHI: A special CBI court in Thiruvananthapuram on Wednesday awarded capital punishment to two policemen for their involvement in the custodial death of Udayakumar at Fort police station on September 27, 2005.
The cops – K. Jithukumar and S.V. Sreekumar – were named the first and second accused in the case respectively. Three other cops were awarded three years imprisonment for conspiracy and destructing evidence.
The Judge, J. Nazir, also imposed a penalty of Rs. 2 lakh each on the convicts. Besides this, a penalty of Rs. 5000 each was imposed on all the five.
The case pertains to the death of Udayakumar (28), who was taken into police custody from Sreekanteswaram park for alleged theft. The cops on duty brutally tortured him to get a confession on the source of Rs.4000 in his possession.
The police tied his hands, made him lie on his back on a bench and flogged his feet with a bamboo cane. They also used an iron pipe to hit him, causing severe internal injuries to his veins and nerves (that eventually led to his death). They took him to Thiruvananthapuram Medical College Hospital late in the night, where he died.
(The brutal method of torture caused the case to be called as 'Uruttal' case.)
The policemen chose to ignore the pleas of two women cops who asked them not to torture Udayakumar, instead take him to hospital at the earliest. However, the policemen ordered them to keep quiet. The women cops later turned witnesses against their colleagues.
It was the postmortem report and the RDO's inquest report that cornered the policemen. The postmortem report clearly said that Udayakumar had died due to extreme torture.
While, the RDO inquest report said that it was a suspected case of custodial torture, the police personnel said that the victim had died due to chest pain.
The cops had violated all the norms prescribed by the Supreme Court while arresting him and also did not inform Udayakumar's kin or friends, thus denying him legal assistance.

Subscribe To Our Newsletter