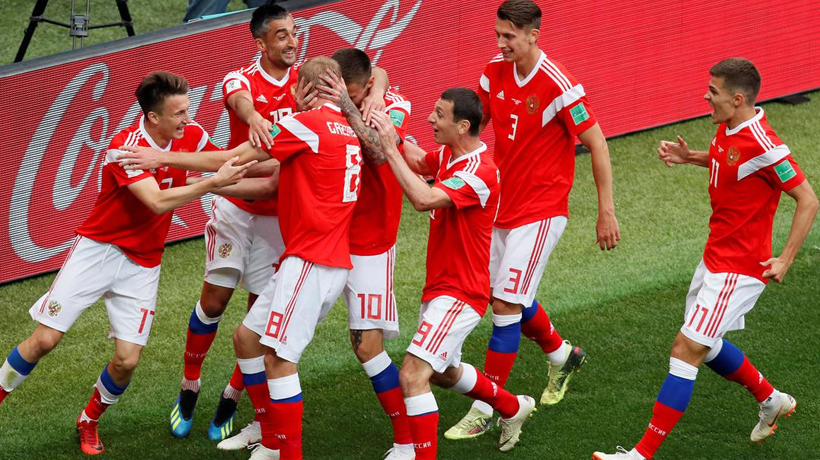 Russia's Denis Cheryshev struck twice to give hosts an ideal start to their FIFA World Cup 2018 campaign as they beat Saudi Arabia 5-0 in the opening match of FIFA World Cup 2018 in Moscow on Thursday.
Moscow's Luzhniki Stadium erupted as Russia opened their scoreline after 12 minutes of the game with Yury Gazinsky scoring the first goal of the tournament. Cheryshev doubled the lead right before the half-time after coming as a replacement for Alan Dzagoev, who limped off the field due to a hamstring injury.
The second half turned out to be even better for the hosts as Artem Dzuyba made it 3-0. Dzuyba had an instant impact after replacing Fedor Smolov as he sent a header flying into the bottom right corner.
Even though it was no more a contest after Russia's third goal, late efforts by Cheryshev and Aleksandre Golovin were cherries on top. While Cheryshev sent the ball soaring into the top corner with his left foot, Golovin followed with a brilliant finish, curling the ball to make it 5-0 and ending the Day 1 of the tournament in style.
Ranked 70th, Russia made the most of their relatively weak Group that comprises of Uruguay and Egypt other than Saudi Arabia and home support to set the ball rolling. The visitors failed to get a single shot on taget in the contest between the two lowest-ranked teams at the tournament.
The match took place in front of Russia President Vladimir Putin, FIFA President Gianni Infantino and Saudi Crown Prince Mohammed bin Salman in the VIP box. The win comes as a huge boost to the side who will face a comparatively tougher test when they meet Egypt on Tuesday and Uruguay later.
It was the first time that Video Assistant Referee (VAR) was available at a World Cup match, even though it was not used.
Subscribe To Our Newsletter