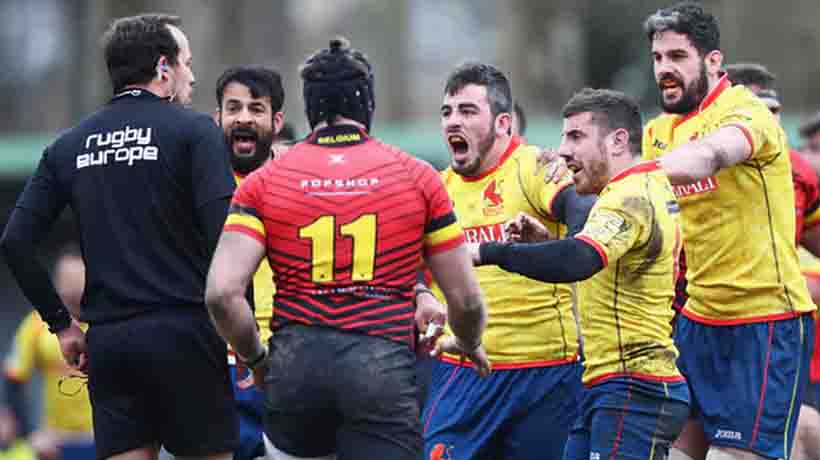 On an RER train in Paris the other day an England supporter was discussing the impromptu competition he and his friends had been having. Having swiftly encountered the eye-watering bar prices in the French capital, the visiting group set themselves the challenge of locating the city's most ridiculously expensive beer. The contest was finally abandoned after our new mate was charged €15 for a gaseous pint of Carlsberg.
Professional rugby union sometimes feels like a similarly bizarre game of chicken. Few other team sports in the world are so simultaneously life-enriching and intrinsically unstable. The immediate aftermath of the ever‑lucrative Six Nations Championship is not the worst time to contemplate this split personality: even the widespread joy at Ireland's uplifting grand slam cannot obscure some uneasy developments elsewhere which the game as a whole can ill afford to ignore.
The ugly sight of Spain's furious players chasing after the Romanian referee they felt had cost them automatic World Cup qualification at the weekend is the latest troubling snapshot. Leaving aside the costly blow to the game's traditional values of respect for match officials, it is a potentially seismic story: a hugely significant game allocated to officials hailing from the country which stood to benefit most from a Spain defeat. World Rugby has issued a statement stressing Rugby Europe appointed the referee and his assistants but the sport's global governors have pledged a full investigation into the circumstances surrounding Belgium's surprise win in Brussels which has led to Romania's qualifying automatically for Japan 2019.
This comes just a few days after World Rugby admitted to the (admittedly less serious) oversight of allowing the South African official Marius van der Westhuizen to help out at England training just days before he was due to act as a neutral assistant referee at Twickenham. England, as it turned out, would probably not have defeated Ireland even had they been awarded 30 penalties but the potential conflict of interest really should have been apparent to all in advance.
Nor is there any shortage of other thorny and important matters facing the game globally. The head injury assessment process remains frustratingly inconsistent, with the recent Cian Healy case merely the most obvious example. Testing of former players with a history of concussions is now ongoing, with nobody entirely sure what the outcome will be. Lawyers are circling, with firms starting to actively specialise in helping injured players get compensation. Talk of England players being weary before they even take the field for a Test feeds directly into that debate, with overworked players potentially more vulnerable to injury.
The row over the length of the English domestic season is also about to resume again, with negotiations between Premiership Rugby, the Rugby Players' Association and the Rugby Football Union on the future structure of the club game due to reach a climax next month. Should relegation be abandoned? There is a slightly stronger argument for a moratorium now, but only if there remains some avenue in future for those with the necessary business plan and ambition. And if it does happen where does that leave the Championship, already in danger of being left to wither on the vine? If the proposed A‑league expansion results in the slow death of more once-prominent community clubs and ultimately leads to more hot‑housed academy kids playing less meaningful competitive rugby between the crucial ages of 18 to 23, how is that remotely progress?
On and on it goes: the rising physical attrition rate for ball‑carriers and defenders alike, the dubious TMO decisions, the play-acting to sway officials, the player drain from south to north, continuing financial headaches for the Premiership clubs and many national unions, excessive alcohol consumption within stadiums, the widening gap between XVs and sevens, how to promote women's rugby better, how to engage more effectively with those who only pay attention to rugby during the Six Nations? ITV has had some decent reviews for its weekend coverage of the England v Ireland game but tucking away the final round highlights at 11.15pm on Sunday night was hardly a masterstroke. Even the most delirious of Irish fans had long since peaked by then.
So amid all the 2018 championship's high spots – Johnny Sexton's drop goal, Jacob Stockdale's youthful delight, Finn Russell's classic long pass, Wales's improvement, Sam Underhill's tackle, Joe Schmidt's tactical mastery, Ireland's delight – spare a thought for the aspects of the game not bathed in the same golden glow.
Conflicting emotions are part of rugby's appeal but never before has there been a greater need for strong, enlightened decision-making at the top. Without it, the professional game risks becoming an overblown, unsustainable and faintly ludicrous product. Much like a €15 pint of Parisian lager.
Six Nations 2019
Plenty can happen in 12 months but it is interesting to see how the fixtures have fallen for the 2019 Six Nations. Ireland will commence the defence of their title at home to England on 2 February, the tournament having commenced the previous evening in Paris with France hosting Wales. Scotland's itinerary is also interesting: three home games in the first four rounds followed by a final weekend trip to England. While it is too early to predict a tartan-themed tournament, just imagine the scenes should a resurgent Scottish side emulate Ireland's achievement and be crowned champions at Twickenham six months out from the World Cup in Japan.
One to watch
They are calling it "The Big One" and there is still time to join the party. Newcastle have switched Saturday's Premiership game against Northampton to St James' Park, lowered admission prices and have set themselves the first-year target of attracting a crowd of 20,000 from across the north of England. The Falcons will even be playing in special black and white-striped shirts with the proceeds from replica kit sales going to Doddie Weir's My Name'5 Doddie Foundation.
For too long London has had a monopoly on "big game" rugby occasions; now, at last, rugby fans in the north have their equivalent.
Subscribe To Our Newsletter