Kolli Hills is not too far from Namakkal, a fast-growing education hub in the Kongu region of Tamil Nadu. Some pockets of the Kongu belt like the Kolli hills are hardly conversant with social development. Self-made laws administered by village 'elders' have had severe repercussions on the sexual and reproductive health of its people.
The high prevalence of HIV cases and sexually transmitted diseases, poor contraception use, early pregnancy, underage marriage, unsafe abortion and quackery are some of the consequences of a culture resistant to change, worsened by limited access to healthcare.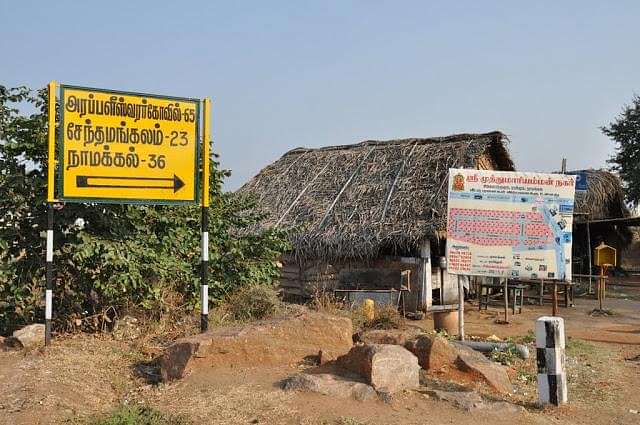 A signboard indicating the distance to Namakkal
Underage Pregnancy
The Kongu region made headlines when 19-year-old Deepa died of complications related to a crude abortion procedure carried out by Sulthana, a quack in Arur, Namakkal. The teenager bled to death after the quack wrenched out the foetus with a pair of forceps, severely injuring her bowels and uterus.
"Underage pregnancy is rampant in the tribal hamlets of Kolli Hills where traditional birth attendants, dhais, double as abortion 'specialists' and use sterilised blades to terminate pregnancies," says Satish Babu, founder secretary of Health and Education Alternative Development Studies (HEALDS).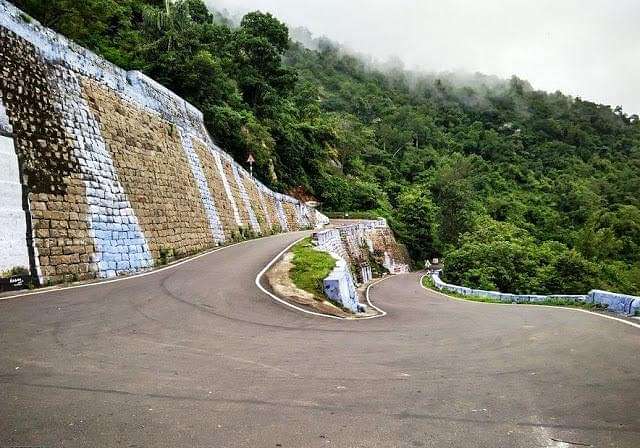 The winding roads leading to Kolli Hills
The dhais also use the milky latex from erukkam twig (a herbal plant) to terminate pregnancies. The twig is clipped and placed at the mouth of the vagina to lacerate the foetus to eliminate it. In some cases, it results in incomplete abortion, leading to life-threatening infections.
"Underage pregnancies are increasing by the day among the tribal communities of Kolli Hills," says Babu, attributing it mostly to sexual abuse by close family members aggravated by alcoholism and drug abuse.
Women sit in front of their hut in a Kolli Hill hamlet
"We often see septic abortions and sometimes even death as in the Arur (Namakkal) case," he adds. Radha Damodaran, a social researcher at Healds Training and Research Institute, says in some circumstances when young girls get pregnant and seek an abortion, they have been exploited by employers of their poor parents or male members of the family they are married into, or if they are 'bonded' labourers.
Limited access to medical care
"With just one primary health centre for a population of 25,000, the tribals of Kolli Hills have no access to proper medical care. Most of the hamlets of the Namakkal district have no electricity or proper roads and cannot be accessed by an ambulance, leaving the reproductive health of tribals in the hands of dhais," Babu says.
However, Dr K Kulandaisamy, director of Public Health, Chennai, claims that the state government is working to increase 24/7 access to healthcare in remote areas and villages under universal health coverage based on service, educational and legal approaches.
As a part of this scheme, 985 sub-centres have been identified to cater to a larger population of about 3,000 to 5,000 per sub-centre. While primary health centres (PHC) are part of the public health ecosystem, there is a need to set up more sub-centres to cater to a larger population.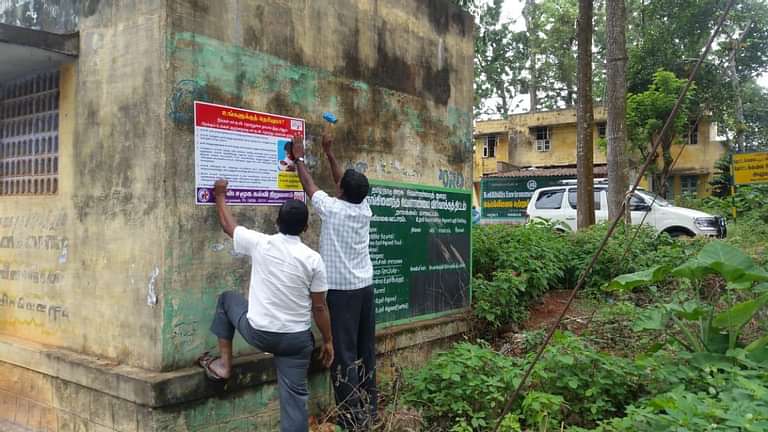 Social welfare organisation volunteers put up posters as part of an awareness campaign
Child marriage
Child marriage is a serious threat that subjects adolescents to unhealthy reproductive practices. For instance, in M Rasampalayam in Namakkal district, a 13-year-old was married to two men by her estranged parents in an attempt to settle scores.
Child marriage and resultant pregnancies that lead to fatal or septic abortions are social menaces, something that young girls have no control over. They are growing up in an environment that is dominated by people bound by 'tradition', beyond the reach of law.
Strange traditions exist that permit marriages between a man and his daughter's granddaughter because they wish to retain property within the family, Satish Babu says.
"We are working hard towards ending child marriage, and one of the strategies is to help police nab priests who solemnise these ceremonies. But as a long-term measure, we speak to the priests about repercussions of child marriages and why they must stop being a part of it. 'Pillaiyar' weddings are held by the Arunthathiyar community (mostly cobblers) with scant regard to age," he adds.
In a complex system of social practices, teenage pregnancies in India involve minor girls who are exploited in the marital union. Damodaran says that Health and Education Alternative Development Studies (HEALDS) has rescued many children from such marriages.
Child marriages 'legitimise' teenage pregnancies in India, though there is a welcome drop according to a 2018 UNICEF report that said 27 per cent of girls get married before they turn 18 in India against the 47 per cent a decade ago.
Unsafe abortions
Adopting unsafe and untested abortion methods are common in India – a country where the incidence of abortion and unintended pregnancy stands at 15.6 million, according to a 2015 study published in The Lancet Global Health. While most abortions were performed in health facilities, five per cent of them were carried out by unqualified medical practitioners, the study states.
There are many reasons why women turn to quacks for an abortion, but most can be traced to a general lack of awareness and an overwhelming taboo attached to certain cases. Those seeking termination of pregnancy become easy prey to quacks, especially if they are teenage and out-of-wedlock pregnancies that lead to ostracism.
Abortion is legal in India but officials say very few are aware of this. The Medical Termination of Pregnancy Act that came into force in 1971 permits abortions on broad grounds, with the 2018 amendment proposing to increase the gestation limit for legal abortions from 20 to 24 weeks.
Coimbatore's deputy director of Health Services PG Bhanumathi says the department is taking proactive steps to increase awareness about safe abortion practices and a crackdown on quacks in a systematic manner.
A report by Guttmacher Institute and International Institute of Population Sciences and Population Council says that unsafe abortion is the third leading cause of maternal mortality in India, and around eight women die from causes related to unsafe abortion every day.
A study published in the International Journal of Reproduction, Contraception, Obstetrics and Gynaecology (IJRCOG) says unsafe abortions, account for 8-20 per cent of all maternal deaths. This matches Indian government data that also puts the percentage of maternal mortality cases at 8 per cent — endorsing the fact that unsafe abortions are the third leading cause of maternal deaths.
Abortions like any other medical procedure require sound decisions by both patient and doctor within the legal purview, says Dr Chandrakala Magudapathi of the Genesis Royal Infirmary in Coimbatore.
The MTP Act has established stringent rules to ensure safe abortions such as who can terminate a pregnancy, the place where it can be performed and in what stage of pregnancy.
Despite such precautions, there are those who buy medicine over the counter to terminate a pregnancy or get the help of an 'elderly' woman who is 'experienced' in 'herbal' or 'natural' methods.
The compelling urge for anonymity drives young girls to unscrupulous quacks.
"Children as young as 13 years have approached me for an abortion," says Dr Chandrakala.
"Since we insist on the consent of a guardian to terminate a pregnancy in the case of a minor, many opt-out, and vanish without a trace," she adds.
They most probably head to a quack, who guarantees clandestine treatment, says the doctor.
Dr Chandrakala revealed shocking details of an abortion procedure in rural Thanjavur where sticks and rods had been used to scrape off the foetus, lacerating the uterus, bladder and rectum. She was part of a team that handled the case.
"When we opened her up, we found sticks, needles and seeds and the uterine and bladder walls were so damaged that we couldn't establish the anatomy," she says.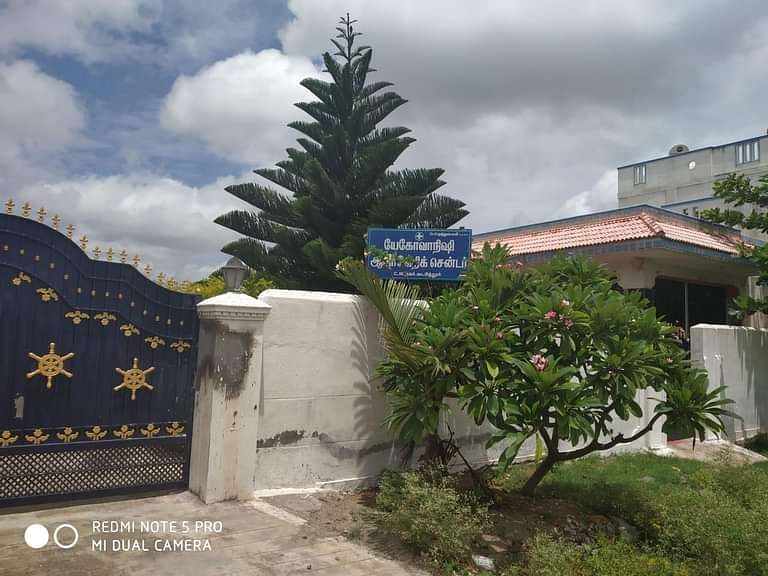 The Yogavanshi Ayurvedic Clinic, now sealed
Quackery
Poor sexual and reproductive health is compounded by the availability of quacks even in areas that have reasonable access to healthcare services. Social taboos and fear of ostracism put women at the mercy of quacks to perform abortions.
Yogavanishi Ayurvedic Centre in Vadasithur, about 36 kilometres from the heart of Coimbatore city, was sealed after a botched abortion allegedly took the life of Vanithamani, a 40-year-old mother of five, in May this year. 57-year-old P Muthulakshmi, who ran the clinic along with her son, was arrested and lodged in jail.
A padlock hanging on the gate of the 'alternative health' clinic is a dark reminder of how the law had caught up with questionable medical practice a little too late.
"The government is putting up a good fight against quackery. It is challenging, but there is a will to get the better of this situation," says Dr Kulandaisamy.
A three-pronged strategy has been adopted to increase the quality of medical care in remote areas. As part of the universal health scheme, qualified village health nurses will be put at the disposal of the people; awareness campaigns related to various health issues including reproductive health are being held to help people make informed choices, and crack down on medical malpractice and quackery.
A 24/7 helpline, 104, is available for patients to discuss medical issues with experts while maintaining their anonymity.
"Abortion, family planning and sexual health are taboo subjects, but if anonymity is ensured, people come forward to discuss them with medical experts without any inhibition," says Dr Kulandaisamy.
Supporting the crackdown on quackery with figures, Dr V P Harisundari, additional director of the Directorate of Medical and Rural Health Services or DMS (inspection), Chennai, says in the last 10 years, 1,115 quacks were arrested in Tamil Nadu, and in 2018 alone, 192 were put behind bars.
DMS director Dr T S Swathi Rethnavathi told a news portal that it is important to break this unwarranted trust that exists between patients and these 'neighbourhood doctors'. Dr Swathi, who leads the operations against quackery, says uncertified hospitals are usually tucked away in the peripheries of cities.
People approach quacks for treatment as they can share a certain sense of comfort with them. "They share common spaces in the neighbourhood and are well-acquainted with quacks in a personal capacity, so approaching them for medical help was the most natural thing to do," she adds.
Medical expenses are not the reason for thriving quackery as government hospitals provide treatment free of cost. But it is convenience and comfort that primarily encourage quackery, Dr Rethnavathi opines.
Quackery is brazenly practised because people take medical qualifications on name boards at face value. Plus there is hardly any other way to establish the credentials of a medical practitioner.
Diploma in Alternative Medicine System (DAMS) is prominently displayed against the practitioner's name in Vadasithur's Yogavanishi Ayurvedic Centre. It says a lot about the unquestioned approval with which self-styled doctors offer alternative remedies for ailments to residents of their neighbourhood and the surrounding areas.
"People used to visit the centre for cold, cough and fever as far as I know," says a resident.
Was Muthulakshmi emboldened by her 'unrestricted' practice that one day she decided to abort the sixth pregnancy of Vanithamani, and failed, causing her death?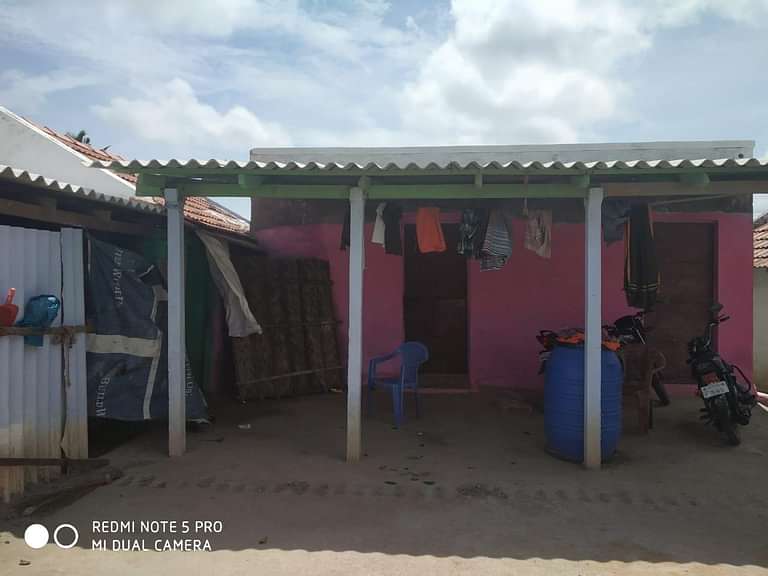 Vanithamani's house in Vadasithur
"It was here, her body was deposited by Muthulakshmi and her son," says Vanithamani's father, pointing to the cemented verandah of the house in Muttuvavi, about 5 kilometres from Vadasithur.
As Vanithamani's 14-year-old son watched, her family recounted how she and her husband consulted Muthulakshmi for an abortion on a Saturday morning and on Sunday Vanithamani died in Muthulakshmi's car while being driven to the nearest government hospital for better medical assistance.
The family and relatives say they were not aware of Vanithamani's pregnancy, and it was most likely that she kept it a secret out of embarrassment of having gotten pregnant with her sixth child when her eldest child, a son, was already 20 years old.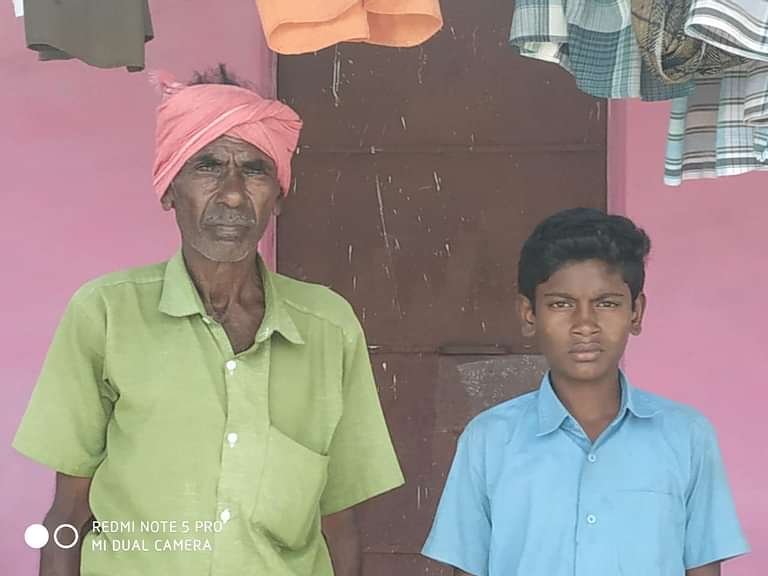 Vanithamani's father and one of her sons
Today, four of her children are growing up separately in their relatives' houses without their mother who they lost to a culture of reckless business and the indifference of couples towards family planning.
A visit to Vadasithur revealed that it was only recently a hospital had come up, much to the relief of the people of the area.
A Depraved Culture
A promiscuous culture is driving men, women and adolescents towards rampant sexual practices. Some of these practices constitute incest and sex with minors, but they are hardly brought into the notice of law.
Most of the men in Kolli Hills are truck drivers and their long absence from home encourage risky sexual behaviour, which involves multiple sexual partners and unprotected sex, says Satish Babu. In the case of women, casual and forced sex contribute to this pervasive norm, he adds.
Most crimes that should exact severe punishment are treated lightly through fines by the community elders. With a population of 55,000, Kolli Hills is home to 14 villages that have 'committees' headed by village elders. "The elders 'solve' problems of their community that adhere to long-held traditions which are far removed from the principle of respecting bodily integrity.
Law requires health centres to inform the district collector and take action against the parents or guardians in cases of underage pregnancies. "But this hardly happens as information about such pregnancies and births are recorded by entering a false age at these centres," Babu informs.
Volunteers attend a workshop aimed at stopping child marriage
Solutions
Fiercely guarded 'traditions', strange sexual practices, scant regard for law and a disdain for 'outsiders' have taken a toll on the sexual and reproductive health of the people of Kongu region, placing the rural pocket under the high-risk HIV/Aids category.
However, volunteers of organisations who have managed to gain access to these tribal homes have brought about a change in attitude among youngsters.
Government-appointed peer educators (anganwadi workers) are making a big difference in the lives of these young girls, according to Babu. They earn the trust of youngsters and their families through long interactions and guide them towards a more dignified and healthier life.
"But there is a long way to go," says Satish Babu, while discussing how the failure of a contraception campaign proves the tribal community's callous attitude towards health, and their refusal to see how unsafe sex can make life miserable for an entire family, or for that matter, a whole generation.
"Healds is working with them to generate awareness about safe sex and the right over their body."
"The girls now have the courage to approach the volunteers and share their fears and problems. The work of peer educators in the community has drawn the attention of law enforcement authorities to child marriage and underage pregnancy. We pray that these nefarious practices in the village committees will lose steam," Babu hopes.
Many of them call child helpline 1098 to report offences, and child welfare organisations have rescued many children and rehabilitated them.
On its part, the health department too is working to raise awareness about safe sex, contraception and fertility. "Knowledge about reproductive health is the top priority," Dr Bhanumathi says, "though the best solution to avoid teenage pregnancy would be to ensure a normal childhood."
"Parents and care-givers must keep a constant check on the child's activities, but not being too intrusive," she adds.
"It's a huge responsibility that has become tougher in this new world of gadgets and the internet."
Dr Chandrakala echoes her views when she says knowledge about puberty, reproduction and its outcome must be explained in an honest manner to young children so they don't rely on dubious sources to satisfy their curiosity. "Children today must be introduced to outdoor activities of the past," she adds.
Radha says her organisation Healds regularly conducts camps to educate girls and women about the implications of puberty, safe sex, HIV and safe abortions.
"We speak to them through the village's head nurse at government health centres since we are not allowed inside homes where it's a stigma to talk about sex," she says.
Strict laws must also ensure adequate public health care facilities in rural areas. Increased awareness must be generated about sexual and reproductive health and the implications of indiscriminate sexual practice.
It's important to break the hold the community elders have over people. It's a tough battle but it can be won if the government, communities, the medical fraternity, and social workers work hand-in-hand.
Subscribe To Our Newsletter