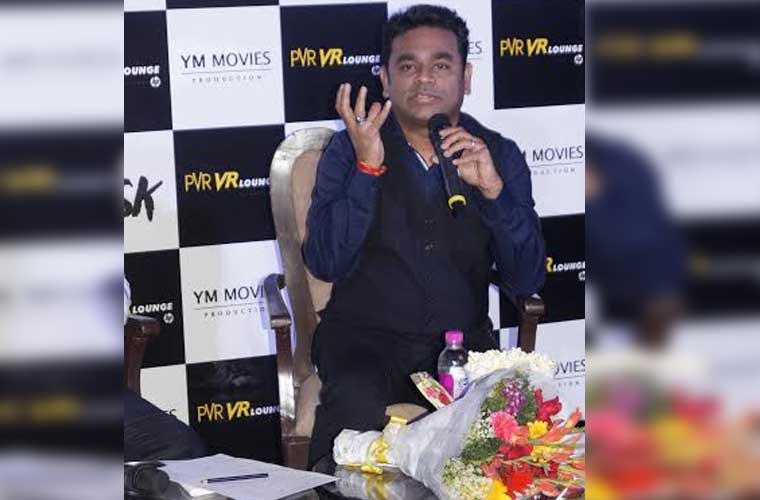 Bengaluru: The legendary music composer and global icon A.R. Rahman has now donned the directorial cap. He recently launched the prelude of his directional debut "Le Musk", the world's first cinematic virtual reality immersive narratives.
An Academy Award winning composer and now a director, it seems Rahman is going to be unstoppable. Talking about his experience, "It was all about thirteen days in Rome, for me this entire movie is special. This is going to be an Indian way of English film. It all started with music, and now I am into this directorial zone. Filmmaking is really a difficult task, though my creative team handled everything and even helped me to make this possible." Written and directed by Rahman, "Le Musk" is produced under the banner of YM Movies Production and a Canada based production house, Ideal Entertainment. Set in Rome, the plot of the movie revolves around the life of an orphan child Juliet by Nora Arnezeder, who's also a part time musician. It also stars Guy Burnet, Munirih Jahanpour & Mariam Zohrabyan. As the title suggest, the movie "Le Musk" is based on Smell.
It comes as a pleasant surprise to many of his fans who have only seen him as a music composer, and never could imagine him directing. Will he be a successful director, only time will tell, but the buzz around Le Musk is a positive one. " It is hard to say if he would be a good director. But it definitely comes as a surprise because he hasn't really ever openly expressed his inclination towards direction," says Prakhar Pandey, an entertainment reporter and photographer. Talking on the same lines, "Making music is mental visualization. Making a movie is illustrative visualization. I guess, the latter could be termed as easier. Moreover, A.R.Rahman is from Bollywood and has the required sensibilities. One should not judge a man only from his past achievements. Because we, as human beings, can attempt, learn and excel in new things all the time. That's how all beginnings and new beginnings are made. One of the best ways to analyze or judge a celebrity's work, is to judge by the metrics of money, media momentum and impact. So when Le Musk is released, that will be a good time to judge Rahman's work as a director. After all, success is the best judge," says Dale Bhagwagar, Bollywood PR guru.
Echoing similar thoughts, Sakshi Taneja, die hard Rahman fan is happy to encourage her idol in all his endeavours and is convinced that it isn't just a whim. " I am happy that he is trying his hand in direction, And this is not a whim, because he is planning his next movie already, which is going to be based on Indian culture, basically on the dance forms of India."
Subscribe To Our Newsletter