Anybody who takes the busy Mettupalayam Road will not fail to notice the toys in various colours and sizes being sold on the roadside.
A group of people, mostly from North India, are involved in making and selling of these soft toys. They have now made Coimbatore their home.
Spotting us checking the toys at his shop, a man rushed towards us and asked what we wanted.
Surprised at the way he spoke Tamil, the journalist in us urged to strike a conversation with him. "Eight years ago, I moved to Tamil Nadu from Uttar Pradesh seeking a job. I started making these soft toys here for a livelihood. My parents are still in hometown and I send money to them," says Deepak, who moved to Coimbatore five months back.
Deepak procures the materials to make the toys from a wholesale dealer near Town Hall. "Our dealers give us a fixed wage every month irrespective of the sales."
Deepak, who stays with his wife and two-year-old son, plans to send his son to his hometown for schooling.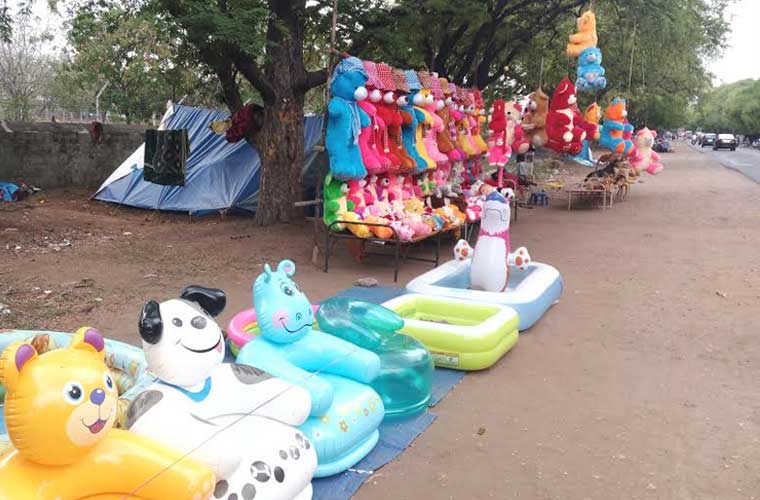 Another toy seller Ravi, who landed in Tamil Nadu a decade back, says he makes Rs. 600 every day. "Due to poverty I had to discontinue from school. After my father's death, I came here from Delhi. Probably after some years, I will get back home," he says and adds that a dealer supplies them with all the raw material required to make the toys.
Shanthi, also from Delhi, has been in Coimbatore for the last one decade. "I can converse very well in Tamil. That's why I am able to work here more comfortably."
Sitting on the roadside with the hope of good business, these soft toy makers too have grievances. They do not have a house to live. "There are no rest rooms for us. We are dependent on the wells or the taps on the roadside for our daily water needs," they say echo.
Subscribe To Our Newsletter