Coimbatore: Mookambika Rathinam has left all envious after making a road trip to London and a year later to Russia.
It was last year that Mookambika, who is into social work and farming, was in the spotlight with a quite unbelievable road trip she and her friends under took from Coimbatore to London. Just four women and a car journey for a cause. Not to stop at that, this year she made it to Russia and Iran, though as part of a international rally, and not on a personal expedition.
Mookambika was among the 44 ambassadors, of which 14 were women, who represented India and Russia on the Indo-Russian Friendship rally.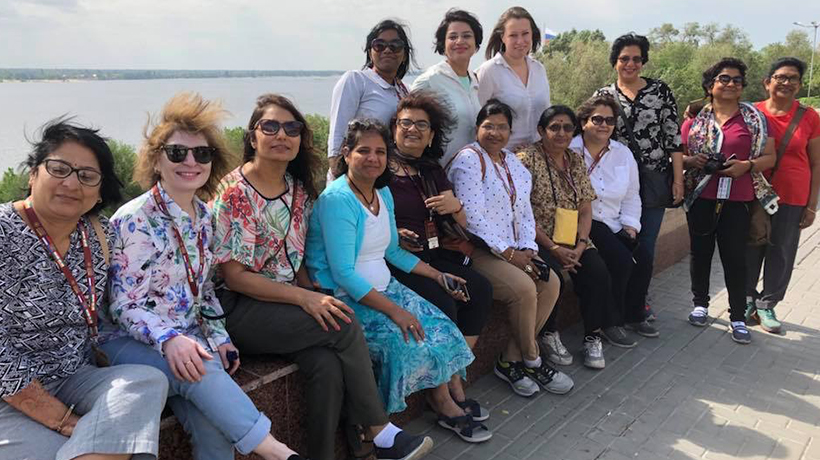 "Most participants were above the age of 50," she told The Covai Post. "Even though we were driving alongside each other, we only got to meet when we stopped to go to the loo," she said. It was the third leg of the Indo-Russian Friendship rally which began on May 16 and ended on June 3. The group traveled through the International North South Transport Corridor (INSTC).
"It was just 18 Indian-made cars driving through the city. The rally can be considered a historical landmark as it was for the first time after 1961 that such an official event was happening between India and Russia," she said.
The aim of the rally was to enhance people-to-people connect and to celebrate 70 years of diplomatic relationships between Russia and India. The cars were sponsored by Mahindra & Mahindra Ltd. There were 14 Mahindra Scorpios, two Mahindra XUVs, one Mahindra Scorpio Getaway and one Mahindra Thar.
"We drove through Tehran, Isfahan, Persepolis, Shiraz, and Bandar Abbad in Iran. We were greeted in Iran by the Naval Attache under Captain Aftab Ali Khan, who supported us throughout the Iran leg along with the support of the Motor Sport federation of Iran.
"We crossed to Russia and drove through St. Petersburg, Moscow, Voronezh, Volgograd, Astrakhan and Makhachkala. We were greeted by the Indian Embassy in Russia.
"We drove through the Republic of Azerbaijan where we passed through Baku and Lankaran. We were greeted by the Azerbaijan Automobile federation. We also drove parallel to the Caspian Sea, which is actually a lake. It was massive and beautiful," she recounted with a beam of excitement. "We ended our journey at Bandar Abbas."
The cars were shipped back to India from Iran. All cities she passed through were extremely beautiful and clean. "Even though it was Ramzan time, we were always provided with ample enough food and water".
"We were served gaz, an Iranian desert that was topped with a variety of flavours like pista and saffron. It felt similar to a marshmallow or soan papdi we get here. We also had saffron rice and kebabs in Iran which was extremely delicious," she added.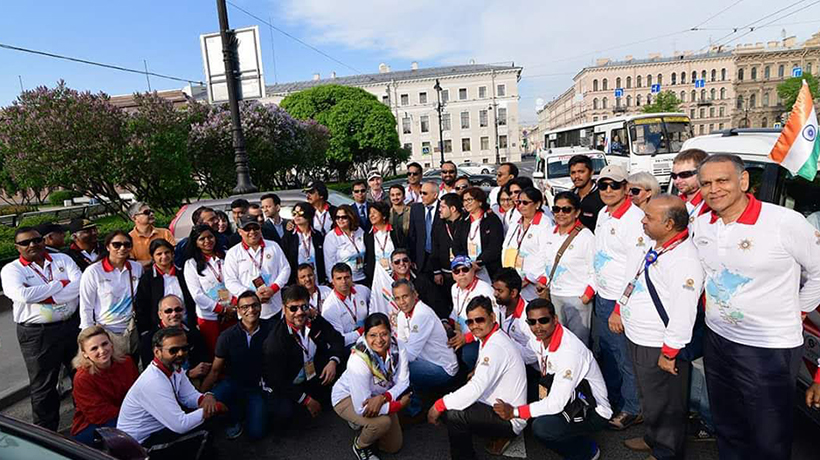 Mookambika says Iran is a very safe and peaceful country to drive through. The whole rally group wastaken care of by the people there who were "very fond of Indians". On challenges they faced, she said, "One of the biggest challenges was food and water as we were driving through a desert. Also, all the women had to wear headscarfs when we were driving through Iran".
The first leg of the rally, from February 20 to March 13, was hosted by Kallinga Motor Sports Club (KMSC), organised the other two legs as well. It covered many places in India that had Indo-Russian collaborations, like Chattisgarh (Bhilai Steel Plant), Ranchi, Jharkhand (Bokaro Steel Plant), Bhubaneswar, Vishakhpatnam, Cuddalore (Neyveli Lignite Corporation, Tirunelveli (Kudankulam Nuclear Power Plant), Bangalore, Goa, Maharashtra, and Uttarakhand (Tehri Hydro Development Corporation Ltd. The leg was concluded in New Delhi,
The second leg was from April 26 to May 14, from Bandar Abbas, Iran, to St Petersburg, Russia. The rally was supported and aided by the Government of India, Government of Russia and Indian ministries of Shipping, External Affairs and Road and Transport, besides National Highway Authority of India.
Subscribe To Our Newsletter