Coimbatore: It was a special and probably the most memorable 'Vishu' for the Krishnans this year. It was a jovial mood with the traditional 'kani' where jewellery, money, lamps, dal, raw rice and fruits are kept near a mirror, the first thing to be seen on Vishu morning, the custom called Vishukkani.
But their cute dog Mojo also had a big role in the celebrations. Mythili Krishnan's Mojo is of the breed called Beagle and is six years old. On April 15 when everyone in the house was celebrating 'Vishu', Mojo sat quietly beside Mythili. It could have been her husband's sixth sense which prompted him to tell his wife to clear everything that day immediately after the celebrations. But Mythili thought it could be cleared when the maids arrived and so went into the kitchen to stir the payasam – a sweet dish.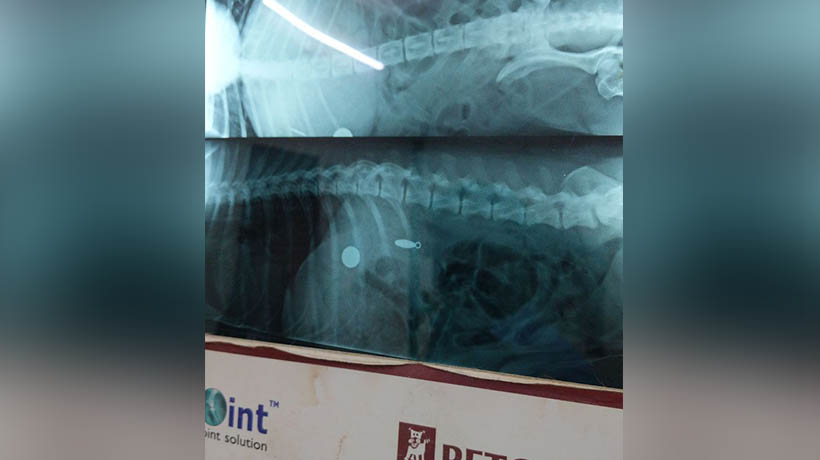 But when she came out for a moment, it was a shock. The bowl where the raw rice was kept was just empty. Mojo too had a taste of Vishukkani. But it was not just the vanishing of the 300gm of rice that startled her. Two gold coins placed on the top of the rice mound had also `vanished' straight into Mojo's stomach.
The dog was taken to SKS Veterinary Hospital in Sai Baba Colony where Dr Siva Kumar took an X-ray which showed the gold coins inside. "Dogs generally don't swallow metal objects; they try to bite it for a while and then leave it. Inducing vomit wouldn't be a good idea because it might lead to complications," the doctor said. His reasonable suggestion was waiting for 24 hours. Another X- ray was taken and it was found that the coins had moved a bit, leaving out the option of surgery.
The dog might have decided to gulp it all before being caught. An X-ray in the evening confirmed the doctor's stand for a wait as the coins had moved slightly.
ALSO READ : Bid to burn Raja's effigy: DMK workers arrested
While the wait continued, what was worrisome was that Mojo had also swallowed raw rice which was likely to create indigestion owing to gas formation. The doctor advised the owner to contact him immediately in case the dog showed abnormal behaviour.
The following day the dog vomited the raw rice but not the coins. Another X-ray and only a slight movement of the coins. It also passed motion at regular intervals but not the coins. And it behaved normally.
While pondering over all this was another startling and equally side-splitting incident. A friend of theirs in Gurgaon informed that their dog had swallowed a Ganesh idol.
But on Akshaya Tritiya, considered auspicious for getting gold, Mojo lavishly passed motion and long with it the gold coins. Four days inside Mojo's stomach, the glitter remained on the coins.
Subscribe To Our Newsletter